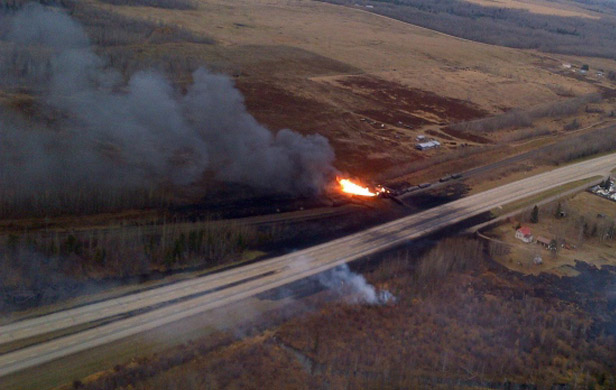 GAINFORD, Alta. – Firefighters who were battling a major blaze Saturday after a CN tanker train derailed west of Edmonton have decided to withdraw and wait for the flames to burn themselves out.
Jackie Ostashek, a spokeswoman for Parkland County, says fire crews were waiting outside a perimeter about a kilometre-and-a-half away from the derailment scene near the hamlet of Gainford.
Ostashek said one of the tankers carrying liquefied petroleum gas was flaring as pressure inside the container built up and vented from a valve, but flames were dying down again after the pressure was released. Officials said that's the way the safety mechanisms in the tankers are supposed to work.
Thirteen cars — four laden with petroleum crude oil and nine carrying liquefied petroleum gas — came off the tracks around 1 a.m. local time and about 100 people in Gainford were evacuated.
Witnesses said they heard an explosion and saw a fireball when the train derailed and another official with Parkland County said there was a second smaller explosion later in the morning.
No injuries were reported.
Huge, Huge Fireball
One resident told CHED radio he heard a series of crashes moments before seeing a "huge, huge fireball" shoot into the sky.
"The fireball was so big, it shot across both lanes of the Yellowhead (Highway) and now both lanes of the Yellowhead are closed and there's fire on both sides," said the witness, identified only as Duane.
CN spokesman Louis-Antoine Paquin said three cars containing gas were leaking and on fire.
Paquin said the train was travelling to Vancouver from Edmonton.
The area, which is about 80 kilometres from Edmonton, remained under a state of emergency. Travel was restricted and news media were being kept far back.
"We're going to let it burn itself out"
Parkland County's fire chief, Jim Phelan, said the tanker that was flaring was venting gas through valves, which it and the other cars were designed to do. He said it was unlikely there would be any further explosions.
"We're going to let it burn itself out," Phelan said. "The best thing to do now is allow the product to be consumed."
He expected that could take about 24 hours.
Devon Cadwell, who lives on a ranch just outside Gainford, said he was sleeping when he heard the first explosion. He gathered his animals into a corral and got ready to leave. Said Caldwell:
[quote]It was a huge boom and the house started shaking.
[/quote]
Residents evacuated
Gainford resident Glenda Madge said she and her husband were jolted awake at 3 a.m. by pounding on their door. It was the fire department telling them they had to get out immediately.
"They were waiting outside for us, so we had to hurry up and get dressed and grab whatever we could — medication that my husband is on," Madge said, speaking by phone from a hotel in Entwistle about 20 minutes' drive from Gainford.
Madge said that when she reached an evacuation centre in Entwistle, she and her neighbours were talking about events earlier this year in Lac-Megantic, Que., where a train derailment and explosion killed 47 people.
"It was a little scary," Madge said, noting she felt lucky that no one appeared to have been hurt in this derailment.
At one point, Madge said officials were going to allow residents to be escorted back to their homes to pick up additional medication and pets. But she said after the second explosion they were told to turn around and go back to Entwistle.
Sara Jensen, the community development co-ordinator with Parkland County, said about half a dozen Gainford residents were being taken back to the community and were in a safe zone when the second blast was heard.
Phelan said that explosion was smaller and was actually the result of pressure venting from one of the burning cars.
"There was a little pop," Phelan said.
Jensen said people in Entwistle got up early to open restaurants for the evacuees. A gas station was also opened early so Mounties and other emergency officials could get fuel.
"It's a good rural environment where people support each other," Jensen said.
"Everyone's either in bed or being fed."
The Transportation Safety Board was sending investigators to the scene.
Parkland County's second oil train derailment
Carson Mills, a spokesman for Parkland County, noted that it was in Parkland County that more than 40 cars of a CN Rail train derailed in 2005, spilling 800,000 litres of bunker oil and wood preservative into Wabamun Lake.
— With files from CHED Radio