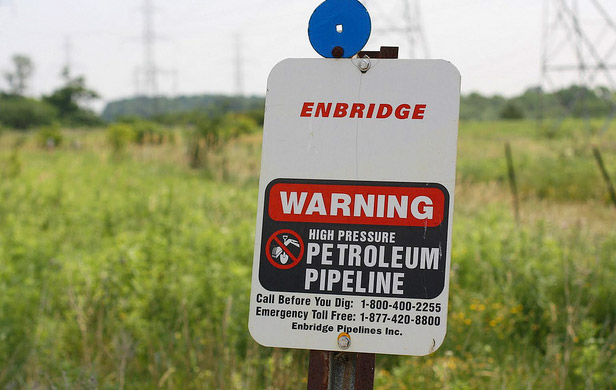 The National Energy Board has approved energy giant Enbridge's plan to reverse the flow and increase the capacity of a pipeline that has been running between southern Ontario and Montreal for years.
The green light for the Calgary-based company is subject to certain conditions and requirements.
A statement from the National Energy Board says "the board's conditions require Enbridge to undertake activities regarding pipeline integrity, emergency response, and continued consultation."
Enbridge will also have to submit a plan to manage cracking features in the pipeline, and manage water crossings.
The board says that with these conditions in place, the project will be "safe and environmentally sensitive."
Pipeline hearings saw heated protest
The decision on the controversial Line 9 comes some four months after the federal regulator held public hearings on Enbridge's proposal.
During those sessions, a three-member panel heard from a wide range of parties including First Nations, environmental groups, private citizens and representatives from municipal and provincial governments.
Enbridge's own final submissions were delivered in writing after the board cancelled its final day of Toronto hearings over security concerns stemming from a planned protest.
300,000 barrels flowing East
Line 9 originally shuttled oil from Sarnia, Ont., to Montreal, but was reversed in the late 1990s in response to market conditions to pump imported crude westward. Enbridge now wants to flow oil back eastwards to service refineries in Ontario and Quebec.
It plans to move 300,000 barrels of crude oil per day through the line, up from the current 240,000 barrels, with no increase in pressure.

Opponents — some of whom have staged protests and held sit-ins at pumping stations — argue the Line 9 plan puts communities at risk, threatens water supplies and could endanger vulnerable species in ecologically sensitive areas.
Critics disappointed, not surprised
Officials at Greenpeace Canada said they were disappointed, but not surprised, by today's decision. Said Keith Stewart, Greenpeace Canada's energy campaign co-ordinator:
[quote]This decision is no surprise, given how the federal government and the oil industry have rewritten our environmental laws to fast track the approvals of tarsands pipelines. These drastic changes barred thousands of Canadians from participating in decisions that will affect their air, water and health for decades to come and banned any consideration of the climate change impacts of this project.[/quote]
Critics also worry that Enbridge will run what they claim is a more corrosive product through the 831-kilometre-long line — a move which they claim will stress the aging infrastructure and increase the chance of a leak.
Enbridge has insisted that safety is its top priority and has characterized the scope of the reversal as "actually very, very small."
Previous bitumen spills erode confidence in Enbridge
It has said a reversed Line 9 will not be transporting a raw oilsands product, although there will be a mix of light crude and processed bitumen.
It has stressed, though, that the products that will flow through the line will not erode it.
The company has also said the refineries it supplies can currently only take a small portion of heavy crude and would have to invest significantly in infrastructure to take more.
Despite the company's assurances, Line 9's opponents have often pointed to an Enbridge spill in Michigan, which leaked 20,000 barrels of crude into the Kalamazoo River in 2010. There are concerns the same thing could happen in Ontario or Quebec in the future.
Some opponents have also suggested the Line 9 reversal is ultimately so Enbridge can transport oil to the Atlantic coast for export — something the company denies.
A portion of the line has already received approval for reversal and has been sending oil from Sarnia to North Westover, Ont. — about 30 kilometres northwest of Hamilton — since August.