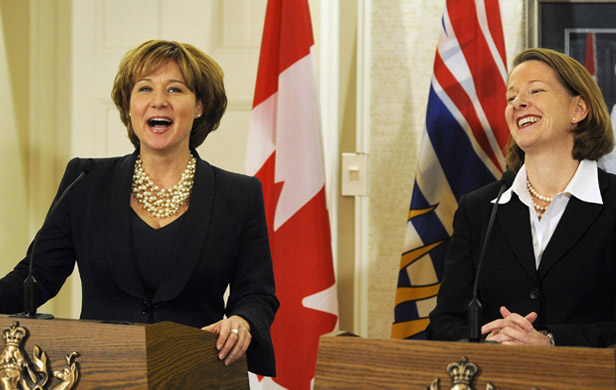 VICTORIA – British Columbia Premier Christy Clark and Alberta's Alison Redford have appointed a team of senior bureaucrats to develop an energy export plan, barely a year after a high-profile disagreement over the proposed Northern Gateway pipeline strained the two leaders' relationship.
Clark and Redford are scheduled to publicly discuss the progress of the joint energy plan on Nov. 5 in Vancouver following the Alberta premier's address to the city's Board of Trade. A final report is due on Dec. 31.
Enbridge clash
The premiers are attempting to move past their very public clash over the Northern Gateway pipeline, which was the subject of a meeting in Calgary last October that Clark later described as "frosty."
Clark had insisted the project must meet a series of conditions, including strict environmental standards and assurances that B.C. would receive a "fair share" the economic benefits, to win her approval, which prompted Redford to suggest Clark was attempting to pick Alberta's pockets with demands for extra royalties.
"Frosty" relationship warming?
But a joint statement issued Tuesday was the latest sign that relations between the two premiers are warming. This past June, Clark and Redford met in Kelowna, B.C., and while they didn't mention the Northern Gateway project, they announced the creation of a working group to focus on skills training, immigration and economic growth.
"In creating the working group, B.C. and Alberta identified the shared goals: opening new markets and expanding export opportunities for oil, gas and other resources," and, "creating jobs and strengthening the economy of each province and Canada through the development of the oil and gas sector," said Tuesday's joint statement.
Clark and Redford both declined interview requests on Tuesday.
Alberta-B.C. working group
The Alberta-B.C. working group, jointly chaired by deputy ministers from both provinces, has been given a mandate to share information, collaborate on policy and address federal gaps on energy issues.
The terms of reference include five policy areas that mirror Clark's five conditions.
The group has been directed to consult with First Nations; explore other resource transportation options, including rail; look at how to promote resources; and study ways to reduce the potential impact of oil spills. It is also to examine how to make sure both provinces receive a fair share of resource revenues.
"It is not about royalty sharing, but rather about receiving a fair share of the economic and fiscal benefits of a proposed heavy oil project that reflects the levels, degree and nature of the risk borne by B.C., the environment and taxpayers," said the premiers' statement.
[quote]Given the risk to B.C. from land-based and coastal bitumen spills, B.C. does not believe an equitable distribution exists for fiscal benefits. This imbalance must be addressed.[/quote]
First Nations remain opposed to Enbridge
Coastal First Nations spokesman Art Sterritt said northern B.C.'s aboriginals are opposed to seeing a pipeline built along their traditional territories and believe the risk of an oil tanker spill is too great to even contemplate. The Coastal First Nations group, which represents most coastal aboriginal nations from Rivers Inlet in southern B.C. to the Alaska border in the northwest, has been a staunch opponent of the pipeline.
Sterritt said his group intends to hold Clark's Liberals to the government's previous statements that the Northern Gateway pipeline, as it is currently proposed, fails to adequately address the potential environmental risks.
"They don't have the technology," Sterritt said from Terrace, B.C.
"The geography is not very friendly and there isn't anybody in the north that wants the project. I don't know how they are going to make it work."
Sterritt said the possibility of transporting Alberta oil to the B.C. coast by rail, an option that will be considered by the working group, "boggles the mind."
He warned that much of B.C.'s rain infrastructure runs over mountains and along rivers, meaning it wouldn't change the potential risk of a spill.
Dix: Clark watering down "5 conditions"
The leader of B.C.'s Opposition New Democrats, Adrian Dix, said it appears the joint working group's terms of reference are a watering down of Clark's original five conditions.
Dix said the working group's mandate appears more focused on ensuring energy projects like pipelines proceed as opposed to ensuring environmental safety and meaningful consultations with First Nations.
"It's apparent on the B.C. side where their priorities are," he said.
[signoff1]