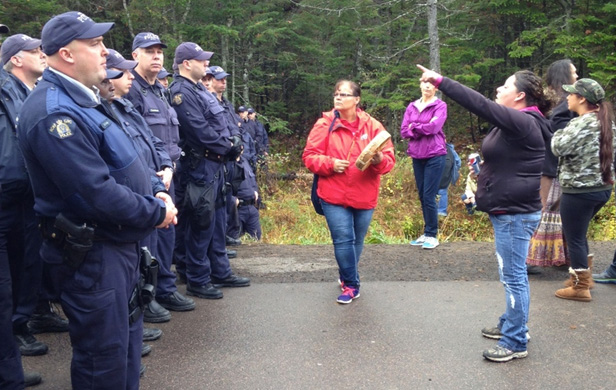 New Brunswick Justice George Rideout declined today to extend an injunction against members of the Elsipogtog First Nation who have been protesting exploratory activities for fracking on their territory.
A video posted on facebook following today's hearing shows several Mi'kmaq people, having just exited the courtroom, rejoicing over the judge's decision. "There is no more injuction on the people who have been named or the Jane and John Does of New Brunswick," one woman tells the camera.
A short-term injunction issued by the court on Oct. 3 to a subsidiary of Texas company SWN Resources resulted in last week's heavy-handed RCMP raid of a peaceful Elsipogtog protest camp – provoking outrage and supportive rallies across the country last week.
According to CBC:
[quote]In the minutes leading up to the ruling, shale gas opponents, many from Elsipogtog First Nation, were drumming and singing in the courtroom and hallway. The court building was also crowded with supporters of protesters arrested on Thursday during a confrontation between RCMP and shale gas opponents in Rexton, N.B.  [/quote]
The judge's ruling is drawing praise from environmental groups supporting the Mi'kmaq fracking protest. "We are thrilled with the reports coming out of the courtroom in Moncton today that SWN's injunction has been lifted," says Angela Giles, Atlantic regional organizer with the Council of Canadians.
[quote]I visited the site and stayed in Elsipogtog over the weekend and the community is standing strong. The Mayors of Kent County, the Assembly of First Nations Chiefs of New Brunswick have publically supported the anti-shale gas movement… when will Premier Alward and his government listen to the people?[/quote]
Justice Rideout declined to give a reason for today's decision but will be issuing a written statement.
Updated 12:20 PM PST. Watch for more updates on this developing story