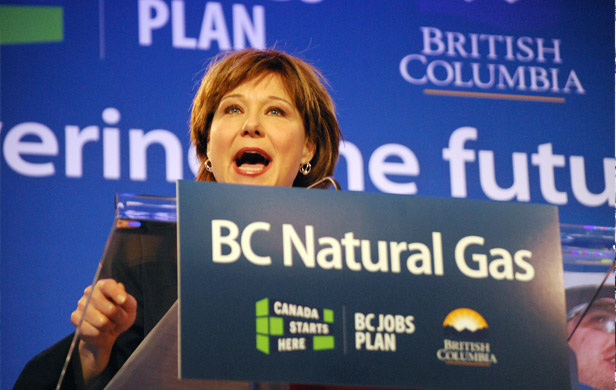 British Columbians have been patiently waiting since before the Liberals were re-elected for an explanation of the financial terms that will deliver the much-vaunted 100 Billion-dollar LNG "Prosperity Fund" that will allegedly eliminate the provincial debt, lower taxes and underwrite the services we have come to rely on.
BC's Minister for Natural Gas Development Rich Coleman  has repeatedly committed to divulging the terms and conditions he intends to legislate into perpetuity since being re-elected based on these promises. We've been told that by slashing royalties and taxes, BC will win the global competition for attracting foreign investment in LNG pipelines and terminals.
The Premier herself has consistently stated that these crucial details were coming soon and that prosperity is just around the corner.
LNG tax structure delayed…again
Earlier this week, however, it was quietly announced – not by the Premier or Natural Gas Czar Coleman, but by the Finance Minister – that the taxation regime required to deliver the prosperity the BC liberals were re-elected on has once again been delayed, making this at least the third time they have promised to deliver but failed.
Indeed. at the time of this writing, nowhere on the BC Government website is there any mention of this, despite the fact the delay is reaching into years and not mere weeks as promised over and over again.
Virtually all the major players looking at investing in BC LNG have claimed that Final Investment Decisions (of which we have none despite over a dozen potential projects) hinge upon understanding what the BC Liberals intend to roll out as the means of delivering on their election promises. They have stated these claims publicly a year ago, with the expectation of them being finalized way before now.
So despite the Premier's perpetual boosting of LNG as the boon to a prosperous future and all the talk of a "race" to get the projects up and running, her own government is still unable to deliver a simple taxation regime on resources – something governments have pretty much mastered over the years.
NEB approves pile of LNG export licences
However, in the meantime, the federal government has approved 7 export licenses, with four more being considered that experts in the field claim will jeopardize our energy security while threatening water supplies, airsheds and – when one considers accumulated effects – the entire undertaking becomes irrefutably insane.
Taxpayer subsidies for LNG keep stacking up
One of the first orders of business upon the Liberals' re-election was not to deliver on the promises of prosperity but rather to hand over 100's of millions more in subsidies to the industry.  A never-ending stream of clever sliding royalty rates and investments incentives have been deployed for near half a century, often leaving Britsh Columbians holding the bag – not full of cash and prosperity, but of crippling debt.
Since when do we subsidize and hand over 25 year export permits for breathtaking amounts of a non-renewable resource before we have any investment commitments or even know what we are going to charge for our stuff?
At this rate, it is all pain and no gain for British Columbians, we have not even "locked in" job guarantees but rather are promising that we will open the flood gates to a foreign workforce. And the industry has recently announced that under the auspices of "Operational Excellence" they will be putting the squeeze to wages and costs.
What's in it for British Columbians?
So we have already handed over the export rights to the majority of our natural gas putting our energy security at risk at the same time guaranteeing a run on the environment like we have never seen. And we are continuing to subsidize the largest most profitable companies on earth to do this at an alarming rate.
We are seeing no talk of job guarantees, only training in anticipation of jobs, because we do not have a properly skilled workforce, which, when translated, means we will be flooded with foreign skilled workers.
We have no terms in place to ensure that we see appropriate returns for the massive liquidation of our non-renewable resources; instead, all we have are empty promises from politicians who cannot even keep their own, self-imposed timelines on the single most-promised aspect of their economic agenda.
All the "prosperity" we have seen so far is a massive escalation in the cost of living anywhere near the proposed LNG terminals and an increase in escort services.
It's high time British Columbians give these oily, gassed-up wind bags a good shake and start demanding answers on why they are handing over everything, "locking it down" for generations and not delivering one single aspect of the promised prosperity they were elected for.