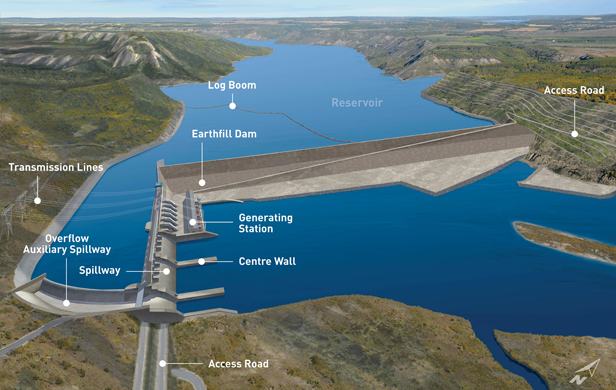 Energy Minister Bill Bennett has invited citizens to review and presumably submit thoughts about the recently released BC Hydro draft "Integrated Resource Plan" (IRP), which includes some "bullish" projections of demand.
Hydro chronically wrong
This BC Hydro forecast for demand is definitely in the tradition of previous inflated domestic (BC-only) forecasts, which makes it an exaggeration with very expensive consequences.
In 2003 the public utility forecasted BC-only needs were to be 56,241 gigawatt hours (GWhrs) by 2013. In reality, last year's reported domestic sales (excluding sales to others disclosed as long-term supply contracts to out of province customers – page 68, BCH 2013 Annual Report) were 49,595 GWhrs, – an error of 6,646 GWhrs. (Hydro's fiscal year ends March 31)
In 2007 BC hydro forecasted BC needs in 2012 would be 57,201 GWhrs. Reported domestic sales – again, net of sales to others – were 49,922 GWhrs, an error of  7,279 GWhrs.
Hydro's short-range forecasting isn't much better – even just one year out. In 2010, the crown corporation forecasted BC needs in 2011, 12 months forward, would be 52,024 GWhrs. Reported domestic sales were 49,013 GWhrs, an error of 3,011 GWhrs.
Forecasting errors are irrelevant if no one takes notice of the values. Unfortunately, your government, BC Hydro Board and senior executives saw these forecasted needs as their license to build, contract, borrow and spend, big-time. Using current cost numbers for the proposed dam on the Peace River, Site C, each annual GWhr of error was/is the same as borrowing/contracting for $2+ million.
The amount of borrowing error in the 2003 forecast was about $14 billion at Fiscal 2013.
For the 2007 forecast it was more than $15 billion at Fiscal 2012. The 2010 error for only a one year period was about $7 billion. The further out in time, the bigger the crime.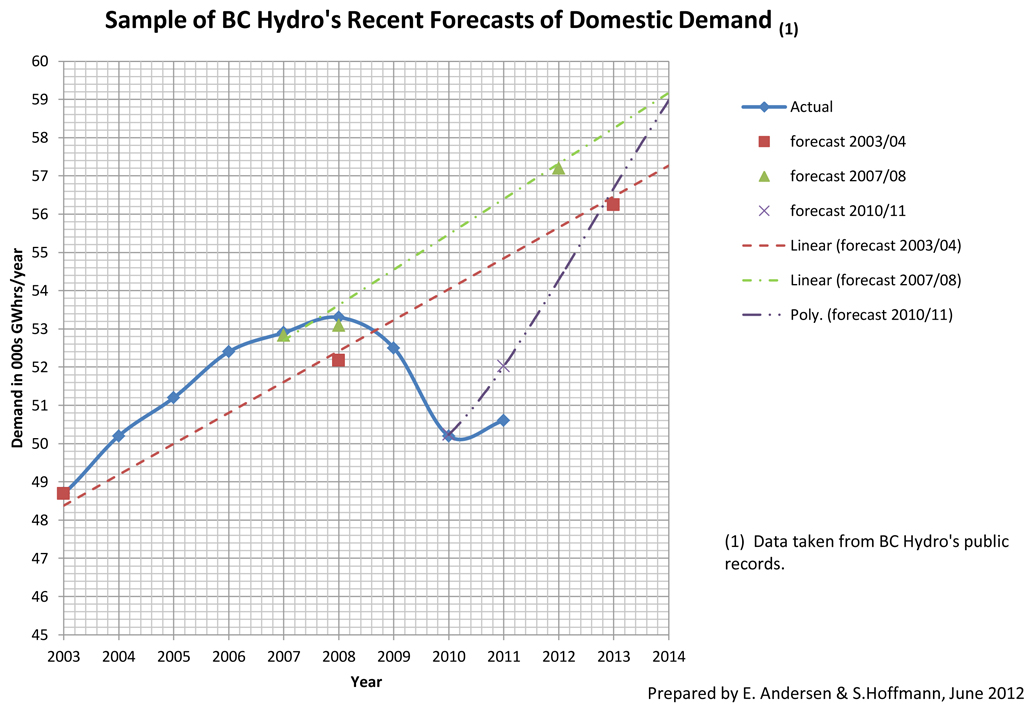 Population growth, electrical demand stay relatively flat
One should remember this history of continuously being wrong, always exaggerating future BC needs when addressing the new "Integrated Resource Plan" by BC Hydro, vintage 2013.
Like all government-generated material, when it comes to a vision of the future, it will be universally bullish. BC's population is going to grow fast. Economic activity is invariably going to grow fast, they maintain.
There is lengthy discussion by BC Hydro that sets out how the domestic demand forecast is constructed. Heavy reliance is placed on new construction data, population projections by the provincial government and GDP projections from the same source.
[quote]BC's population is on a shrinking trend
[/quote]
There are three categories of customers the forecasters treat separately:
Residential customers
Commercial and light industrial users
Heavy industrial users
Contrary to BC Hydro's and the government's narrative, BC's population is on a shrinking trend. During the decades of the 70s, 80s and 90s, provincial population rates of growth were 7% for 5 year blocks. This bullish growth slowed in the first decade of this century, registering a comparative growth figure of only 5.5%.
This growth trend reversal has yet to influence the provincial government and BC Hydro.
Confirmation of this shrinking population growth trend is also found in the government's fertility records. In 1972 the posted fertility factor for BC was 1.966; now in 2013 it is 1.435. Not wishing to endorse a diminishing population trend, the folks in charge of this report and forecast have simply "flat-lined" at 1.400 indefinitely.
Higher GDP ≠ increased electrical demand
A second important indicator for the BC Hydro forecasters is provincial GDP. A logical connection, one would reasonably think. GDP gets frequent mention in the discussions of how demand is generated for both the commercial and heavy industrial customer groups. This seems to be where BC Hydro forecasters get matters seriously wrong.
From 2003 through to now, the annual reported GDP value of BC has increased by 63%. In 2003, it was $138 billion and by 2013, the government was reporting it to be $225 billion. During the same period, none of the three groups of customers increased their amounts of purchased electricity.
[quote]From 2003-2013, residential rates have increased by 50%. They need to increase another 40% now.[/quote]
In cases like this, on the evidence, there is a big disconnection where one would not expect there to be. It clearly diminishes the value of the BC Hydro's forecasting and seems to explain just why they have continuously made errors.
What this disconnect also suggests is that a considerable chunk of BC's economy and finances is leaving the province. This economic "leakage" is probably why BC Hydro forecasts remain so irrelevant.
[signoff1]
If the above were not enough, don't forget that BC Hydro has yet to collect over $5 billion of deferred charges – a controversial form of borrowing against future rate increases. It is not apparent that the BC Hydro forecasters adequately accommodated demand reductions in response to the certainty of sharply higher rates. In the period 2003 to now, residential rates have increased by 50%.
Reaction to this increase has been minimal, as folks have found ways in their personal budgeting to make accommodations. Per capita consumption for the past ten years has been steady at about 3,800 KWhrs. When rates increase, as soon they must, by 40%, the public response is likely to be one of enthusiastically embracing energy conservation and even withdrawal from the grid.
There is immediate relief available for BC Hydro's embattled customers. Minister Bennett should be required to remove the excess debt associated with new generation designed to serve a misguided cabinet-crafted economic development program.
Plans to provide inexpensive electricity to resource development projects – such as mines and liquefied natural gas plants – are pure gambling. Leave the speculation and gambling to the private sector, where participants have a risk appraisal discipline that comes with using personal money.