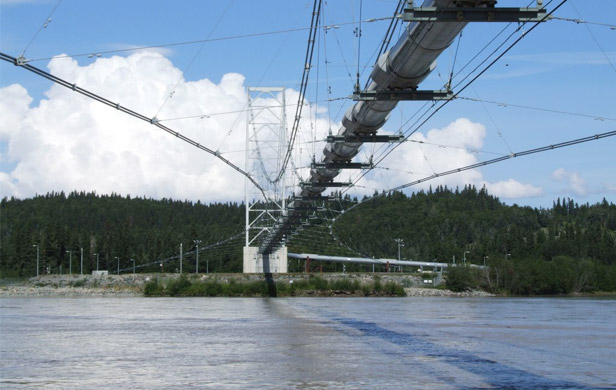 By Dene Moore, The Canadian Press
VANCOUVER – The federal government announced new measures Wednesday to ensure pipeline companies pick up the tab for any spills, as cabinet prepares to announce its decision on the contentious Northern Gateway pipeline project.
Natural Resources Minister Greg Rickford said the new rules are not tied to any particular project but put in place an unmatched regime for pipeline safety.
"Even in the most extreme, rare or unlikely circumstances, the government will ensure that the environment, landowners and taxpayers are protected and the polluter pays," he said in Vancouver.
"There is no country in the world that transports oil and gas as safely as Canada."
"Absolute" liability
Under the new rules, pipeline companies will have absolute liability in the event of a spill. It means they will have to pay all costs and damages related to oil spills, without needing to be proven negligent or at fault.
Pipeline operators will also be required to have a minimum amount of cash available for cleanup costs. The National Energy Board will have the power to order reimbursement of spill costs and to take over spill response should the pipeline company be unable or unwilling to do so.
The federal government will cover any spill-related costs a company cannot pay, and the national energy regulator would recoup the money from industry.
Changes come amid pipeline debates
B.C. is in the midst of a divisive debate about two major pipeline proposals — Enbridge's Northern Gateway and Kinder Morgan's expansion of its Trans Mountain line — both of which would traverse the province with diluted bitumen from Alberta.
The changes, which have yet to be tabled in Parliament, are the latest in a slew of amendments aimed at appeasing public concerns over the two proposals.
Rickford said the federal government will also develop a strategy to increase First Nations' participation in pipeline safety planning, monitoring and spill response.
"Working in full partnership with aboriginal communities, with our provincial and territorial counterparts and industry, Canada will become a supplier of energy to the world," Rickford said.
A day earlier, the federal government announced changes to marine safety regulations affecting oil tankers.
Rickford was joined Wednesday by B.C. Transport Minister Todd Stone.
Provincial governments support changes
The B.C. government has set out five conditions for supporting any oil pipeline project, including an undefined "world-leading" oil-spill response and prevention on land and at sea.
Stone wouldn't say whether the measures meet that criteria but called them "a step in the right direction."
"Are we all the way there? I think there's always more that can be done, but what I think is demonstrated by the federal government here today is a very strong commitment towards ensuring that the standards here in Canada will be world-leading," he said.
Alberta Premier Dave Hancock said the new rules "strengthen the responsible development of energy resources."
"Every Canadian, no matter what province or territory they call home, expects that energy development is done with a high degree of environmental safeguards," he said in a statement.
Government claims companies "responsive" to spills
Natural Resources officials said there are 825,000 kilometres of pipelines throughout Canada — 73,000 of them are cross-border pipelines regulated by the National Energy Board.
There has never been an incident in Canada where a pipeline company was not responsive to a spill, they said.
And there has only ever been one pipeline spill that exceeded $1 billion to cleanup. That was a 2010 spill from an Enbridge pipeline into the Kalamazoo River in Michigan, which is still being cleaned up.
Ziad Saad, vice-president of safety for the Canadian Energy Pipeline Association, welcomed the changes. There are measures in place now for extreme circumstances, he said.
"We are clarifying and strengthening those provisions to ensure the public that they won't be on the hook in case of a pipeline incident," he said.
The federal government is expected to announce its final decision on the contentious Northern Gateway pipeline next month.