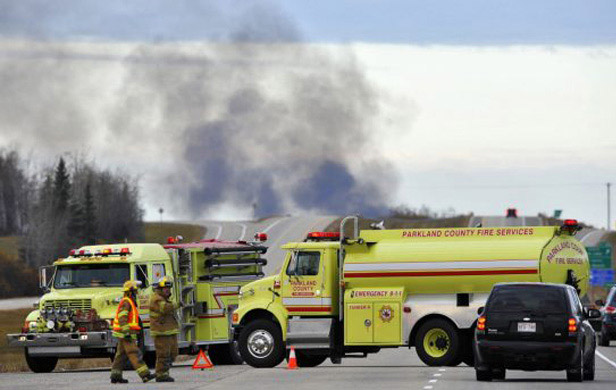 STONY PLAIN, Alta. – Residents of a tiny Alberta community near the site of a train derailment remained out of their homes for third day as CN Rail struggled to get the upper hand on a fire that was threatening the area.
Staff monitoring the derailment near Gainford carried out another controlled burn Monday evening to get rid of any remaining propane in pressurized tank cars that left the track over the weekend.
[quote]We're not going to let people back until we get the notice that all the crews on the ground are satisfied that it is safe to be back. – Mayor Rod Shaigec[/quote]
It's the second time in as many days that CN (TSX:CNR) had attempted to vent and then ignite the gas that remains on the train. CN had hoped to have people home after a first controlled burn on Sunday night.
Said Warren Chandler, a spokesman for the railway:
[quote]Unfortunately when we went to inspect the cars … we found that not all the cars had vented their propane. We hoped for an early return, but in the interests of safety, we can't do that yet.[/quote]
'Controlled burn'
The controlled burn procedure involves placing small explosives on the hulls of the derailed propane tank cars, then detonating them to punch small holes in the pressurized car shells.
The gas vapour ignites as it escapes and is supposed to burn off in a controlled manner.
Gainford residents have been out of their homes since early Saturday morning when 13 cars on a freight train went off the rails about 80 kilometres west of Edmonton.
Two explosions were reported, so people were ordered from their homes as a precaution. No one was injured.
Over 100 people evacuated
As of Sunday, 126 people had registered with the evacuation centre.
Three of the rail cars were carrying liquefied petroleum gas, commonly known as propane, and caught fire. Four of the derailed freight cars were carrying crude and didn't break open. CN said those units have been removed from the scene.
Parkland County spokeswoman Jackie Ostashek said some impatient residents have begun taking matters into their own hands.
"There have been some concerns about people trying to breach the roadblocks. We're trying to ensure that people understand what we're doing and why we're doing it," she said.
Emergency crews have escorted a few people back to their property, she said.
[quote]Where it was safe to do so, we did have fire crews assist people to go back. They took them there only after the determination that they were outside the immediate threat area. It is not something we are encouraging doing and only in exceptional circumstances.[/quote]
Mayor: community frustrated
Mayor Rod Shaigec acknowledged there's frustration among those affected.
"All the reports that I have is that they are satisfied with the information they're receiving," he said.
"Certainly there's people that are frustrated. (But) every measure is taken to ensure this is going to be addressed as quickly as possible with the focus on safety.
"We're not going to let people back until we get the notice that all the crews on the ground are satisfied that it is safe to be back."
Evacuees to be reimbursed
Evacuees are being asked to document their expenses while they are out of their homes so that CN can reimburse them.
"We will ensure that verified claims for damages are promptly honoured," Chandler said.
On the weekend, officials said there had been no damage to private property in the vicinity of the blast. On Monday, Chandler would not confirm that.
"At a later date, once those priorities are accomplished, we can begin looking at those options," he said.
CN not ready to pronounce cause of derailment
CN said it is not ready to say what may have caused the derailment or what damage may have occurred, either to the rail company's infrastructure or the Yellowhead Highway, northern Alberta's main east-west artery.
The highway remained closed Monday.