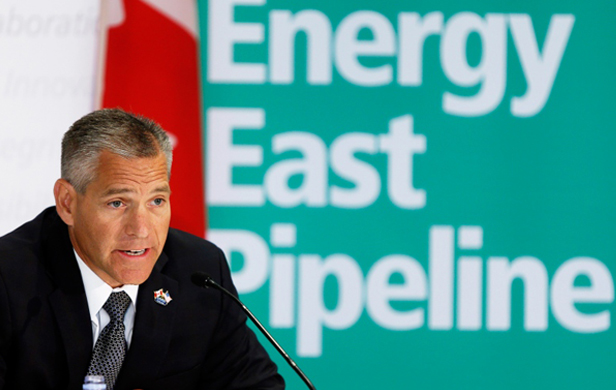 CALGARY – Problems flagged in the National Energy Board's audit of TransCanada Corp.'s pipeline safety practices should have Canadians worried, a group fighting that company's proposed Energy East pipeline said Tuesday.
The audit report, released Monday, found TransCanada (TSX:TRP) to be non-compliant in four of nine areas it examined: hazard identification, risk assessment and control; operational control in upset or abnormal operating condition; inspection, measurement and monitoring, and management review.
"It's a real cause for concern considering that they want to build the biggest pipeline in Canada, the Energy East pipeline. People should be very worried about that," said Mark Calzavara, Ontario regional organizer with the Council of Canadians.
Calzavara said the NEB has tended to be "lenient" when it comes to energy companies.
[quote]When they finally do come out and say 'hey, you've got to get your act together,' it's an indication of some very serious, serious problems.[/quote]
Energy East would involve converting a portion of TransCanada's existing natural gas mainline between Alberta and Quebec to oil service, and then laying down new pipe all the way to Saint John, N.B. TransCanada expects to file a regulatory application for the $12-billion proposal this summer.
The NEB audit was also released against the backdrop of a long-running and intense debate over TransCanada's Keystone XL proposal, which would send 830,000 barrels per day of mostly oilsands crude to Texas refineries.
The energy watchdog said in Monday's report that it's looking into whether some steel pipe and fittings need to be improved on the existing Keystone system, which started delivering crude to the U.S. Midwest in 2010. It says that investigation is ongoing.
In an emailed statement Tuesday, TransCanada spokesman Davis Sheremata said: "Extensive field testing of the strength of the fittings we are discussing with the NEB has confirmed that there are no safety or integrity concerns with these fittings and there is no risk to the environment or the public."
The NEB gave the company 30 days to file a plan detailing how it will fix the problems. TransCanada spokesman Shawn Howard said Monday that the company has already taken action to address many of the issues.
"We share the NEB's focus on protecting public safety and the environment," he said. "We take our responsibilities to anticipate, prevent, mitigate and manage any and all hazards and risks associated with our operations seriously."