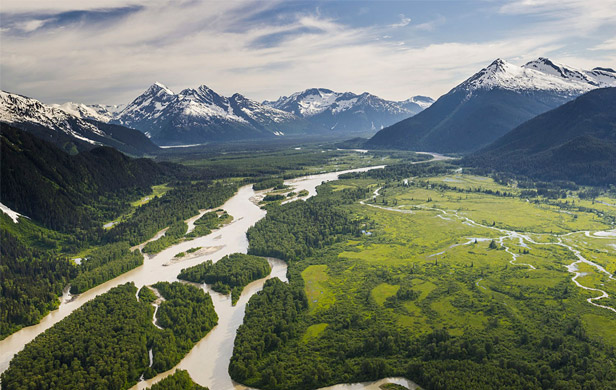 By any measure, the giant tailings dam rupture at Imperial Metal's Mount Polley Copper Mine is a disaster for downstream communities and wild salmon. The massive dam breach released a raging torrent of slurry mine waste into Hazeltine Creek and Quesnel Lake, prompting local emergency response officials to warn downstream residents not to drink, cook with, bathe in, or come into contact with the effluent.
To make matters worse, the complete failure of the tailings dam occurred just before the annual sockeye salmon run, endangering critical spawning grounds for more than one million sockeye in the Fraser River watershed.
Comparisons between the Mount Polley Mine and similar proposed mines in the transboundary watersheds of northwest BC and southeast Alaska are impossible to ignore.
Other mines threaten salmon habitat too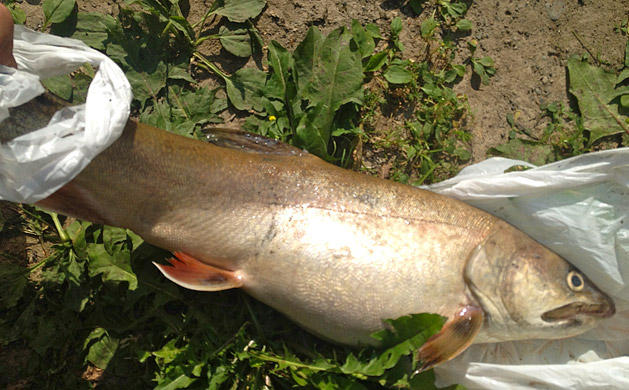 Like Mount Polley, proposed transboundary mines such as Kerr-Sulphurets-Mitchell (KSM) in the Nass and Unuk River watersheds, and Red Chris in the Iskut-Stikine watershed, would be open pit mines with tailings ponds at the headwaters of rivers that contain critical salmon habitat. These mines are in acid generating deposits and would create a larger threat of significant acid mine drainage pollution than at Mount Polley.
Given BC's cavalier and eroded regulatory environment – which, according to a 2011 BC Auditor General's report, includes a lack of adequate monitoring of certified mine projects – concerns are elevated that transboundary mines like KSM, Red Chris, and Tulsequah Chief in the Taku River watershed, could also suffer catastrophic dam failures or other serious incidents on a large scale. KSM alone would have a proposed tailings pond roughly six times larger than Mount Polley's.
In the transboundary region – one of the last places in the world with pristine salmon habitat and intact predator-prey ecosystems – a spill would be devastating.
Red Chris scheduled to open in Sept, despite tailings pond flaws
Another dam failure could happen. The company that owns Mount Polley, Imperial Metals, is the same company behind the Red Chris mine, located near Iskut in northwest BC.  Red Chris would be an open pit gold and copper mine that, like Mount Polley, would use an earthen dam for their tailings pond at the headwaters of the Iskut River, the largest tributary of the transboundary Stikine River.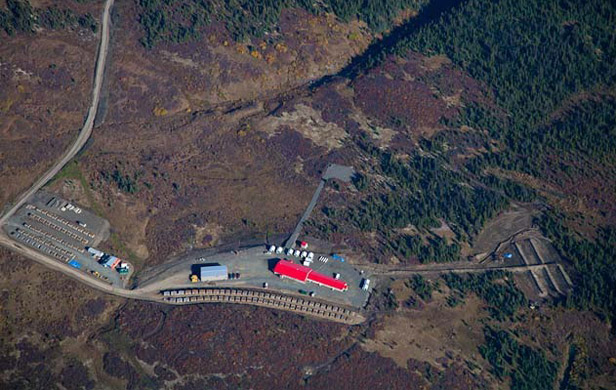 In 2013, a third party review was done of Imperial Metals' engineering designs for their tailings pond at Red Chris. The independent review concluded there was no guarantee that Imperial Metal's tailings pond would hold toxic wastewater from the mine. Despite this conclusion, construction at Red Chris has been allowed to continue, and the mine is currently scheduled to open in September of this year.
This is disturbing because of the many worrying comparisons between Mount Polley and Red Chris. At Mount Polley, in the years prior to the tailings dam breach, Imperial Metals ramped up daily production of ore from 18,000 tonnes per day in 2009 to more than 23,000 tonnes by 2014, with production escalating in the three months just prior to the breach. At the same time, the tailings dam walls were continuously built higher to deal with larger amounts of mine waste. "Dam building cannot continue indefinitely," said a 2011 environmental consultant's report, warning of structural instability in the dam if the growth pattern continued.
Kynoch envisions 5x permitted production at Red Chris
While Red Chris is permitted to produce 30,000 tonnes of ore per day, slightly larger than Mount Polley, Imperial Metals envisions that production at Red Chris could escalate at a much faster rate. In 2013, President Brian Kynoch conjured up a vision for potential shareholders of the Red Chris mine churning through 150,000 tonnes per day, a mine five times larger than the project for which they received an environmental certificate. At Red Chris, the same pattern of escalating growth that happened at Mount Polley could happen on a much bigger scale.
In response to the Mount Polley disaster, and serious concerns about downstream waters and fish habitat in the Iskut-Stikine watershed, the Klabona Keepers of the Tahltan Nation began a blockade of the Red Chris Mine on August 8.
Tailings dams experience 28% failure rate: US study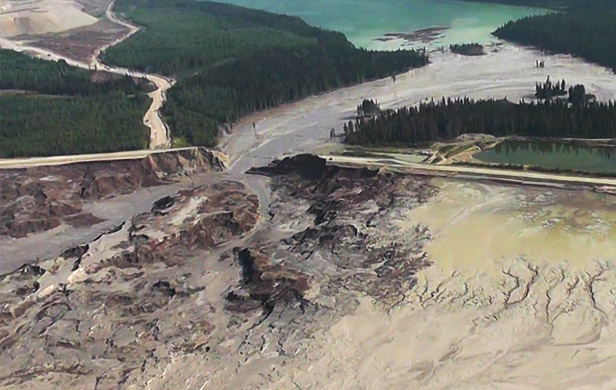 Tailings dam failures are surprisingly common.One 2012 peer-reviewed study of currently operating copper mines in the U.S. found that 28% experienced partial or full tailings dam failure.
Because they contain heavy metals and toxic chemicals, tailings dams need to last forever to protect downstream communities. But in BC plans and funding are inadequate to cover access, maintenance, monitoring and cleanup of accidents whose effects linger essentially forever.
Clearly tailings dams fail, and not all the failures are the result of aging infrastructure. At Mount Polley, the tailings dam was built with modern technology and was only 14 years old.
Alaskan Senators raise alarm over BC's regulation of mines
The Mount Polley tailings dam breach emphasizes the concerns that downstream communities, most vocally Alaskan tribes, commercial fishermen and tourism operators, and most recently Alaska's two Senators, have raised about proposed BC mines. In the transboundary Unuk, Stikine and Taku River watersheds, proposed mines like KSM, Red Chris, and Tulsequah Chief all pose potential downstream risks to southeast Alaska's $1 billion a year fishing industry, $1 billion a year tourism industry, and customary and traditional activities.
Grand daddy of them all: KSM Mine
The largest of these mines would be KSM,a massive copper, gold, and molybdenum mine at the headwaters of the Unuk and Nass rivers. With plans to extract 130,000 tons of ore per day for 52years, the proponent, Seabridge Gold, envisions that KSM would be one of the world's largest open pit copper-gold mines in the world.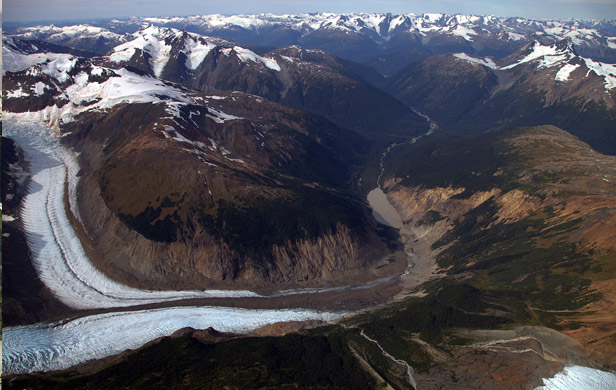 Mining at KSM would involve a high potential for water pollution and downstream habitat degradation. As proposed, at the mine site, just upstream from Alaska's Misty Fjords National Monument, three open pits would be dug in steep rugged terrain that has some of BC's highest levels of precipitation. One of the pits would be the deepest in the world.
At this site, massive amounts of water would need to be captured, treated and discharged during mine operation and after closure. Seabridge Gold proposes a system involving seven of the largest water treatment plants ever built, treating up to 118,000 gallons of contaminated water a minute.
KSM would also include twin 23 km tunnels, drilled through the mountains to link the mine site to an ore plant and an 8×2 km tailings pond. More than two billion tons of tailings waste would be stored just upstream from critical salmon habitat in the Nass watershed, BC's third largest salmon system.  The proposed tailings pond would store 63 million cubic metres of tailings water, orders of magnitude more than the waste that spewed out from Mount Polley.
Nass, Unuk River salmon at risk
A spill at the KSM tailings pond or mine site water containment areas could damage downstream salmon habitat for years. Even under normal operation, concerns about KSM are heightened because 71% of the total waste rock at the site is known to be acid generating (much higher than at Mount Polley). Toxic levels of selenium are also a known issue, and proposed treatment systems to remove selenium from wastewater are unproven at the scale proposed by Seabridge.
[signoff3]
Salmon and trout exposed to the metal contaminants the company proposes to release into the Unuk from KSM under normal operation have shown habitat avoidance, impaired olfaction, migratory disruption, impaired anti-predator response, reduced growth and swim speed, increased stress, impaired reproduction, and death.
Despite these and other concerns about KSM, in July 2014, KSM received an Environmental Assessment Certificate from the BC government and now awaits federal approval from the Canadian Environmental Assessment Agency (CEAA).
Before Mount Polley, Feds unworried about KSM dam failure
In July, CEAA did not appear worried. "A catastrophic dam failure," wrote the authors of CEAA's Comprehensive Study Review of KSM, "would likely have high magnitude downstream residual impacts on fish, fish habitat and water quality." However, said the federal regulator, the likelihood of such a dam failure, "is considered unlikely."
Just days after that report's release, the Mount Polley tailings dam blew out and a torrent of mine waste contaminated downstream water bodies and critical salmon habitat. The disaster was both a tailings dam failure and a failure of regulatory oversight. It needs to be cleaned up. And it can't be allowed to happen again.
CEAA taking public comment on KSM until Aug. 20
The final CEAA public comment period on KSM is now open, and comments on the proposed mine should be sent to CEAA by August 20. Instead of rubberstamping KSM, the Federal Minister of the Environment, Leona Aglukkaq, has an opportunity to reject the mine, or to step back and call for a Panel Review, which would allow for more public participation, and more time to assess this risky mine.