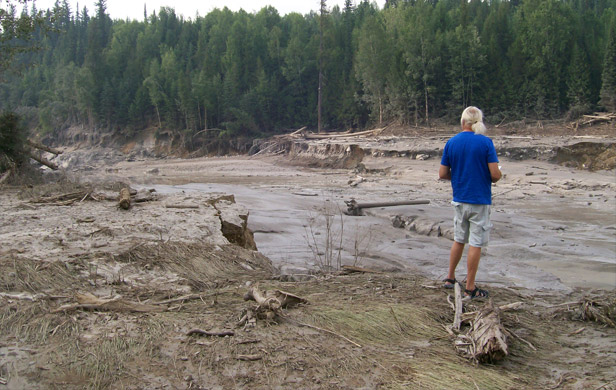 Republished with permission from 250news.com
By Peter Ewart
The clean-up costs for the massive tailing pond spill at Imperial Metals' Polley Mountain mine have been estimated by some to range between $50 and $500 million.  In addition, legal action will undoubtedly be launched by individuals, businesses, and First Nations in the region which could result in hundreds of millions more in costs.  And then there are law firms launching suits on behalf of Imperial stockholders who have suffered huge stock losses when the company's stock plunged over 40%.  Whatever the final amount, the issue comes down to – Who is going to pay?
On August 8, BC Environment Minister Mary Polak said: "We have a polluter-pay model in British Columbia and we expect the company will be the one paying for the cleanup and recovery" and that she has "heard commitments that [the company] is ready, willing and able to continue to fund what they need to".
However, comments from Imperial Metals president Brian Kynoch suggest that the situation may be a lot more dicey than this optimistic statement from the Minister.  According to one news report, Kynoch has committed to paying for the clean-up "to the best of [his] ability".  But in contrast to Mary Polak's statement that the company is "ready, willing and able" to pay for the spill, Kynoch is more equivocal and doubts that the company's insurance will be high enough to cover the cost (for more on the insurance issue see Aug. 12 column).
Imperial in financial Catch-22
After indicating that the company does not have the money in the bank at this time, Kynoch goes on to say that, "If it's $400 million, then we are going to have to get mines generating to make that money to do the cleanup."
But there is a problem here when Kynoch says that we need to "get mines generating" the cleanup funds.  For one thing, as noted before in 250 News on Aug. 7th, company financial statements of previous years reveal that the Mount Polley mine itself was being used to generate "cash flow" for the company's new Red Chris mine in northwestern BC, as well as other Imperial operations.  Yes, the Red Chris mine is nearing finish as is its extension to the Northwest Transmission Line, and presumably will generate substantial amounts of revenue down the road.  But completion of the construction, as well as start-up funds, will be required for a while before that happens, especially since negotiations are still going on between Red Chris and that Tahltan First Nation regarding the mine.
So the Red Chris mine will still need cash flow from other parts of the company.  But the Mount Polley mine, which has been a cash cow for Red Chris, will likely not be in operation until the end of the year or later.  In the meantime, clean up and associated costs for the spill will be mounting by the day.  To compound the problem, Imperial Metals' other operating mine, Huckleberry Mine (which Imperial has a 50% stake in), was down for several months earlier this year because of equipment failure.  The company has a lot of debt, and, as one financial analyst says, "the shutdown of Mount Polley will stretch thin an already tight balance sheet".
Red Chris: The sharks are circling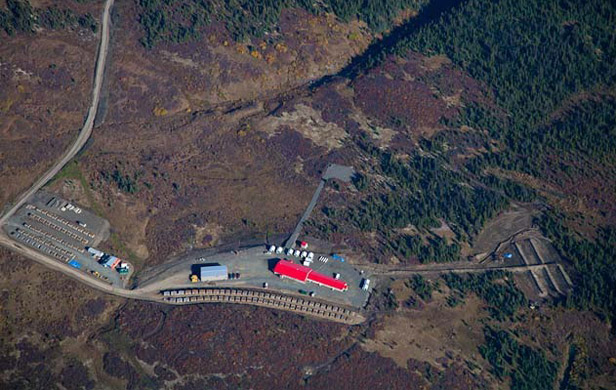 So how will the financial oligarchs who dominate the Canadian and global mining industry view this dicey situation?  Speaking plainly, some are no doubt looking at how to hive off the lucrative Red Chris mining asset and other Imperial assets from the Mount Polley operation, which is already nearing the end of its life as a mine and will be beset with clean-up costs and lawsuits for years to come.  Indeed, a number of big companies were in fierce competition to gain control of the Red Chris property several years ago, but Imperial Metals eventually won out.  Now the situation has changed and the sharks are circling again as can be seen by recent business analyst speculation on how Red Chris might be torn away.
But could this conceivably happen?  Could the Red Chris mine and other Imperial assets be siloed or separated off from a Mount Polley mine that is burdened with debt and lawsuits?  Could then the Mount Polley operation (or even Imperial Metals itself) eventually go bankrupt requiring public funds to clean up the mess and leaving plaintiffs twisting in the wind?
Each Imperial mine is its own separate company
The first thing to get straight is that, although the Mount Polley mine and the Red Chris mine are all part of the parent company Imperial Metals and are subsidiaries of it, they exist as separate companies.  For example, the Mount Polley mine is owned by the Mount Polley Mining Corporation (Imperial Metals acquired majority ownership back in the 1990s) and the Red Chris mine is owned by the Red Chris Development Corporation.  In turn, both are wholly owned by Imperial Metals.
To many, it would seem logical that any debt or obligations incurred by the Mount Polley Mining Corporation should fall on the parent company Imperial Metals and its wholly owned subsidiaries such as Red Chris Development Corporation.  But that is not necessarily the case according to current corporate law and government policy.
For example, a few years ago in BC, there was a tank car spill on a railway and the parent railway company and its 100% owned subsidiary company (which actually operated the railway) were sued.  But the BC Provincial Court ruled "that the parent company wasn't liable for the subsidiary's environmental offences" because it merely owned the railway and didn't operate it (Environmental Compliance Insider).
But wait.  If we examine Business Registry records regarding Imperial Metals and its subsidiary companies, we find that there are several overlapping members of the Boards of Directors, i.e. several of the Imperial Metals directors sit on the board of Mount Polley Mining Corporation and the same is true for some of the company officers.  Doesn't this prove something in terms of potential responsibility?
Not in this particular railway case.  The court found that it didn't matter that there were overlapping directors.  The parent company got off scot free (although this does not always happen).
BC public could be left out in the cold
In such a circumstance, it is within the realm of possibility that the subsidiary company could then go bankrupt and leave the plaintiffs and the people of BC out in the cold.
And yes, corporate reorganizations do happen all the time where assets are hived off.  Indeed, Imperial Metals, facing bankruptcy back in the early 2000s, did exactly that in a court-sanctioned restructuring which saw subsidiary oil and gas companies and assets shifted into a separate company from its mining assets (which were facing difficulty at that time as a result of low metal prices).
[signoff3]
In any case, a better situation for the workforce, local communities and businesses, First Nations communities and the people of British Columbia will be that Imperial Metals and its subsidiaries remain intact and continue operating under strict public oversight, as well as with First Nations and community consent.  It is especially important that Red Chris Development Corporation is not sold off by Imperial Metals and that the Mount Polley Mining Corporation is not hived off and put into bankruptcy.
Red Chris revenue should support Polley cleanup
As revealed in Imperial's Annual Reports, the Mount Polley mine provided cash flow for the Red Chris mine construction and all sorts of profits for Imperial shareholders.  Now it is Red Chris and Imperial's turn.  Clean-up costs and legal costs can be expected to go on for years.  Rather than being sold off for a song and taken over by global financiers, the revenue from the lucrative Red Chris mine must be used to pay for these costs now and in the future.  As previously noted, Imperial Metals' president Brian Kynoch appears to support that course of action.
In terms of Imperial's current financial woes, an immediate solution could be for Imperial's largest investors, several of whom have very deep pockets, to step up to the plate and provide financing to stabilize the company's situation.  These dominant investors, who have directors connected to them on Imperial's board, have profited greatly from Imperial's operations in the past and should have been aware of the risks the Mount Polley mine was taking.
It is clear that vigilance is needed in this fast moving situation.  For its part, the provincial government must make it very clear to Imperial Metals, as well as those who may be considering carving the company up, that it will not go along with any financial maneuvers that will hurt or endanger the interests of the people of BC or hinder the clean-up and financial reparations.
Peter Ewart is a columnist and writer based in Prince George, British Columbia.  He can be reached at: peter.ewart@shaw.ca