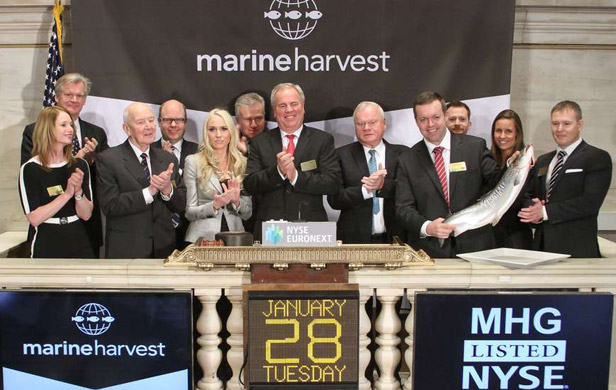 In a blog posting today, independent salmon biologist Alexandra Morton calls attention to the recent listing of Norway-based Marine Harvest – the world's largest  salmon farming company – on the New York Stock Exchange. The move comes on the heels of the revelation that the Harper Government is planning a major expansion of open net-pen salmon farms on BC's coast, made public by First Nations Chief Bob Chamberlin.
As Chamberlin noted, the plan utterly disregards the conclusions of the $26 million Cohen Inquiry into collapsing Fraser River sockeye stocks, which recommended a partial moratorium on new farms and urged more scientific study into disease transfer from fish farms to wild salmon, calling for the Precautionary Principle to be implemented:
[quote]It's time for us to hold this government to account. This is an urgent message to all the people who rely upon wild salmon in BC…I urge all of you to take a stand, to start writing letters to the editors, for First Nations people to start demanding that your chief and council stand up and do what's right for wild salmon. We cannot sit back idly and hope something gets done. It's up to you, it's up to me. I want to lock arms with all of you and do what's necessary to save wild salmon.[/quote]
For her part, Morton, connects the dots between the federal policy change and Marine Harvest's move to recruit North American investment on the NYSE:
In early January, we learned the Harper government quietly invited the Norwegian salmon farming industry to expand in BC. He did this despite specific warnings to the opposite by his own federal Commission.  He did this ignoring his constitutional responsibility to consult with First Nations. See press release by Living Oceans.

A few days later on January 28, 2014, Marine Harvest (the biggest of the three Norwegian operators using BC to grow "their" fish) was listed on the New York Stock Exchange. They rang the Opening Bell. Their press release states they plan to lead the blue revolution similar to 5000 years ago when we went from hunting to farming.  They fail to mention salmon farming requires aggressive wild fisheries.  Truth is a scarce commodity in this deal.
READ MORE on Morton's blog.