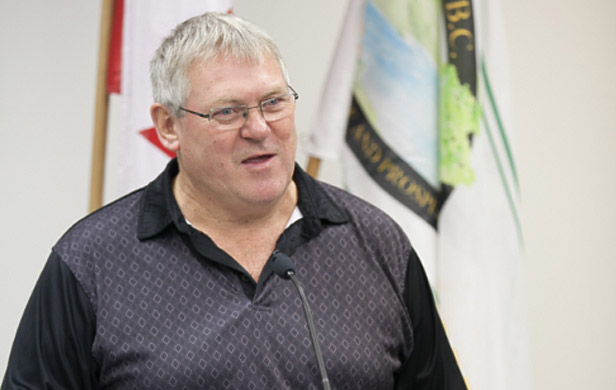 Public interest group IntegrityBC is calling for the resignation of Liberal Agriculture Minister Pat Pimm, following the revelation that he and Fort St. John Mayor Lori Ackerman meddled in an Agricultural Land Commission hearing into removing a piece of farmland from the ALR.
The Globe and Mail's Mark Hume reported on Saturday that Peace River North MLA Pimm was rebuked by the Commission for advocating for an application which it ultimately rejected in August. In the same ruling, the Commission criticized Pimm and Ackerman's political interference in the arm's-length review process. Said the ALC:
[quote]In our respectful view, those representations were not appropriate. They could create the impression for both the Commission and the public that these officials were attempting to politically influence the Commission.[/quote]
Pimm weighed in on an application by Terry McLeod to build a rodeo ground and campsite atop "high agricultural value" Class 2 soils on his 70.66-hectare farm.
The revelation of Pimm's interference comes on the heels of another recent story by Hume, which unleashed a wave of controversy over a leaked Liberal memo in which Pat Pimm calls for the gutting of the ALC's powers to clear the way for oil and gas development.
In a press release on the lastest controversy related to Pimm, Integrity BC calls for the Minister's resignation, pointing to a similar incident which forced federal Conservative Minister John Duncan to step down from Cabinet earlier this year. Duncan was found to have intervened in a Tax Court hearing on behalf of a constituent in 2011.
"This is politics 101," says IntegrityBC executive director Dermod Travis.
[quote]Ministers don't interfere in the work of judicial or quasi-judicial tribunals and – if they do – they resign.[/quote]
Travis told the Georgia Straight today that he's "flabbergasted" the NDP Opposition hasn't yet echoed his call for the Minister's resignation.
IntegrityBC has also launched an online petition calling for the Liberal Government to halt the gutting of the ALR contemplated in Pimm's recently-leaked memo. The petition has garnered over a thousand signatures in just a few days.
Farmland has become a fertile topic of discussion this past week in BC, with Delta Council's approval of the controversial Southlands development in Tsawwassen and the announcement of public hearings into the proposed Site C Dam – which would flood 60,000 acres of forest and farmland in Pimm's northeast BC riding.