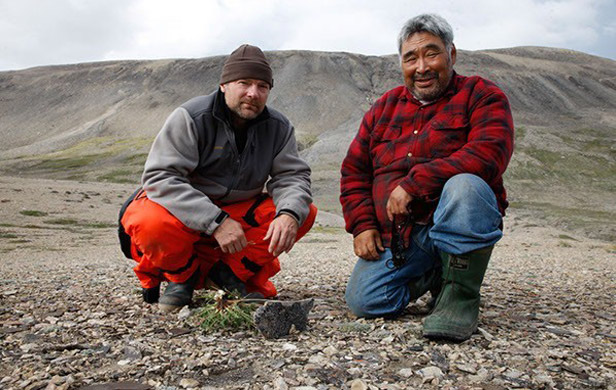 By Lee-Anne Goodman, The Canadian Press
OTTAWA – Greenpeace and the Inuit have joined forces to protest Arctic seismic testing, warning that plans to gauge oil and gas reserves with high-intensity sound waves in Baffin Bay and the Davis Strait pose grave dangers to marine life.
Inuit activists are staging a protest Wednesday in Nunavut's Clyde River, a tiny Baffin Island hamlet just above the Arctic Circle, a week after Greenpeace took their cause to the United Nations.
Inuit takes aim at Aglukkaq
An Inuit environmentalist also took aim at Environment Minister Leona Aglukkaq, a Nunavut MP, accusing the Conservative government of "cultural genocide" for its efforts to open up the Arctic to oil and gas exploration.
"We depend on these waters for food and the very existence of Inuit life depend on them," said Niore Iqalukjuak in an open letter to Aglukkaq in the Nunatsiaq News.
[quote]We fear that what the Conservative government is doing is a cultural genocide and will end the Inuit way of life as we know it. … You are our representative. Speak up on our behalf.[/quote]
Aglukkaq's office didn't immediately respond to a request for comment on Iqalukjuak's letter or on the protest being held in Clyde River.
Greenpeace, meantime, has thrown its support behind the community.
Greenpeace joins protest
"Proposed seismic testing activities in Baffin Bay will have severe impacts on marine life and traditional lifestyles of coastal indigenous peoples," the organization's Arctic campaigner, Farah Khan, said in a statement Tuesday.
[quote]We stand with the community of Clyde River in their efforts to uphold their rights and preserve their traditions.[/quote]
It was an apparent return of fire to Aglukkaq, who criticized Greenpeace this week by challenging the environmental group's historical opposition to the seal hunt and alleging it's merely using the Inuit to advance its own causes.
"The reality is that there are lots of environmental groups who say that they speak for and represent Inuit or aboriginal people, while at the same time they campaign against traditional ways of life like the seal hunt," she told the Inuit Circumpolar Council general assembly in the Northwest Territories.
Strange bedfellows
Greenpeace and the Inuit indeed make strange bedfellows in their campaign against Arctic seismic testing, a contentious method for surveying oil and gas deposits under the ocean floor that can have extensive effects on marine life, including disrupting migration routes.
[signoff3]
Greenpeace railed against the commercial seal hunt in the 1980s, and has since acknowledged their campaign had a detrimental impact on the Inuit.
"The consequences of that, though unintended, were far-reaching," Joanna Kerr, executive director of Greenpeace Canada, said in a recent statement.
She added that the Inuit "take only what they need, and no more. They honour the animals, the land and the ocean."
Greenpeace also recently drafted and adopted a policy, written with First Nations, in support of indigenous rights to a subsistence lifestyle.
In Tuesday's statement, the organization chided Aglukkaq for failing to protect her homeland's environment.
[quote]If Minister Aglukkaq acted as a steward for the Arctic environment — as an environment minister and chair of the Arctic Council should — then she would be listening to the concerns of northerners and acting on them.[/quote]
NEB opens up seismic testing
The National Energy Board, a federal government agency, recently announced it had given the green light to seismic testing in Baffin Bay and the Davis Strait despite protests from the mayor of Clyde River and other Inuit officials and elders. The testing will begin in the 2015 ice-free season.
According to the environmental group Oceans North Canada, Baffin Bay and the Davis Strait are home to an estimated 50,000 narwhals — most of the world's population. The area is also home to bowhead whales, 116 species of fish and an estimated million seabirds.
Iqalukjuak made reference to the unexpected alliance between Greenpeace and the Inuit in his letter.
"Of all organizations or parties, Greenpeace has stepped up to help fund the court battle (against seismic testing). How embarrassing is that, eh? The very people that helped to destroy our seal industry here helping Inuit on a cause that they both believe," he wrote.