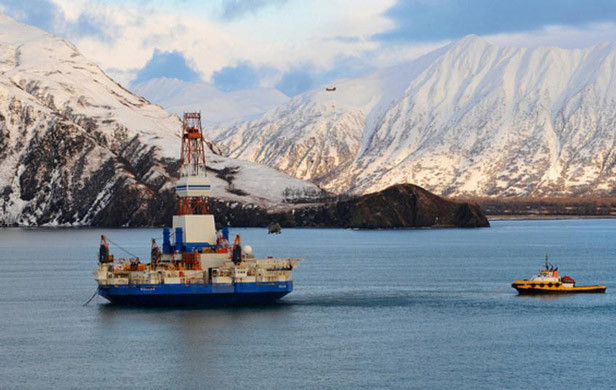 by Bob Weber, The Canadian Press
Growing industry interest in the offshore oil resources of Canada's Arctic is forcing northerners from east to west to confront hard questions about development.
No actual drilling is likely to happen for years.
But major decisions are being taken now as projects enter the regulatory system.
Governments, aboriginal groups and Arctic communities are considering issues such as how to plug possible blowouts, who benefits from development and whether some waters should remain closed.
"The first time this process goes forward, it's going to set a template for others to follow," said Louie Porta, science and policy adviser with Oceans North, part of the Pew Environmental Trust.
Plans for the eastern and western Arctic
In the western Arctic, an aboriginal regulator is setting up hearings into a plan led by Imperial Oil (TSX:IMO) to drill exploratory wells in the Beaufort Sea in 2020. The wells would be about 175 kilometres offshore from Tuktoyaktuk, N.W.T., in water up to 850 metres deep, and are so complex and difficult to drill that the company estimates it would take at least two seasons to complete one.
In the eastern Arctic, the National Energy Board is considering a proposal for seismic tests off Baffin Island that has sparked fierce community opposition. In response to that proposal, the federal government has begun a strategic environmental assessment to consider which parts of a huge swath of ocean all the way down the island's eastern coast could be opened up for exploration and which might stay closed.
The Beaufort project is being carefully examined by the Inuvialuit, the aboriginal group that has a land claim and self-government agreement in Canada's northwest corner.
The group has long experience with the oilpatch on land. But this project is different, said Nellie Cournoyea, head of the Inuvialuit Regional Corp.
"When it's onshore the benefits are much easier to grab ahold of, and the risks are less," she said. "When you go offshore you have higher risks and less benefits because of the high infrastructure investment you have to get involved.
[quote]Plus, people are still concerned about the risks of oilspills or having a blowout.[/quote]
Relief wells
The National Energy Board has said companies working offshore in the Arctic must have the capability to drill a relief well in the same season to release pressure and stop oil flow in case of a blowout such as the one that happened with BP in the Gulf of Mexico. But the board said other equally effective methods would be considered.
Imperial has said it's simply not possible to drill a same-season relief well in that region.
Cournoyea said the Inuvialuit are waiting for more information on how the company would respond to a blowout.
"We're dealing with that right now, to see if we can get more information on what that option might be," said Cournoyea, who added that Inuvialuit representatives have travelled to the Gulf of Mexico.
Regulatory decisions on Imperial's plans to stop a blowout and limit the release of oil will be crucial for subsequent proposals, said Porta.
[quote]There's this ideology that we can prevent our way out of spills.[/quote]
"But there's a logical miscue to suggest that prevention technologies equal meaningful response when things go wrong. I think it establishes a dangerous precedent as Canada continues to figure out how to drill safely in an Arctic context."
The effects on animal activity
"The proposed seismic testing and the resulting oil and gas drilling it would bring are not balanced development," the hamlet wrote to the energy board. "The (hunters and trappers organization) and hamlet council are firmly opposed to seismic testing in Davis Strait and Baffin Bay."
Aboriginal Affairs says no decisions have been made about whether those waters ultimately will be opened to oil and gas drilling, even if the energy board approves seismic testing."The strategic environmental assessment for potential offshore oil and gas exploration in Baffin Bay/Davis Strait will recommend to the minister if, where and when the region should be opened for exploration activities," say government documents.
Porta praises Ottawa for the attempt to get out in front of potential industry activity in the eastern Arctic.
"It's a great way to look at a broad question and understand and deal with some of the big-picture issues," he said. "To deal with those up front — things like what areas should be open for rights, what does a meaningful royalty package look like for Inuit — it's the best way to make big, important decisions."
It will be years before northerners see offshore drill rigs, if ever. But now is when the decisions about how that return will be managed are being made, said Porta.
"You don't go from something to nothing quickly with Arctic oil and gas. The decisions happen now."