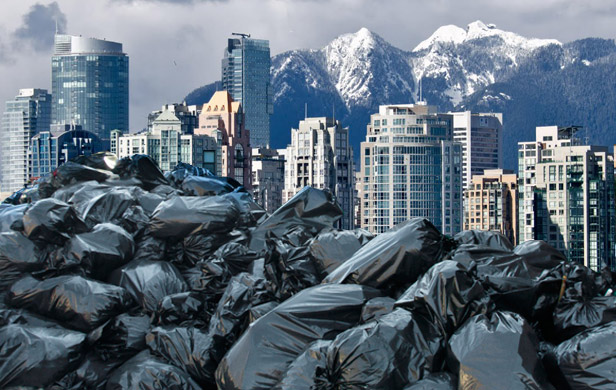 Money, money, money. Just like the ABBA song says; it makes the world go round.  Our garbage is the newest target for those who love only money and lots of it.
A decade ago some of those sharpest guys in the room, runaways from bankrupting Enron, secured legal authority from President Bush over all the production and distribution of electricity in North America, yes even Canada. The "North American Electricity Reliability Corporation"  (NERC) came into being. It was given the "authority to monitor and enforce compliance" of electricity to over 334 million people; installed production capacity of 1,200 gigawatts ; 211,000 miles of high voltage transmission lines and more than one trillion of assets value.
Your Provincial government has legally embraced this model because the corporate interests outside of the province wanted it so. Knowing this might help your understanding of how BC Hydro has become such a financial basket case and blatantly indifferent to its  BC customer needs and wishes.
Privatizing paper, garbage, recycling
The newest model of this concentration of taxing power over the citizens of BC, and an abdication of responsibility and accountability by our provincial government, is "Multi Material British Columbia" (MMBC). This "non-profit" enterprise says it "will assume responsibility for managing residential packaging and printed paper (PPP) on behalf of industry in May 2014". It is an artificially constructed monopoly designed to give private and privileged interest unearned premiums that invariably come from an exaggerated unnecessary amount of economic concentration.
[quote]BC Recycling Regulation was updated in 2011 to shift responsibility for managing the residential recycling of PPP from local governments and their taxpayers to businesses that produce these materials.[/quote]
Don't like it? How about a $200,000 fine!
Now have you ever read such lovely piece of self-serving propaganda?  This is published on behalf of an unelected Board of Directors who are all from large corporations headquartered in Ontario. Just so you know, these people have a big hammer; they will have the legal authority to fine those who are in non-compliance up to $200,000 per event.
So where does this all lead you may well ask? The design is simple. Your Government does not want to have local governments continue to be in charge of garbage disposal because it is too democratic. It wants to enable those who lust after building large incinerators and want the ability of imposing large processing fees for 35 years or more on all of us, to get their way.
By this design, the government is deliberately substituting investment capital for labor, which is ironic given the continuing propaganda by the Premier about job, jobs, jobs. It must be one of those occasions where cabinet members failed to connect the dots; or maybe not.
Erik Andersen on the "Enronization of BC Hydro"