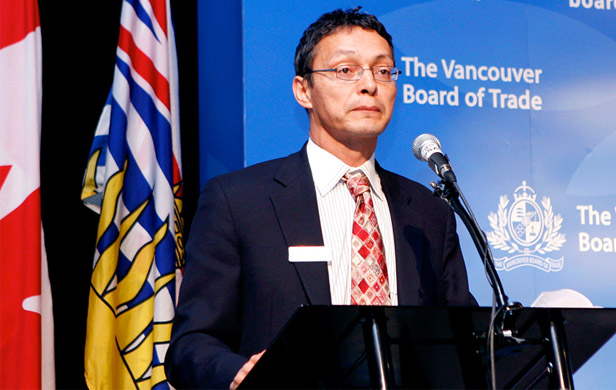 A new energy company with partial aboriginal ownership is floating the idea of an oil refinery at Grassy Point, near Prince Rupert on BC's north coast, according to a letter sent to members of a local First Nations band.
The letter, obtained through a facebook posting, was signed by chief/mayor of the Lax Kw'alaams Band, Garry Reece. It invites band members to two separate meetings about proposed energy projects. The first is an oil refinery put forth by Eagle Spirit Energy Holdings, Ltd., a company that was founded last year by Calvin Helin, an author and entrepreneur who identifies himself as member of Lax Kw'alaams First Nation and son of a hereditary chief.
The meeting is being held today "to provide Eagle Spirit Energy an opportunity to present their idea on the construction of an oil refinery and the shipment of oil from Grassy Point," the letter indicates.
Grassy Point is also the site of a liquefied natural gas (LNG) terminal proposed by an international consortium of companies.
A second meeting tomorrow is being convened "to provide a report on the activities associated with LNG on our traditional territory." The band's lead LNG negotiator will "discuss negotiations for a benefit package for Lax Kw'alaams."
Eagle Spirit was launched in September of 2012, touted in a press release as "a new ground breaking Aboriginal-owned and controlled company…to assist aboriginal communities and individuals to become successful with managing economic opportunities in their traditional territories." In the release, Chairman and President Helin stated:
[quote]We want to work with communities to establish a First Nations Energy Corridor across northern British Columbia.[/quote]
Helin, who has written and spoken extensively on indigenous self-reliance, has picked up some heavy-duty backing from investors like Vancouver's Aquilini family, which owns the Vancouver Canucks and significant real estate holdings.
A Globe and Mail story on Eagle Spirit earlier this year suggested:
[quote]At a time when Canada faces seemingly intractable conflict between first nations and a resurgent resource sector, Eagle Spirit also presents a shimmer of hope that a third way may be possible.[/quote]
It also acknowledged "Eagle Spirit's path, however, is unlikely to be easy, given the tremendous complexity of negotiating with dozens of first nations, and the huge cost and expertise required to build pipelines and power lines."
It remains to be seen the level of planning Eagle Spirit has done for its proposed oil refinery, among a long list of other concerns – such as how the oil will be delivered to Grassy Point and how Helin will deal with the tremendous First Nations-led opposition to pipelines crossing their territories.
Helin's proposal is sure to raise eyebrows in the energy sector, across BC and throughout First Nations communities.
[signoff1]