Of the 31 candidates who responded to a recent questionnaire on the controversial Woodfibre LNG proposal for Howe Sound, 29 – or 94% – were opposed.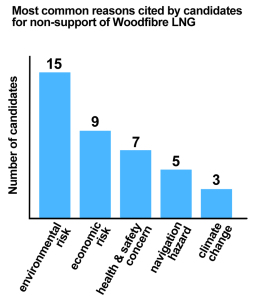 The survey, conducted by Propeller Strategy, was presented by phone or email to all 98 candidates in the region of the project's proposed Squamish plant and tanker route – encompassing Howe Sound and the Sunshine Coast. Of the 88 still known to be in the race as of this week – representing the communities of Squamish, West Vancouver, Bowen Island, Gibsons, Lions Bay and Whistler – many chose not to put their positions on the record.
Only two Squamish candidates firmly stood up for the project, which has drawn strong opposition from outgoing municipal councils – including votes for tanker bans by West Vancouver, Lions Bay, and Gibsons.
Chief among the concerns of these municipal leaders have been environmental and safety risks associated with the project and what is seen to be a negative economic trade-off for an area building a modern economy based on tourism, academia, and the growing presence of the recreation technology sector and entrepreneurs attracted by the lifestyle offered by the Sea to Sky region.
At a September meeting where representatives of the project – owned by Indonesian Billionaire Skuanto Tanoto – pled their case to West Van Council, Councillor Mary-Anne Booth openly scoffed at the paltry job promises from Woodfibre:
[quote]For the risk that's associated with this and the impact to that area, for…dozens of jobs – that's the best you can do? And we've got to to stand for that? You haven't convinced me.[/quote]
Yet despite the high rate of opposition amongst candidates who answered the survey, Stan Proboszcz, a director of Propeller Strategy, was surprised at the reluctance of many candidates to put their opinions on the record, after being contacted up to 3 times.
"Woodfibre LNG is one of the biggest election issues in the region, yet it seems some candidates aren't eager to provide a straight-up yes or no answer about whether they support it or not," says Proboszcz.
The survey will remain open to any candidates who still wish to make their opinion of the project known prior to the November 15 election.
The most common reasons for opposing the project, in order of priority, were:
environmental risks
economic risks
human safety concerns
navigational hazards of tankers
The two candidates backing Woodfibre are doing so because of economic benefits and a lack of known negative impacts to the community.
Based on the focus placed on the proposal by departing councils over the past year, whether or not candidates are putting their positions on the record now, they are bound to have to do so soon after they assume office.