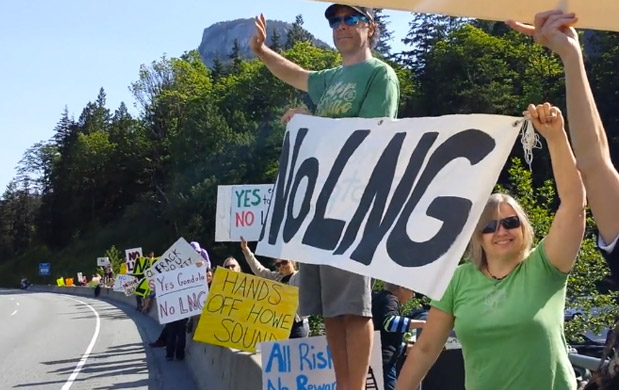 Two city councils in Howe Sound now officially oppose plans for liquefied natural gas terminals and tankers in their backyard. This week, West Vancouver joined Lions Bay in voting against LNG for the region – including an Indonesian billionaire's proposal to convert an old pulp mill site near Squamish into an LNG facility.
The Woodfibre LNG project is currently in an environmental assessment, for which the most recent window of public comment closed on July 27. The project has stoked considerable local interest amongst Sea-to-Sky communities, including a series public presentations, protests and debates.
West Van council concerned about tanker safety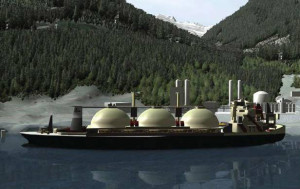 The West Vancouver vote for a tanker ban occurred at the July 21 council meeting, which featured a presentation from Bowyer Island resident Eoin Finn. Holding a PhD in physical chemistry and an MBA, the retied KPMG partner has been a key spokesperson for grassroots group My Sea to Sky, delivering a number of presentations throughout the region on the safety risks of LNG.
Finn told council that in the unlikely event of a tanker accident, the consequences could be fatal. According to the North Shore News, Finn explained to council that "spilled LNG would form a low, combustible fog. If ignited by a passing boat or a cigarette, the fog would burn at 1000° F."
"This particular location, in a confined watershed, in a very confined waterway, passing three ferry lanes, passing by several major population centres including West Vancouver, is a particularly inappropriate location," Finn explained.
Speaking to the motion, Councillor Bill Soprovich, prompted applause from the gallery, stating:
[quote]This is the most beautiful part of the world and suddenly we're going to have volatile, dangerous cargo going through it? I think not. The fight is on![/quote]
Lions Bay opposes LNG too
The vote by West Vancouver council follows a similar move by neighbouring Lions Bay in May, which saw municipal leaders agree to send a letter on behalf of the community to Prime Minister Stephen Harper and Premier Christy Clark urging a ban on LNG tankers in Howe Sound.
"Council has discussed and been concerned about safety in the past, so this [resolution] is another indication that we're concerned about safety on the sound," Mayor Brenda Broughton told the Squamish Chief at the time.
"You've got Anvil Island, near Lions Bay, and then Bowyer Island…a tanker is not always going to be in the middle of Howe Sound. It has to be on one side or the other, and as it gets to Horseshoe Bay and Bowen Island, there's just no way for it to avoid those narrow passages," she said.
[signoff3]
These concerns were also heightened by a presentation by Finn to mayor and council. "Eoin highlighted the issues surrounding a tanker accident and what the kill zone would be if there were an accident," says Broughton.
Chief among community members' concerns about LNG is the clash between this industry and a bevy of other industrial projects slated for Howe Sound with more sustainable economic opportunities emerging for the region.
"Squamish is such a special place and this is such an exciting time to be there," My Sea to Sky's Tracey Saxby told the audience at a recent summit on LNG hosted at SFU's Harbour Centre campus.
"It's a community in transition from the old way – the extraction and resource-based industries – to a new economy that has a broader economic base and more diverse and resilient economic base," Saxby explained, noting the various new industries being developed in the community – from academia to the emerging recreation technology sector, to enticing entrepreneurs with the region's spectacular wilderness.
Squamish council faces similar pressure
In another indication that the battle over Woodfibre and other potential LNG projects for Howe Sound is heating up, over 100 citizens crashed a recent Squamish council meeting, seeking to put LNG to a vote in that community as well.
"So it's an incredibly hot and pressing topic for our community," Cocunillor Patricia Heintzman told The Vancouver Observer after the meeting.  Echoing the municipal plebiscite in Kitimat earlier this year over the proposed Enbridge pipeline, Heintzman  stated:
[quote]I've been on council for almost nine years, and I've never received letters like we do on LNG…I think the only real way to [understand citizens' views] is to have a referendum at this point.[/quote]