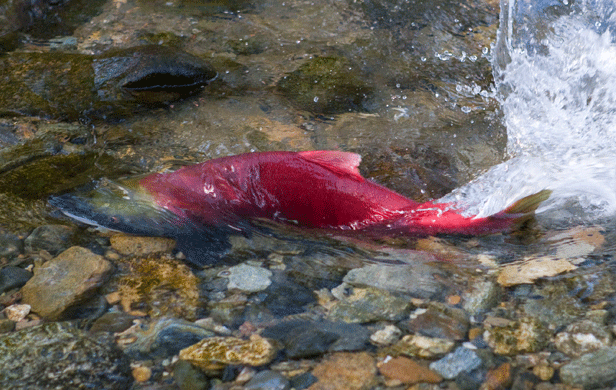 The red flags keep popping up for BC's vaunted LNG plans. Last week, Shell became the latest company to put its final investment decision for a proposed plant in Kitimat on hold due to the collapse of the global export market. This week, a draft federal environmental report on Petronas' proposed Lelu Island project – while not going far enough, critics charge – confirms it would carry "significant adverse environmental effects", including climate issues. Now, a group of Russian scientists is kicking off a tour of northern BC to warn British Columbians about the very real impacts these projects can have on wild salmon.
None of this has fazed LNG's biggest cheerleader, Christy Clark, who maintains her Liberal government is "sticking to its guns" on LNG. One can only hope such statements don't prove literal, with the plethora of aboriginal resistance camps and a growing citizen movement to block her plans. Our premier may not heed these warnings, but British Columbians who care about preserving our already beleaguered salmon runs would do well to.
LNG plant likely connected declining salmon run
Three Russian scientists and a noted conservationist speak from direct experience when they caution us about the effects these plants can have on wild salmon. The group hails from Sakhalin Island, which, according to a media release on a talk they're giving today, is "the only place in the world that has an existing LNG facility operating in a wild salmon estuary."
The project, built in 2009 by Shell but now operated by Russian energy giant Gazprom, has coincided with a "severe decline" of what was once the third largest pink salmon run in the world, in Avina Bay. They've studied the situation extensively and are here to report on their findings – namely that the collapse can be attributed to activities associated with the plant, including dredging, light, and noise pollution. They see the potential for a repeat of these unfortunate circumstances if the Trudeau government approves Petronas' project, which sits amidst vital estuary habitat for Skeena River salmon.
Russian project similar to Lelu Island
"Sakhalin Island and Lelu Island have two things in common – wild salmon and LNG. My Canadian colleagues invited me, along with three Russian scientists, to share our experience of the environmental impacts of the Sakhalin II LNG project, which has been in operation for 10 years on the opposite side of the Pacific Ocean", said Dimitry Lisitsyn, member of the Russian delegation and Director of Sakhalin Environment Watch.
[quote]We have a chance to help the people of the Skeena watershed protect one of the most famous and rich wild salmon sanctuaries in the world. With the dramatic decline of our wild salmon, I really hope this will not be replicated in the Skeena estuary. [/quote]
These concerns echo those raised by independent scientists, local First Nations and conservation groups since details of the project emerged several years ago. A report paid for by the proponent, which dismissed concerns about impacts on wild salmon, has come under heavy criticism as junk science.
The Russian scientists, at the invitation of First Nations and conservation groups in the Skeena region, will present their concerns and science to a number of communities across the north and in Vancouver over the next week.
Federal review needs to address salmon
Meanwhile, conservation groups and First Nations have voiced concerns with the recently published draft environmental report from the federal review panel for ignoring salmon issues, though it did tackle the carbon footprint of the project and impacts on other marine life, particularly harbour porpoises. Opponents of the project are pressing for the final report to include these salmon concerns – a plea which should be buoyed by the Russian scientists' visit.