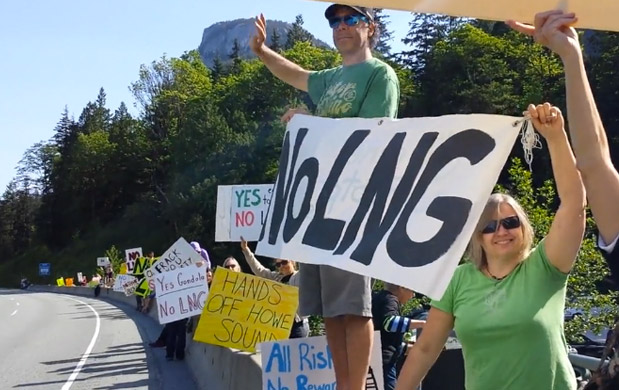 Former District of Squamish Councillor Meg Fellowes addresses current mayor and council over Fortis BC's controversial application to conduct test drilling in a wildlife management area. The drilling is in connection to a planned pipeline expansion to feed gas to the proposed Woodfibre LNG plant near Squamish. At a Tuesday meeting, council deferred its decision on the drilling permit issue, to be revisited in 2 weeks.
Mayor and Council – District of Squamish (Dos):

Council is caught between a rock and a hard place. The rock is a possible Fortis legal suit if Council doesn't approve drilling in the [wildlife management area]; and, the hard place is a possible legal suit by one or more taxpayer/resident if council does approve the drilling.
During the council meeting of January 6th, 2015, a disconnect was identified between the Official Community Plan (OCP) and the authorizing bylaw. Awareness of the disconnect provides grounds for a community legal challenge should Council approve the permit. The prudent solution, for a risk adverse council, is to officially amend the OCP to reflect the bylaw; or, amend the bylaw to reflect the OCP.
A legal challenge coming from the community happened in 2000 when [anti-woodchip transfer facility group] CHIPS took on DoS in the wood-chip transfer facility debacle where Squamish council was taken to court by concerned citizens. Despite the assurance of municipal lawyers, the District of Squamish lost the court case, the proposed wood-chip transfer facility wasn't built, and one of the enterprising citizens was subsequently elected mayor of Squamish.
Seeming procedural technicalities cost taxpayers money, developers time, and communities their reputation when local governments try to take short-cuts on contentious issues.
Meg Fellowes
Former DoS councillor (1993-99)