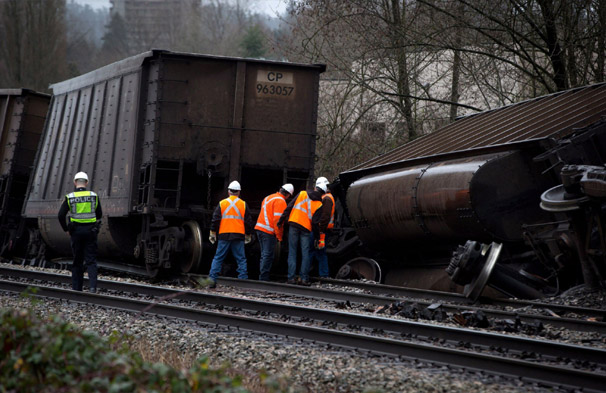 BURNABY, B.C. – A CN Rail spokeswoman has confirmed heavy rainfall led to a train derailment in the Vancouver area Saturday.
Emily Hamer says the increased amount of rain caused a beaver dam to wash out, spilling large amounts of water onto the tracks and causing a train in Burnaby to jump the tracks.
She says seven cars went off the rails — three of them were lying on their sides while four remained upright.
Coal was spilt into a nearby creek that feeds into Burnaby Lake, but Hamer could not say how much.
The train is owned by CP Rail, but the tracks and the crew are from CN Rail.
Hamer says CN Rail is taking the lead in the cleanup and that the tracks should be operational by Sunday afternoon.
Read: Mechanical failure spurred CN oil train derailment in New Brunswick