A world-renown tourism destination and home
to all five species of pacific salmon, multiple species of trout, and
200 plant and animal species, the Taku Watershed is threatened by a
plan to re-open a 50 year-old mine.
You will know Rex Weyler as a co-founder of Greenpeace, the author of the definitive history of that organization which started in Vancouver, and author of many books the most recent of which was The Jesus Sayings.
Not long ago I attended a public meeting on the public power issue and heard Rex speak and an eloquent and timely speech it was. It made me uncomfortable, as I'm sure it did others because I could see he was talking to all of us. Simply put, our desire to consume is running ahead of the world's ability to supply what we want. Rex concentrated on oil, the production of which has peaked – meaning that we consume more than is being discovered – but he went further and described what we now insist upon having, compared to that which satisfied our grandparents. He asks if we're really happier than they were.
[See and hear this speech here.]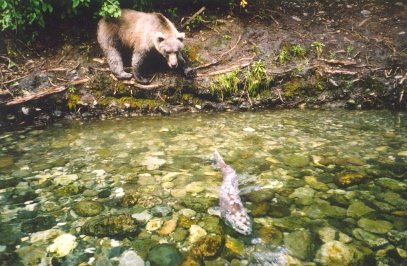 It made me think – since last December, Wendy and I have flown to London and return, then to Auckland for a cruise that got us to Bangkok thence the flight home – nearly 50 hours of helping airlines consume fossil fuels not to mention the cruise ship. Was Rex talking to us?
You're damned right he was – all of us.
We, all of us, must re-evaluate our priorities. The older of us grew up in the era where there was always another valley to log and another stream to take the place of the one under the new subdivision. There was this need to constantly expand without any concern for the consequences. Rex asks the critical questions that I used to ask when I chaired meetings on Sustainability for Metro Vancouver – where does it all end? Do we just go on expanding, cutting an ever-greater swath through the environment without a care because we just know there must be more nice stuff over yonder mountain?
Perhaps it's best that we do our plundering of Mother Earth far away where we can't see it…In a recent article I asked why, if we were going to turn Fish Lake into a toxic dump for a mine, shouldn't we log Stanley Park, subdivide Little Mountain and develop Burns Bog? What right have we to save our favourite places while destroying areas we can't see?
We, at The Common Sense Canadian are committed to fighting the Campbell's private river policy with all our might and main – while devastation is planned over that range of mountains that blocks our view of the Taku River.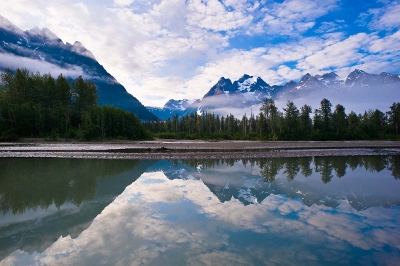 Out of sight, out of mind?
The Taku River rises in Northern British Columbia and spills into the Pacific near Juneau, Alaska. To get a sense of what this wild river looks like you will see, attached, some wonderful pictures by David Nunuk – courtesy of Nola Poirier who, along with First Nations' people and local concerned citizens, is working hard to raise concerns about this proposed mine.
The Taku has all five species of migrating salmon plus the Steelhead, (a sea going Rainbow Trout), resident Rainbows, Cutthroat, Dolly Varden, and Bull Trout.
*A science note – at one time the Rainbow and the Cutthroat were classified as true trout along with Atlantic salmon and Brown trout (prefix Salmo) but that was changed some years ago and they are now classified as Oncorhynchus like the five migrating species. The Bull Trout and the Dolly Varden are close relatives, namely Chars (Salvelinus).
Mark Angelo is a renowned river conservationist, paddler, teacher and writer. He served as head of the Fish, Wildlife and Recreation Program at the British Columbia Institute of Technology for many years and is now the Chair of their new Rivers Institute. Also Chair of the Outdoor Recreation Council of BC and founder of BC and World Rivers Day, Mark is broadly viewed as one of North America's pre-eminent river conservationists. In 2008 The Outdoor Recreation Council found that the Taku was one
of the most endangered rivers in BC, owning to this mining proposal.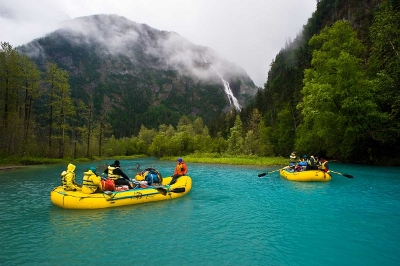 Here's what Mark had to say in a recent article:"… the Taku is the best international watershed left for salmon, hosting robust populations of the five Pacific salmon species. A multimillion dollar commercial and sport fishing industry depends on the Taku as does a less quantifiable but equally significant First Nations and native American cultural connection of countless generations."
Mark continues… "also dependent on the Taku is the watershed's extraordinary biodiversity – grizzly bear, bald eagles, sea lions and forest primeval – dependent on salmon as food and nutrient source. Research has demonstrated that the marine-derived nutrient salmon deliver far into the interior via natal watersheds benefit nearly 200 plant and animal species …"
He goes on, "Encompassing almost 19,000 square kilometers, the Taku watershed remains wild; fully intact, without roads and other development".
Now the problem. There is a land use plan (LUP) being developed between the Tlinget First Nation and the BC government, BUT the provincial government is determined that mining be allowed – and there is a prospective mine upstream from the salmon rearing sites. Redfern Resources has been proposing for several years to re-open an
old zinc-copper-silver-gold mine on the Taku, near Atlin, BC – closed
in 1957 by then owner Cominco. Minerals from the Tulsequah Chief Mine
would be shipped down river by barge. Roads required to access and
build the mine would fragment key habitat and threaten the river with
inevitable acid drainage. Because we share the Taku watershed with our
Alaskan neighbours, the issue is of concern across the border as well.
Redfern Resources recently went into receivership amid questions about
project costs – but we now by way of Alaskan authorities (not our own
provincial government, mind you), that plans are in the works to
transfer the claim and project proposal to another company. As long as
there's value to the resource, this river will be at risk – which is
why the public must come to its defense.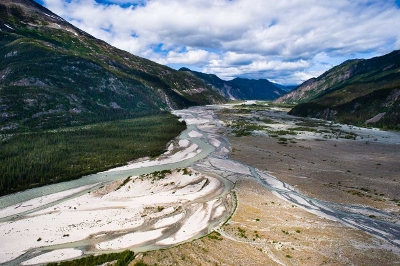 One must also ask: if you're going to have a mining operation
and all that entails, what's the point of an LUP? No one is suggesting that masses of people will be moving into the area, so surely an LUP protects existing values against existing perils – and you can't protect the values of the Taku if there's a mine. That simple.
Moreover, once you do have the mine, that's the thin edge of the wedge. More development will come and the river will, like so many others, be sacrificed for the use of mankind.
Let's go back to Rex Weyler. He makes the point that mankind will keep on consuming until there's nothing left to consume. Two examples: That's what happened on the east coast cod fishery as fishermen were clamoring for the right to fish when there weren't any fish left; that's also what happened on Easter Island where the inhabitants destroyed their abundant flora in order to make those big statues and kept on making statues even when the end of the flora was in sight.
Is this what our fate is! Are there no stop signs? Is nowhere sacred except the tiny bits of the outdoors near large centres of population? Stanley Park is sacred but the Taku is not because city folk can see the park but not the river? Do we believe, contrary to all the evidence, that we can both mine the ore and have fish and wildlife too?
Or have we perhaps decided that we must have "progress" and that that trumps the environment? Is British Columbia the new Easter Island where we will go on building monuments to our stupidity and to hell with the consequences?
Perhaps it will be the Taku that answers that question.
Wouldn't it be great – if unlikely – if we said NO!
To learn more and take action, go to http://www.takulegacy.org