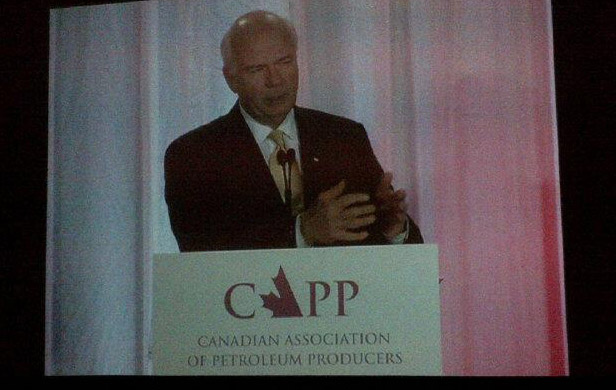 by Paola Loriggio, The Canadian Press
TORONTO – CBC News anchor Peter Mansbridge defended himself Thursday after a report that he made a paid speech to petroleum producers, saying he has never publicly promoted or opposed oilsands development.
"If I leave a speech and those in attendance think they know where I stand on any controversial issue, then they're guessing. Because they won't find it in the words I've spoken," he wrote in a blog post on the CBC website.
[quote]I would not, do not, and have not, given a speech either promoting oilsands development or opposing it.[/quote]
The anchor of The National said he gives about 20 speeches each year, about half of them unpaid. When he receives a fee, he often donates part or all of the money to charity, he said.
Mansbridge said the network's senior management has always approved his speaking engagements and known when he is paid for them.
Some media watchers have suggested it's not appropriate for journalists to accept money from groups or industries that are the subject of their reports.
CBC management vetted speech
On Wednesday, a CBC report on its president Hubert Lacroix's appearance before a Senate committee said the anchor's speaking engagements are vetted in advance.
"And each one is looked at to make sure there is no conflict of interest with respect … to editorial coverage and to make sure that our rules are respected," Lacroix told the committee.
"He knows that he never offers up his opinion or takes a position on anything that is in the news when he makes those speeches."
Murphy, Mansbridge both paid to speak by oil industry
This comes after a published report said Mansbridge was paid to speak to the Canadian Association of Petroleum Producers in 2012.
He is the second CBC personality recently to face questions for reportedly receiving payment in exchange for speaking at events organized by members of the oil industry.
The network has acknowledged that Rex Murphy, who hosts the show "Cross-Country Checkup," has given speeches supporting oilsands development.
Murphy stood by his comments in a column published last week in the National Post, saying he always speaks his mind and his opinions can't be bought.
To suggest otherwise is "an empty, insulting slur against my reputation as a journalist," he wrote.
News Ombudsmen beg to differ
The executive director of the Organization of News Ombudsmen told CBC Radio that neither journalist should have accepted money — and that in doing so, they've undermined the broadcaster's credibility.
"The problem is in the money received," Jeffrey Dvorkin, a former managing editor for CBC Radio, told "As It Happens."
"In the end, there is a suspicion laid on all of the CBC," he said.
[quote]It's about reputation here and what Rex has done, he has, frankly, I think, sullied the reputation of all CBC journalists by doing that and Peter Mansbridge hasn't helped particularly in taking money from that source either.[/quote]
CBC defends Murphy
The CBC has defended Murphy's actions, saying he is a freelance commentator paid to take a "provocative stand" on issues.
In a blog post published earlier this month and updated Thursday, CBC News editor-in-chief Jennifer McGuire said freelancers are given more leeway to express their views.
Full-time staff, however, must abide by an internal policy that states "CBC journalists do not express their own personal opinion because it affects the perception of impartiality and could affect an open and honest exploration of an issue," she said.