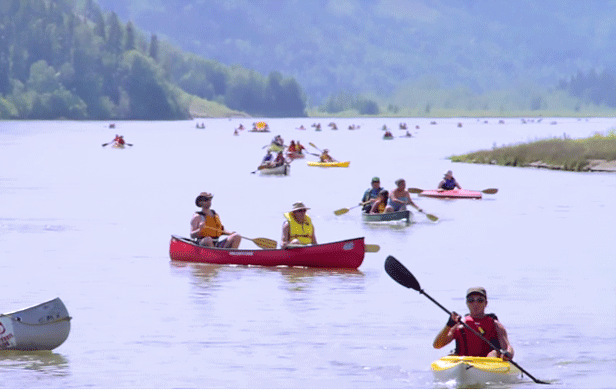 The following letter was written by the Paddle for the Peace Planning Committee in response to an article in the Toronto Star which stated that events like the upcoming Paddle for the Peace (July 11th) were on terrorist watch lists.
Dear Editor,
According to the Toronto Star (March 30, 2015), the Federal government has included the Paddle for the Peace on a terrorist watch list.  And here we thought we weren't getting any attention.  We are in good company, though.  Also on the list is a physicians' group opposed to child poverty, Mother Theresa, and a senior's quilting group from Bugtussle, Saskatchewan.  In an effort to save our government security agencies time, not to mention the Canadian taxpayers a great deal of money, we'd like to present a brief resume of some of the key players on the Paddle for the Peace planning committee.  It is a rogues gallery indeed.
Retired primary school teacher Ruth Ann Darnell is the Chair of the Peace Valley Environment Association.  She has been working to save the Peace Valley from Site C since the 1970s.  Back then, Ruth Ann's subversive activities were hampered by the fact the Internet was decades away from being created.  After a long day of teaching five year olds to read, she just never had the time or energy to trudge down to the Fort St. John library to research DIY incendiary devices.
After teaching her sixteen year old son to drive, local children's clothing retailer Danielle Yeoman knew she was one of those rare talents every ISIS recruiting officer dreams of discovering.  She desired to really put her nerves of steel to the test.  But her terrorist career was over before it was started when she learned those torso belts packed with explosives add at least six inches to your waistline.  I mean really, there are limits to what a girl will do to support a violent fanatical cause.
When she was a little girl, Diane Culling dreamed of becoming a pot-smoking tree-spiker fighting to save the rain forests of the Sudan. Unfortunately she found the required cannabis consumption affected her fine motor skills.  She kept hitting her own thumb with the hammer.  In the end, she was forced to limit her mind-numbing activities to sitting through endless BC Hydro consultation meetings.
Local business owner Wendy Crossland's membership application was regretfully declined when the Al-Qaeda executive realized she never stops smiling and laughing.  They might be a blood-thirsty terrorist organization, but they do have some standards.
And then there's Tony Atkins.  He was in from the start and in it until his untimely death from cancer a few weeks ago. Educator, tireless community volunteer, virtual saint, and all-round asset to Fort St. John.  He won't be there in the flesh at this year's Paddle, but believe me, he will be there in our hearts.
So, that's just a few members of the notorious PPPC (Paddle for the Peace Planning Committee).  There are others, but they're like Voldemort – we don't even say their names out loud.
To our friends at Canada's spy agencies – I hope this helps.   If you want mug shots and finger-prints please meet us at our rendezvous site on the west side of the Halfway River bridge on Highway 29 on July 11th.  Bring a spare shirt in case you drip pancake syrup.  And don't forget your life jacket; because, after all, at the Paddle for the Peace we are all about public safety.
Cordially,
Paddle for the Peace Planning Committee