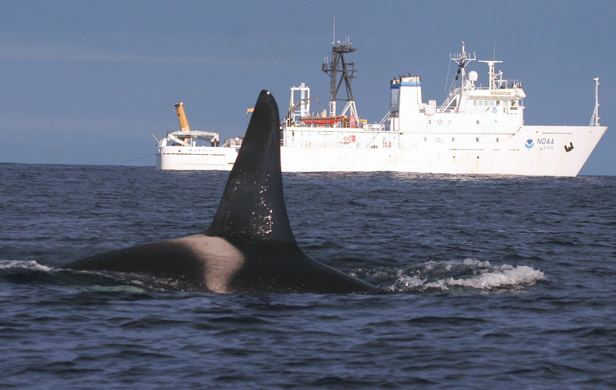 By Dirk Meissner, The Canadian Press
VICTORIA – Triple threats of pollution, vessel noise and the availability of food are making it hard for a group of orcas that live along the continent's West Coast to increase beyond an estimated population of 80, says a decade-long U.S. study.
Southern resident Orcas can be found in the Salish Sea off Vancouver Island and Washington State, and have been seen as far south as Monterey Bay, Calif., and as far north as Chatham Strait, Alaska.
Lynne Barre, a spokeswoman for the National Oceanic and Atmospheric Administration, said Monday from Seattle, Wash., that experts don't consider the southern residents in recovery, so the animals will remain an endangered species. Barre noted:
[quote]Right now, they're not growing as fast as our recovery criteria would require for them to be taken off the Endangered Species List. They've been hovering around the 80s for quite some time.[/quote]
Theme parks contributed to population's decline
There are estimates the southern resident population once numbered at least 140 animals, and was perhaps as high as 200, but that was before nearly 50 were removed from the population in the 1960s and '70s and placed into theme parks, Barre said.
She said since 2003 NOAA scientists have collected data, ranging from fecal and biopsy samples to satellite-location data and behavioural observations, in order to provide a comprehensive look into the health of the population, and to inform recovery efforts.
Food, noise, pollution are top threats
The study found after 10 years of research that pollution, vessel noise and the availability of food are the three major barriers to recovery for the southern residents, said Barre.
"It's most likely a combination of the threats that's resulting in the lack of recovery for the whales," Barre said.
[quote]If they don't have enough food to eat, that's when they'll use their blubber where those (pollution) contaminants are stored. Also, vessels and sound make it difficult to find prey that is in the environment. All three of those threats work together to cause problems for the whales.[/quote]
The study found southern residents are among the most contaminated marine mammals in the world. They favour endangered Chinook salmon as prey, and when vessels are present they hunt less and travel more.
Disappearing Chinook, contaminants affect food supply
Barre said pollution causes disease and reproduction problems in the southern residents. She said endangered Chinook runs limit their primary food source, and when vessels are nearby, the orcas call louder, hunt less and spend more time and energy trying to get away from the traffic.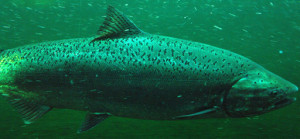 Chinook salmon make up a majority of the whales' diet, particularly in the summer, but many runs of Chinook are endangered or threatened, potentially limiting the food source, she said.
Pollutants like PCBs, DDT and now flame retardants were found in high concentrations in the southern residents, she said.
Vessel noise affects feeding patterns
The study also found southern residents spent less time hunting for food when vessels were in their area. Instead, they swam in less predictable patterns, including breaching and slapping their tail fins.
Barre said they were also observed to communicate in louder tones when vessels were nearby.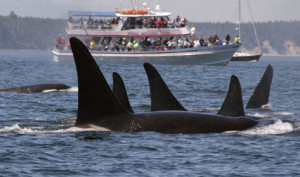 She said changes in 2011 to increase the distance from which whale-watching vessels can view whales appear to have been adopted by the industry, but the message to stay away from the Orcas still hasn't resonated with recreational boaters and anglers.
"They either don't know about the rules or aren't paying attention to what's going on around them, or they just want to drive right up to the whales to get a close look," said Barre.
Kristin Hobbis of Victoria's Eagle Wing Tours said the southern residents are curious animals and often come up to the boats to take a look, but the tour operators are vigilant about keeping their distance.
"We just have to shut off our engines," she said. "It's super, super important to them for sure that we are not crossing any lines."
[signoff3]