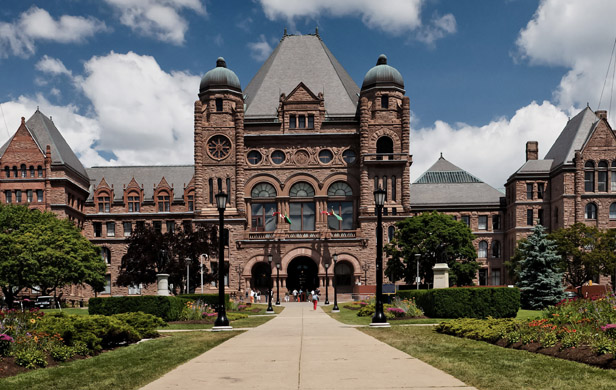 TORONTO – Ontario's governing Liberals have "snuck in" changes that are dismantling environmental protections and could have "disastrous results" for the province, environmental commissioner Gord Miller said Thursday.
"Major" changes in last year's budget give the government the power to hand over Crown land — which makes up 87 per cent of the province — and natural resources to private companies, he said.
Said Miller after releasing his annual report:
[quote]Why would they change it to allow the cabinet of Ontario, by regulation, to hand that responsibility over to an independent third party? It could be anybody. It could be any kind of corporate entity…There's a lot of wealth, a lot at stake here.[/quote]
It's "galling" that those changes, which should be of particular concern to northern Ontario residents, were shielded from public scrutiny, he said. They were in the 2012 budget bill, which is exempt from a requirement for the government to post environmentally significant decisions.
It's opening the door to turning Ontario's far north into "the Wild West," Miller said.
450,000 square km, no environmental monitoring
There's no formal environmental monitoring in the region covering 450,000 square kilometres, he said, despite intensive mineral exploration and development around the Ring of Fire — believed to be one of the largest chromite deposits in the world.
"Why are they changing the laws quietly, without public consultation, to allow this wide open exploitation with no rules?" Miller said. "What's going on?"
Natural Resources Minister David Orazietti disputed the commissioner's findings, saying the changes were posted publicly.
"It certainly wasn't snuck in," he said.
[quote]There was consultation with respect to those lands and those are not lands that are being turned over to private landholders. They continue to require all the environmental protection of Crown lands.[/quote]
The changes apply to the minister's ability to delegate management of crown land to a third party, Orazietti said.
"Without these powers to delegate, we have no ability to allow a third party to help us manage Crown land. Let me be clear, in no way does this allow the government to sell off Crown land."
Government: Changes "minor"
Orazietti said there were "minor changes" to permits that related to dredging and removing small vegetation that have "minimal environmental impacts."
The Liberals also defended their work on the Ring of Fire, saying the government is working with companies and First Nations to address environmental concerns, infrastructure development and resource revenue-sharing.
"Realizing the full potential of the Ring of Fire region is an extremely complex undertaking," Northern Development and Mines Minister Michael Gravelle said in a statement.
"It's one that our government takes very seriously, we need to get it right the first time."
Budget cuts and regulatory changes
Miller's annual report also slammed the cash-strapped Liberals for gutting the Ministry of Natural Resources through budget cuts and regulatory changes, which he says weakens important safeguards for provincial parks, at-risk species and hunting.
He warned that major industrial development could proceed almost unchecked, provincial parks are being turned into revenue streams and there's no funding or plan to deal with invasive species like the emerald ash borer and Asian carp.
Cuts to regulations, staff and programs at the ministry are "short-sighted and regressive" and pose significant ecological risks, he said. It could have "disastrous results" for Ontario's natural heritage and disrupt the way of life in the north.
"We're talking about handing over this land to third parties over which we have no control," Miller said. "So it's profound change on the highest level."
Ontario's enforcement spending lower than other provinces
Ontario spends less of its total budget on natural resource management and environmental protection than five other provinces, including British Columbia, Alberta and Manitoba, he noted.
"When we start to treat nature and species like a bunch of widgets in a factory, we've completely lost sight of what's truly important for our communities and our very identity as Ontarians," Miller said in a statement.
Private industry benefits from these changes, said Green Party Leader Mike Schreiner.
"Go to the Elections Ontario website and see who donates to political parties and you'll see who benefits from these changes," he added.
"Ridiculously low" extraction levies
The government should reverse cuts to the ministry by raising Ontario's "ridiculously low" levy for extracting aggregate resources — which the industry supports, Schreiner said.
It's 11.5 cents per tonne in Ontario, compared to 50 cents in Quebec and $2 in the United Kingdom, he said.
"The government's failed to act and the opposition parties have failed to force them to act," he said.
The Progressive Conservatives have promised to spur economic development by cutting red tape and repealing legislation that bans development in half of northern Ontario.
Tory critic Michael Harris said the government needs to "balance environmental protection with economic development."
The New Democrats, who helped the minority Liberals pass the 2012 budget said it was "very sneaky" of the Liberals to put those changes in the bill.
"We were very concerned about the deregulation in that bill and we did as much as we could," said NDP critic Jonah Schein. "We worked very hard and we still have massive concerns about what's happening."