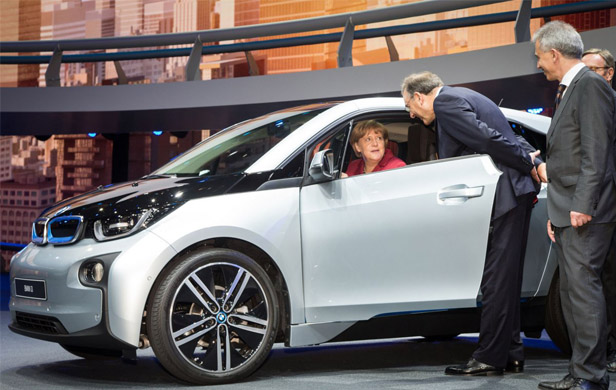 BERLIN – Germany blocked the introduction of tougher European Union emissions rules for cars shortly after Chancellor Angela Merkel's party received a large donation from three major BMW shareholders, according to newly released parliamentary records.
Opposition parties on Tuesday cited the donation as evidence of an uncomfortably close relationship between Merkel and German automakers.
Following weeks of German lobbying, the environment ministers of the EU's 28 nations agreed Monday to seek further tweaks to the proposed emissions rules that come into force in 2020.
Just days earlier, Merkel's Christian Democratic Union had received 690,000 euros ($935,900) from Susanne Klatten, her mother Johanna Quandt and brother Stefan Quandt. The Quandt family holds almost half of the shares in the Munich-based BMW, whose luxury cars on average emit well over the proposed limit of 95 grams of carbon dioxide per kilometre.
Merkel's party insisted there was no link between donation and the pressure that her government put on other European countries to hold off on the emissions deal.
"The Quandt family has supported the CDU with private donations for many years, independently of whether the CDU was part of the government or in opposition," the party said in a statement.
The opposition Left Party noted that the decision to block the new emissions rules would directly benefit German automakers such as Daimler, Volkswagen and BMW.
"The suspicion that this corporation bought itself a favourable policy is hard to dismiss," it said.
The auto industry and its suppliers employ some 740,000 people in Germany.
The Green Party, which is one of two parties holding talks with the CDU to form a coalition government following last month's election, also criticized the donation, saying it harmed Germany's image abroad.
In a compromise deal in June, national EU governments and the European Parliament agreed to force carmakers to further slash their average carbon dioxide emissions from a 2015 target of 135 grams.
Germany wants to delay the introduction of the new emissions limit until 2024.