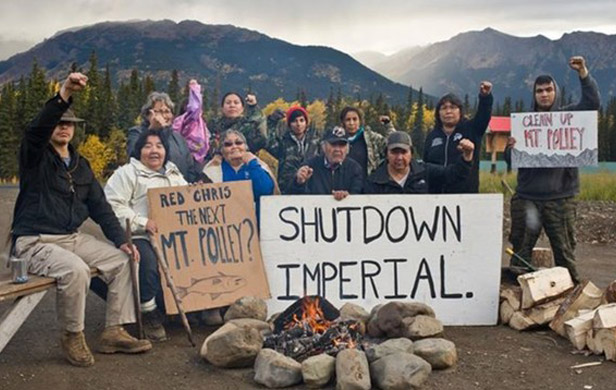 UPDATE: In a surprise ruling today, Justice Grauer refused to grant Imperial Metals an injunction against the Klabona Keepers' blockade
Imperial Metals, the company behind the Mount Polley tailing pond disaster, is seeking an injunction today at the BC Supreme Court to forcibly remove Tahltan First Nations protestors from a blockade of the company's newest project, Red Chris Mine.
In a media advisory this morning, the leaders of the Yuct Ne Senxiymetkwe Camp – established near Mount Polley mine by a group of local Secwepemc First Nations following the largest tailings pond spill in history – announced a protest of the injunction proceedings outside the Vancouver court house where they are being held.
The Mount Polley disaster inspired the Klabona Keepers, from Tahltan territory in northwest BC, to set up a blockade of Imperial's yet-to-be-opened Red Chris Mine – over concerns about the company's tailings pond design.
This concern is shared by others, including US-Canadian conservation group Rivers Without Borders. In a recent op-ed in these pages, RWB's Tadzio Richards noted:
[quote]In 2013, a third party review was done of Imperial Metals' engineering designs for their tailings pond at Red Chris. The independent review concluded there was no guarantee that Imperial Metal's tailings pond would hold toxic wastewater from the mine. Despite this conclusion, construction at Red Chris has been allowed to continue, and the mine is currently scheduled to open in September of this year.[/quote]
Soon after writing this, the Klabona Keepers instituted an initial protest against Red Chris – stalling the mine's opening. They backed down temporarily once Imperial offered the Tahltan increased oversight over the mine's tailings pond design. But losing confidence in the new arrangement, the Klabona Keepers put up a new blockade on Sept. 29.
On October 3, Imperial filed initial documents announcing injunction proceedings for 10 AM today.
"The defendants, through their physical blockade and their conduct, are interfering with Red Chris's use and enjoyment of property," the documents claimed.
Imperial Vice President Steve Robertson acknowledged to the Terrace Standard over the weekend that the company will be seeing an injunction to break the blockade, noting, "We don't think there is a good reason for [the current blockade]. We understand there are some outside forces that have come in that are very active on the blockade."
Says Kanahus Manuel of the Yuct Ne Senxiymetkwe Camp near Mount Polley:
[quote]In light of the Tsilhqot'in case, injunctions must not and cannot be used as a tool to displace Indigenous Peoples from their homelands anymore.[/quote]
Supporting Manuel at a recent press conference in Vancouver on the lack of post-spill cleanup in the area, Grand Chief Stewart Phillip of the Union of BC Indian Chiefs declared, "We're moving from the era of consultation to the era of consent," putting governments and corporations on notice that First Nations are prepared to take a far more active role in protecting their territories from dangerous development.