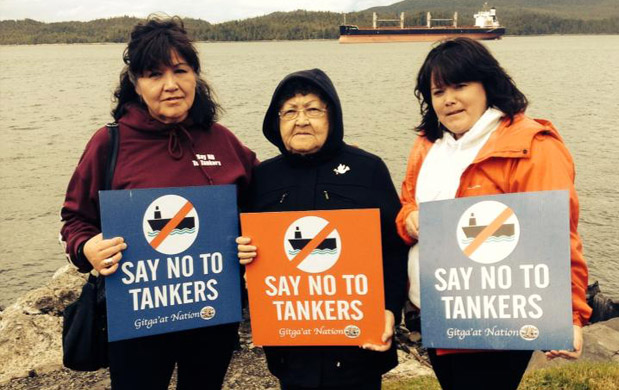 By The Canadian Press
HARTLEY BAY, B.C. – The women of the Gitga'at Nation of British Columbia planned to erect a symbolic blockade made of yarn across the Douglas Channel on Friday to protest the federal government's approval of the Northern Gateway pipeline.
The crochet chain was expected to stretch 2.5 nautical miles, or about 4.5 kilometres, across the opening of the narrow channel tankers will have to navigate to a marine export terminal set to be located in Kitimat, on the north coast.
"It's to show that we're prepared to do what it takes to stop them because we can't let it happen. It's the death of our community, our culture," said Lynne Hill, who came up with the crochet blockade.
[quote]And if there was an oil spill there would be nothing left.
[/quote]
Members of the community in Hartley Bay — best known for rescuing passengers from the Queen of the North ferry as it sank in 2006 — initially planned to set out at 6:30 am to string the crochet chain across the water.
That departure was delayed by weather, and a flotilla of boats planned to set out by noon to drape the multi-coloured yarn, decorated with community memorabilia and messages of hope, between buoys across the ocean. The slender chain is more than six kilometres long to ensure it will reach from one side of the narrows to the other.
[signoff3]
Hill, 70, said the protest began in Hartley Bay and spread, with supporters sending in crochet links from all over Canada. One woman knit an entire kilometre-long link by herself, she said.
On Tuesday, the federal government granted final approval to the pipeline that will bring oil from Alberta to the B.C. coast for export, with 209 conditions. Hill said it was a devastating day for the Gitga'at.
She said community members will see the tankers from the project pass right in front of the remote community at the mouth of the channel, about 630 kilometres north of Vancouver. The village is reachable only by boat or plane.
"We thought right down the line that somebody that cared would be listening to what we were saying. Not just us — to what lots of people were saying," she says.
[quote]When the joint review panel was here we thought they were listening. We thought they heard what we had to say.[/quote]
Hill says the crochet chain is a warning that the Gitga'at will do what it takes to stop the pipeline.
"We get our food from the sea. We travel on the sea," she says.
Check out Gitga'at Chain of Hope Flickr photostream by Andrew Frank