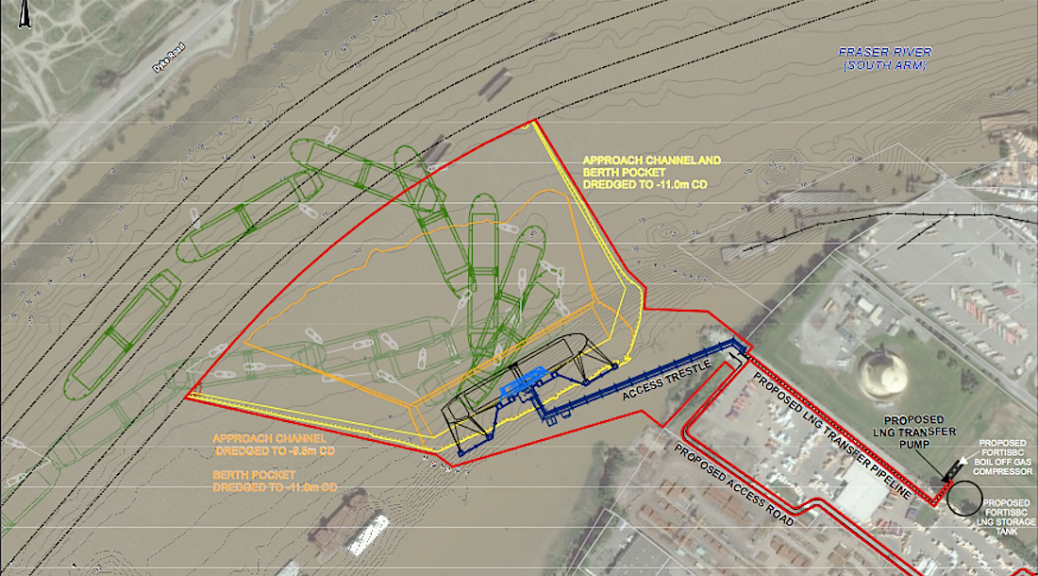 This article is republished with permission from The ECOreport.
UPDATE: Following complaints that the CEAA email system for public comments on the project has been out of commission throughout the 20-day comment period, the window for feedback has been extended until June 24
Building a major LNG terminal in Delta would have a big  impact on the mouth of the Fraser River.  The diagram at the top of this page shows how LNG tankers would come into, and leave, the proposed WesPack Tilbury Marine Jetty. Even with the help of tugboats, they need most of the Fraser River's width to turn around.
The National Energy Board has already granted an export license for a facility that could bring up to 120 LNG tankers and 90 LNG barges to this terminal every year. In the US, LNG proponents need to assess potential hazards all along LNG tanker routes, but the Canadian Environmental Assessment Agency is considering waiving an environmental assessment. The public comment period on this project is almost over – citizens have two days left to ask for an environmental review.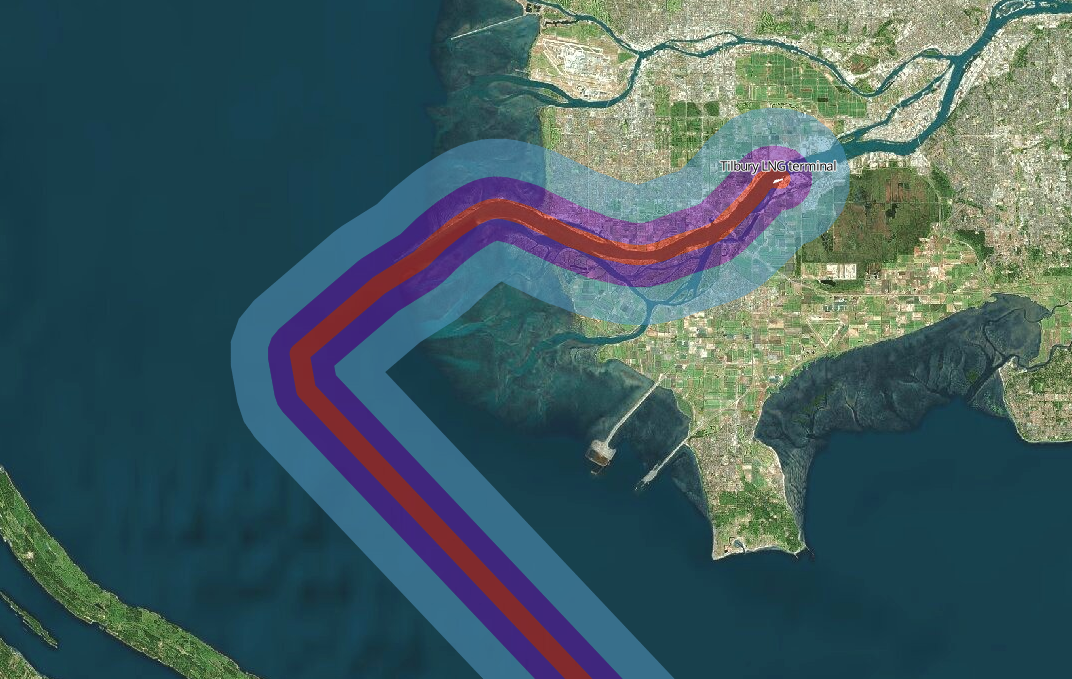 The above map, from Real LNG Hearings.com, shows the extent of the hazard area if there was an explosion. Note the red line, which goes out the Fraser and along the tanker route. This is a band 500 meters wide depicting: "extreme hazard of combustion and thermal damage from pool fire if evaporating LNG is ignited.  Cryogenic burns and structural damage from exposure to supercooled LNG. Asphyxiation hazard for those exposed to expanding LNG vapor plume." Though the degree of danger is less, there could be additional explosions anywhere within the blue zone if the LNG vapour cloud makes contact with a source of ignition. 

Said Kevin Washbrook for Voters Taking Action on Climate Change:
[quote]Whether we're LNG supporters or not, we probably all agree that major projects like this need careful review.  However in this case public notification has been negligible, the comment period is absurdly short, and fundamentally important questions  — like whether it makes any sense to build a LNG terminal on a narrow, heavily trafficked river — haven't even been asked.[/quote]
Citizens can write to federal Environment Minister Leona Aglukkaq via the Real LNG Hearings website, to require a proper level of LNG risk assessment is done in BC.
More detailed information available here: