---
Fraser River Gravel Rush: Ex-Minister's Relative Among Those Who Benefit
From Ecologically Destructive Mining Program
By
Damien Gillis
February 22, 2010
It's mid-February in the Lower Mainland, which means an annual tradition
is beginning anew. Large pilings are being driven into precious
river beds, while industrial trucks and backhoes make their
pilgrimage to the Lower Fraser River Gravel Reach, a series of
ecologically rich gravel bars between Hope and Mission. This year's
targets are Little Big Bar, Gill Bar, and Hamilton Bar.
By the end of March, the machines will be gone, along with over 30,000
truckloads (close to 350,000 cubic metres) of precious aggregate for
the construction industry – just before the mighty spring freshet
temporarily washes over all evidence of the destruction they leave
behind. In this late-winter rite – now in the sixth year of a 5-year
term – politicians will again claim it's all to protect the people
of the Fraser Valley from flood risks, while a growing legion of top
aquatic scientists and committed conservation groups counter with
their steadfast refrain: that the Campbell Government's Fraser
River gravel mining program is essentially a scam, with disastrous
long-term consequences for fish.
The bars of the Fraser River Gravel Reach serve as critical spawning and
rearing habitat for various species of wild salmon, endangered
sturgeon, and other important species. A similar mining program took
place in the 1990's, albeit it at a much smaller scale, but concerns
over ecological impacts led to a federal and provincial moratorium on
the practice. That is, until 2004, when Victoria minted a new 5-year
deal with the federal Department of Fisheries and Oceans (DFO) to
restart mining – this time at astronomical volumes. In all, 2.3
million cubic metres were to be mined throughout the agreement (which
ran out last year, but has been extended for another year without
public consultation, while the two governments reportedly work
sub-rosa on a new 10-year extension plan).
All
for Flood Protection?
There was one big catch to the 2004 deal: all future gravel mining had to
be for flood-risk-reduction purposes. This new rationale for
removing the gravel – namely lowering the river bottom to increase
the floodway capacity – provided an effective way around the
moratorium; the media and public, justifiably concerned about flood
risks in the Valley, bought the story hook, line and sinker. Even
the astute Province columnist Brian Lewis ran with the
flood-prevention story, writing in 2008: "To
sweeten the pot, Victoria is waiving collection of the
$1-per-cubic-metre gravel royalty. It's certainly gratifying to see
common sense prevail. While fish are important, so are people."
There are just three problems with this narrative:
The best available science and engineering makes a mockery of the
contention that this gravel mining will help reduce flood risks in
any significant way. There
is little evidence that inordinate amounts of gravel are piling up
between the dykes and causing a flood risk – or that removing it
will make more than a tiny dent in the flood profile in this part of
the Fraser. Simply building up the dykes would provide far greater
safety benefits for a much lower cost – financially and
ecologically.
Gravel, a.k.a. aggregate, is a valuable commodity – the primary ingredient
in both concrete and asphalt – yet it is being given
away at significant taxpayer expense
to local construction and concrete companies. It
turns out that the president of Jakes Construction Ltd., that has
handled much of the infrastructure building and gravel mining at
taxpayers' expense, is the uncle of the of daughter of BC Liberal
MLA for Chilliwack-Sumas, John Les, who oversaw the gravel mining
program as Solicitor General (more on that later).
The ecological impacts of the extractions on already-struggling salmon and sturgeon
have been severe – including the killing of up to 2.3 million pink
salmon at Big Bar in 2006.
The evidence against the official flood protection story is overwhelming.
Even the independent engineering consultant hired by DFO, Northwest
Hydraulic Consultants, showed that for a hypothetical removal of 2.8
million cubic meters of gravel from the areas in question (22% more
than the amount that had been agreed to over the past five years), we
could only expect to see a maximum reduction
in the river level of 2-4 inches!
And that is just in the local area of the extractions. Further down river, closer to population
centres in the Valley, the consultant determined the flood protection
benefits would be utterly insignificant. The report stated quite
simply: "It does not appear that large-scale gravel removals from
the Gravel Reach of the Fraser River are effective in lowering the
flood profile." Other experienced scientists in academia and
government have come to the same conclusion over and over again:
UBC's Dr. Robert Millar, a highly respected hydraulic engineer, wrote in 2008 to the
Alouette River Management Society, "Individual gravel removal
operations [in the Gravel Reach] will have negligible or
insignificant effects on the flood profile."
Dr. Peter Ward, another venerable hydrologist from UBC questioned the rationale for mining
at one of the 2008 gravel bar sites: "As a hydrology engineer
who's been involved with matters concerning Fraser River flooding
for many years I am surprised about why this project at Spring Bar
could possibly be justified on the basis of flood control. Looks as
though someone proceeded with the construction work without getting
or listening to competent advice."
Even technical scientists at the BC Ministry of Environment and DFO have been
internally critical of the program, but overruled by their managers.
Here is then-Regional Director for DFO, Dr. John C. Davis in a 2003
memo to Deputy Minister Larry Murray: "There is, however, a
general lack of analyses/information that demonstrates that gravel
removal has or will reduce flood hazard by lowering the dyke
profile."
Yet despite all the compelling evidence to the contrary, the provincial
agency responsible for routine flood protection and removal of gravel
in and about streams – the Water Stewardship Division of the BC
Ministry of Environment – continues with the mantra that this
initiative is all about flood protection.
The
Shock Doctrine as Flood
The psychological games being deployed by provincial politicians and key
federal bureaucrats to advance this program closely resemble those
described in renowned Canadian author Naomi Klein's book, The
Shock Doctrine. The
formula is simple: Scare people with the threat of floods and
consequent loss of their homes, then offer them a solution – even
if it's a bogus one. Chances are, the public will go along with it
if they are frightened enough.
Eastern
Fraser Valley MLA and former Solicitor General John Les has been a
central cog in the well-oiled Fraser gravel fear machine, declaring
in 2007, in support of the mining program: "We don't want to be
playing Russian Roulette with the safety of citizens in the Fraser
Valley and Lower Mainland." Thankfully, not everyone has bought
this gravel mining cover story. A few reporters like Mark Hume at
the Globe & Mail and The Vancouver Sun's Larry Pynn have been
raising tough questions for a number of years now.
And
groups such as the Fraser River Gravel Stewardship Committee – a
broad coalition that includes organizations like the BC Wildlife
Federation, Fraser Valley Salmon Society, and David Suzuki Foundation
– have gone to great lengths to gather the available science and
demonstrate to the public that there is something very fishy about
this whole program.
This
is far from the only group that has registered concerns about the
mining program. The Rick Hansen-led Fraser River Sturgeon
Conservation Society has posed hard-hitting questions with regards to
how this activity affects white sturgeon spawning and rearing habitat
– and has received no satisfactory answers to their concerns. The
Fraser River Coalition has also independently called for a cessation
of these mining projects until common sense can be brought into the
picture. The bureaucrats and politicians at both DFO and the
Province have ignored these folks as well.
MLA
John Les has been steadfast in defending the official cover story for
the program, telling reporters in 2007: "Our sole motivation for
removing gravel is flood protection." And yet, a 2008 television
photo op at one of the gravel mining sites provided a telling lapse.
Then-Solicitor General Les and fellow Chilliwack MLA and Environment
Minister Barry Penner (another long-time cheerleader of the program)
were speaking together to a camera from Global TV, as gravel trucks
lumbered about in the background. Les deviated from the script for a
moment, to the apparent consternation of his wingman.
Les:
"It provides the material that they need today for concrete and
asphalt…"
Penner
(jumping in): "But that's not why we're taking the gravel out
of the river."
Les:
"No, no, no."
Penner:
"It's for flood protection purposes."
Yeah.
Right.
Speaking
of John Les…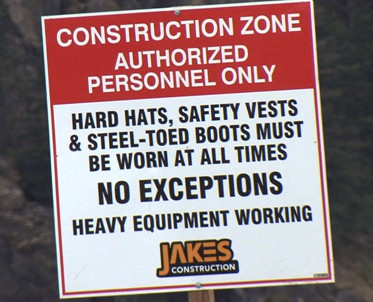 Not
only has the province waived the old royalty fees for this valuable
commodity – the BC taxpayer has been subsidizing
its removal by fronting the money for both the building of
infrastructure necessary for the removals, and for the gravel
extraction work itself. For example, BC taxpayers paid almost a
million dollars to build a bridge at Spring Bar to facilitate gravel
extraction by Jakes Construction Ltd., whose president, Jake Klaassen
is a relative of John Les (Jake is the uncle by marriage of Les'
daughter; he is listed in Elections BC documents as the sole owner of
the company, and in Corporate Registry documents as the company's
president and sole director).
Most taxpayer
funding for the gravel mining program comes through Emergency
Management BC, a department of the Ministry of Public Safety, which
Les headed as Solicitor General – that is, of course, until a
scandal involving alleged improper removals from the Agricultural
Land Reserve, that may have benefited Les and his family and
associates, forced him from Cabinet in 2008. (An RCMP investigation
into the issue is ongoing).
The
Fraser River gravel mining program is a tangled web of government,
industry, and First Nations connections, shrouded in opaque layers
that make it difficult to see where taxpayers' money is coming from
and going to. For example, we know from a 2006 quote for services
from Jakes Construction Ltd. (then operating as Jakes Contracting) to
the City of Chilliwack, that the company received $200,000 for
infrastructure building and gravel removal at Big Bar. The document
is signed by company president Klaassen. The city's engineering
department received three quarters of the funding from EMBC to relay
to Jakes. But that's about all we know for sure.
Various
individuals and organizations have tried on numerous occasions to
obtain information about gravel mining contracts. When one
individual requested tender documents regarding the 2006 Big Bar
contract that Jakes Contracting received, a representative from EMBC
responded that they did not have that information and directed the
individual instead to the Cheam Indian Band. Requests in 2009 for
contractual information regarding mining at Tranmer Bar and Harrison
Bar were met with essentially the same redirection.
Why
refer individuals curious about these contracts to a local aboriginal
band? Generally these mining deals are set up as follows: the
Province, through Emergency Management BC, provides taxpayer funding
to the local aboriginal bands in whose traditional territories the
gravel bars lie – such as the Cheam Band near Chilliwack, or the
Seabird Island Band near Rosedale. The bands get monies to pay for
infrastructure needed to mine the gravel. It also appears that bands
receive some royalties for the gravel itself, though the term
"royalties" in this case may simply be a euphemism for a
fee-simple trade of gravel for cash. The bands in turn hire private
companies – such as Jakes Construction and Lehigh Gravel – to
build the bridges and roads and perform the gravel mining. The one
exception to this appears to be Link's Contracting and Aggregate
Supplies Ltd. (formerly Mar-Link Custom Crushing Ltd.), operating as
K & L Contracting, whose sole director, Lincoln Douglas, is
related to several members of the Cheam Band – including former
elected chiefs; whether [and how] Link's/K & L receives its
contracts through the Cheam Band, or directly from the Province, is
unclear. K & L is performing work at two of this year's
extraction sites – Little Big Bar and Gill Bar.
This
convoluted structure ensures that key questions like how the
contracts are vetted, who gets the money, and who ends up owning the
gravel remain a complete mystery in most cases. The trouble is,
because the bands aren't subject to the same Freedom of Information
requirements as the Government, it makes it virtually impossible to
know who is getting paid what, and whether open and fair tender
processes are occurring for the work. We should not forget that this
gravel is a crown asset, owned by Emergency Management BC (because it
is the original proponent of the gravel removal), and that the bulk
of funds for the entire extraction process come from the Province's
tax coffers.
Individuals
and companies related to two of the primary beneficiaries of gravel
mining-related contracts – Jakes Construction Ltd. (then doing
business as Jakes Contracting) and Lehigh Gravel (through two related
companies, Lehigh Northwest Materials Ltd. and Lehigh Northwest
Cement Limited) have also made significant financial contributions to
the BC Liberal Party during the gravel program, totalling close to
$100,000.
Lehigh
Northwest Materials Ltd. and Lehigh Northwest Cement Limited
together contributed $79,346 to the BC Liberal Party from 2005-2009
456255
B.C. LTD. (d.b.a. Jakes Contracting) contributed $3,500 from
2005-2007. Jake Klaassen is listed with Elections BC as the
company's sole owner.
Chilliwack
Cattle Sales Ltd., a company belonging to the Kooyman family – which
both Jake Klaassen and John Les' daughter Sharon married into –
contributed $9,050 to the BC Liberal Party from 2005-2009
Other
individual members of the Kooyman family and companies owned by the
Kooymans contributed $4,150 to BC Liberal Party and $400 to the BC
NDP from 2005-2009
What
About the Fish?
Even more appalling than the taxpayer rip-off is the amount habitat on the
river bottom that has been disturbed. According to the most recent
studies by fluvial geomorphologists (river geographers) on average
only 30,000 cubic meters of gravel moves down the Fraser under the
Agassiz-Rosedale Bridge each year. Located at the heart of the
Fraser gravel mining area, the annual gravel flow at this spot is a
good indicator of how fast gravel is building up in the Reach. What
this analysis also tells us is that, based on the 2.3 million cubic
meters of planned extractions under the current program, we are
essentially allowing the removal of 70 years worth of natural gravel
inputs in just 5-6 years! Far from gravel aggrading and raising
flood risks, valuable fish habitat is being pillaged much faster than
nature can replenish it.
The upshot is hundreds of hectares of key fish habitat have been
harmfully altered in a very short period of time. Up to 2.3 million
pink salmon eggs and alevins (larval salmon) were destroyed at Big
Bar in 2006 (a Jakes Contracting project); in 2008 a number of pink
salmon alevins were also killed at Spring Bar (another Jakes project)
in order to access the mining site (DFO actually issued a permit
allowing this!); and valuable spawning and rearing habitat for
endangered sturgeon – at places like Popkum Bar, Tranmer Bar, Little
Big Bar (all Jakes projects), and Harrison Bar (a Lehigh Gravel
project) – has been ravaged by the program. Simply put, these serious
ecological impacts are a grave price to pay for mere inches
of flood reduction. And yet, another round of extractions is
ploughing ahead this February and March at Gill Bar, Little Big Bar,
and Hamilton Bar – the latter two locations thought to be likely
sturgeon-spawning habitats.
DFO
Not Doing its Job
The
key protector of fish habitat, under the Canadian Constitution, is
DFO. But in the past decade its managers have consistently failed to
enforce the Fisheries Act, or even protect non-salmon species,
despite their constitutional mandate to do so. The Rafferty-Alameda
Dam and Oldman River Dam court decisions made it unequivocally clear that
the buck stopped at the federal government when it came to protecting
fish habitat – which includes salmon, white sturgeon, and all other
fish species. But DFO managers continue to publicly defend the
gravel program, and point their fingers at the BC Environment
Ministry as the managers responsible for sturgeon. In 2008, the
Chilliwack Progress reported that, according to DFO's local area
director, Mel Kotyk, "there is 'absolutely' no contradiction in
federal fisheries' mandate to protect fish and a permit that allows
removal of 400,000 cubic metres of gravel from Spring Bar in the
Fraser River."
That's not what the federal Auditor-General's office found in a scathing
2009 report that took DFO to task on the gravel file. The report
found that DFO "cannot demonstrate" that fish habitat is being
adequately protected. Larry Pynn wrote in the Vancouver Sun, "The
report also upholds the concerns of conservation groups about the
removal of gravel in the lower Fraser River, saying it has killed
millions of juvenile fish and failed to meet the province's stated
objective of reducing flood risk."
Of course, John Les begs to differ, criticizing in 2008 the petition
from leading environmental groups and individuals (including eminent
UBC fisheries scientist Dr. Daniel Pauly, and Order of Canada
recipients Mark Angelo and Vicky Husband) that prompted the federal
Auditor-General's investigation. Les said at the time he was
"disappointed in the continued denial that this [environmental]
group seems to be in… They simply will not – and aggressively will
not – believe that gravel removal from the Fraser River is
necessary… and it puts us all at risk if we take that public policy
option."
Not
to keep beating up on the guy, but Les apparently also pressured DFO
to get with the gravel program. In a 2006 Tyee article, Christopher
Pollon wrote:
An internal DFO
memorandum acquired through the Access to Information Act illustrates
the political pressure exerted by Fraser Valley politicians on the
DFO to approve large-scale gravel removal. On November 4, 2003, DFO
Regional Director John C. Davis wrote to Deputy Minister Larry
Murray, quoting former Chilliwack Mayor John Les as follows: "DFO
puts fish before people, continues to be an obstacle to gravel
removal and… catastrophic results cannot be far behind."
Ten
months later, DFO approved the program.
Fraser
Gravel, the Olympics & Gateway
While
taxpayer-funded gravel mining giveaways to companies like Jakes
Construction merit more scrutiny beyond these pages, we shouldn't
lose sight of the big picture. It is the insatiable appetite for
concrete and asphalt throughout the Lower Mainland that is at the
root of this gravel program. While Fraser River gravel accounts for
less than a quarter of the region's aggregate supply, its close
proximity to many of the projects that require the material make it a
highly valued source. In the same 2006 Tyee article, Christopher
Pollon rightly connected the dots between the Fraser gravel program
and several large-scale Campbell Government industrial projects in
the region – namely the Gateway Highway Program and, yes, the
Olympics.
Pollon
quoted then-director of the six billion dollar highway mega-program,
Mike Proudfoot: "We've got enormous gravel demand on the horizon
for the Gateway Project and other public building priorities moving
forward… We will be looking for those materials from the Fraser,
where it can be [mined] to benefit flood control."
Gateway
also threatens fish habitat by potentially destroying a vital
component of the Fraser ecosystem, Burns Bog, with the South Fraser
Perimeter Road. For this reason, the planned route was severely
criticized by both Environment Canada and a panel of local scientists
charged with overseeing and protecting the bog's conservation
lands.
The
Olympics is another massive infrastructure program that has boosted
gravel demand. Roughly 400,000 tonnes of aggregate were required
for the Olympic-driven Canada Line alone. Add to that the Sea to Sky
Highway expansion, the Convention Centre, Athletes' Village, and
dozens of other new venues – and at least some of the responsibility
for those millions of dead salmon can be laid at the doorstep of the
Games – and the larger promotion throughout the region of economic
growth at any cost.
What
Can Citizens Do?
The
Canadian Environmental Assessment Act (CEAA) is the legislation
responsible for ensuring that environmental assessments of proposed
industrial projects in or around streams are conducted when they
potentially threaten fish habitat. CEAA has three levels of review.
Level 3 means a full Public Panel review and comprehensive
environmental study of the proposed project. Level 2 has no panel
review, but requires the comprehensive study. Remarkably, despite
the acknowledgment by all of the government agencies involved – both
at the provincial and federal levels – that these are important
aquatic habitats, and that hundreds of hectares and millions of cubic
metres of gravel are to be removed, these projects are only being
subjected to a Level 1 Environmental Screening process!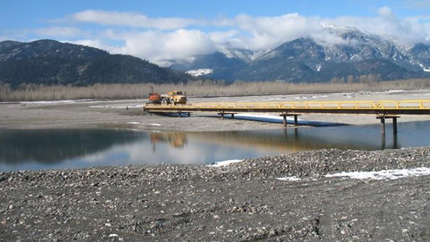 That
means no public consultations. No comprehensive review. No
examination of the cumulative effects of all three extractions
occurring this year, the years of impacts that have preceded them, or
those being planned for the future. Just a basic environmental
screening. And that's outrageous given the dimensions of this
program. Endangered white sturgeon. Collapsed Chinook and sockeye
salmon runs. Millions of dead pink salmon. Disappeared eulachon.
And, again, the most basic requirement of the agreement, flood
reduction, well… still doesn't hold water.
Citizens
can get involved in the issue by writing to both the federal DFO
(also known as Fisheries and Oceans Canada today) and the BC Ministry
of Environment to demand genuine public involvement in the issue, and
that proper comprehensive, cumulative environmental studies be
undertaken. The public needs to be involved in the process –
especially as the governments of BC and Canada reportedly work behind
closed doors on a ten-year
extension
to the controversial program. And if the scientific and engineering
facts supporting this program don't bear it out, then it should
simply be scrapped. Now is no time to be taking unnecessary risks
with our wild salmon and sturgeon.
As
the Fraser River Gravel Stewardship Committee has consistently
emphasized, there may be some reasonable gravel extraction
opportunities in the Fraser watershed – places where excess gravel
recruitment is naturally occurring and where its removal can be done
in a sensible way that avoids significant ecological impacts. But
this current program unequivocally meets none of those criteria.
In
other words, (real) flood reduction is important – but so are fish
and taxpayers' money.
Next
week, watch for a video report from The
Common Sense Canadian's recent
visit to the Gill Bar and Little Big Bar Mining sites.
Four short videos with experts
Dr. Marvin Rosenau: Ecological Impacts of Fraser Gravel Mining
Dr. Marvin Rosenau: False Case for Flood Protection from Fraser Gravel Mining
Otto Langer: DFO & the Politics of Fraser Gravel Mining
John Werring: "Repositioning" Fraser Gravel Mining as Flood Reduction
<
A
Historic Review of Gravel Mining in the Lower Fraser River and the
Protection of Critical Associated Fish Habitats
By Otto
E. Langer MSc – Fisheries Biologist
The
Ecological-Geomorphological Setting
The Fraser
River has flowed past Hope and into the Pacific Ocean for about 100
Million years. The Fraser Canyon is a rift valley and over millions
of years the basin became much larger as the river cut into the
bedrock and entrained upstream watersheds and directed their flows
into the Pacific Ocean. The last Ice Age filled the Fraser Canyon
with glacial sediments and the river has been eroding away those
sediments to this very day. Consequently, most of the gravel/sediment beds of
the Lower Fraser developed most since the last Ice Age (i.e., from
10,000 years ago to the present time).
The
section of a rapidly flowing river that has reduced velocities or
energy will deposit larger sediments such as gravel. Usually the
river is wider and develops into a braided series of channels, bars
and islands like what we see in the Agassiz-to-Chilliwack "Gravel
Reach" of the of the Lower Fraser River. This type of habitat is
ideal for wildlife and essential for many fish species including
eulachons, sturgeon and several species of salmon. Clean gravel is
essential for salmonid spawning. By contrast, the reaches of the
Fraser downstream of the gravel reach are usually composed of sand,
silts and clay particles.
Once this
type of a braided river gravel reach has been altered by humans for
land development, gravel mining, or flood control purposes, these
high habitat values most often disappear. The gravel reach of the
Lower Fraser has been relatively undisturbed by man's activities,
but it now faces a great threat by organized government efforts to
extract large amounts of gravel for various purposes from navigation
to aggregate mining to flood risk reduction.
Historic
Overview
During the
past century people of the Fraser Valley have often extracted the
clean gravels of many of our salmon spawning streams as a local
source of cheap gravel for building roads and making concrete for
construction projects. These practices have done great harm to many
streams and, in the instance of the Coquitlam River, destroyed much
of the river and drove a healthy run of pink salmon into extinction.
Some 40 years ago construction workers in the Coquitlam area
complained that concrete made from Coquitlam gravels gave off a
rotten smell due to the large amounts of salmon eggs in the concrete.
Despite the totally non-sustainable uses of stream gravel, the
Province did absolutely nothing to outlaw the practice. The removal
of gravel from streams was common throughout BC and was especially
common wherever a logging road was being built.
The
Federal Fisheries Act did not have habitat protection provisions in
it, so in the late 1960s DFO had Ottawa issue a regulation under the
Fisheries Act called the B.C. Gravel Removal Order. The Order listed
streams for special protection and of course included the Fraser,
Coquitlam and Alouette Rivers and many other streams that were being
mined of their essential salmonid spawning gravels. This order did
control the situation and by 1976 a habitat protection section was
added to the Fisheries Act that allowed the Order to be repealed as
redundant legislation.
In
addition to gravel removal, some streams suffered great impacts from
gravel channelizing – i.e., the dredging of gravel and the movement
of it from one area to another so as to allow navigation; or in the
belief that channelizing the gravel beds would lower the local flood
risk. Evidence of that channelizing of river gravel bars in such
streams as the South Thompson and Harrison Rivers can been still seen
decades later.
The lower
reaches of the Fraser River were also taken advantage of for their
giant annual supply of sand and that was dredged out of the river by
the millions of cubic meters each year as a cheap source of sand for
land filling and other construction projects. Some also argued that
sand dredging had to take place to reduce the flood hazard to flood
plain communities like Richmond. However, those calling for dredging
for flood control purposes rarely related to the fact that unlimited
dredging did not lower the level of the Pacific Ocean at high tide in
the estuary.
Recent
History
During the
1970-1990s it was obvious that some companies looked to the Lower
Fraser River gravel reach (Hope to Chilliwack) as a gravel pit and
some companies established gravel work yards on the banks of the
Fraser River. Mining was sometimes done directly where salmon were
spawning at the time. In the late 1980's and 1990's DFO pushed for a
moratorium on gravel mining until an overall management plan was
formulated between all parties.
DFO had a
series of conflicts with the Cheam Indian Band which claimed the
gravel beds beside their reservation and began the commercial mining
and sale of gravel. This gave rise to a number of criminal charges
against the band but nothing was resolved and DFO got a public
relations black eye from the conflict. It was determined by
political types that the agency had to cooperate with the bands and
that one way to do that was to allow them to remove gravel from the
river, thinking that more cooperative relationships would follow. A
DFO internal briefing note even recommended that staff should make
arrangements to allow the Cheam Band to earn $40,000 in profit a year
from gravel sales. Despite this, DFO has lived in denial of their
actions and have pretended to protect habitat while they promoted
gravel mining at the same time.
Dr.
Slaymaker of UBC (Westwater Reserch Centre) noted in a1991 published
study:
Dredging
and gravel mining has averaged about about 120,000m3
per year since 1973 and reached 230,000m3
in 1982 (Kellerhals, 1985). This is potentially a problem of
sustainability in that the best estimates suggest that only 150,000m3
of gravel are added from upstream each year. The annual
deficit of sediment can affect the fluvial morphology of the river in
such a way that the long-term period of rapid lateral bank erosion
may be initiated, posing a threat to flood plan residents in the
immediate vicinity.
Present
Situation
Federal
and Provincial Liberal party hopefuls immediately began a campaign
against this moratorium and issued an email to members outlining
their concern that the gravel was needed for the economy and that
jobs had been lost and it was necessary to get DFO off their backs.
In 2002 the Provincial Liberal MLA hopefuls in the Chilliwack area
campaigned on ending the moratorium.
Once these
MLA hopefuls were elected and the Liberal government was formed in
Victoria, the moratorium ended and the Province negotiated a five
year gravel removal agreement with DFO. It allowed for the annual
removal of giant quantities of gravel, i.e., 420,000 to 500,000 m3
a year. This gave rise to many conflicts. In November 2005 I sent a
letter to the DFO Minister Reagan predicting that this program would
cause catastrophic habitat problems. By March 2006 a large approved
extraction at Big Bar allowed the Band and the City of Chilliwack to
build a causeway across an important spawning side channel of the
river and caused the death of over 2.3 million juvenile salmon.
DFO staff attempted to mislead the public about the reasons for the
fish kill, refusing to acknowledge that the operation they had approved
was to blame. The
gravel removal operation that they authorized was not monitored
properly and DFO did not stop the works once it was realized that a
disaster was in the making. As a consequence of this tragedy,
citizens formed the Fraser River Gravel Stewardship Committee
to ensure that DFO and the province showed greater diligence in such
projects and, above all, plan such projects in a transparent manner
with full public input.
After this
project, the Province (Emergency Management BC) determined that they
would take over the future gravel removal projects under the slogan
of "flood risk reduction" and would fund gravel removal with public
monies. Since then about 1.5 Million cubic meters of gravel have been
removed and government has largely ignored or denied the incremental
loss of fish habitat in mined areas and any associated post impact
areas due to erosion, channel change, etc. For some reason DFO has
determined that the Province is immune from their habitat policy of
"no net loss" and have not required the Province to build
compensation habitat for these public safety projects. Other Provincial
agencies like Highways or BC Hydro are not exempted from this policy.
A recent DFO director said compensation habitat was not necessary in
that the impacts only last three years at each site. Recently another
DFO spokesperson admitted that there has been a cumulative impact but
said DFO did not know how to address the compensation issue.
Summary
and Conclusion
Many
international studies over many years have shown that one of the most
critical and essential habitats of salmon are the gravel bottomed
braided sections of our rivers – whether they are in Siberia or in
the Fraser Basin. The gravel reach of the Lower Fraser between
Wahleach Creek and Chilliwack is such a fish habitat area and it is
of special importance to spawning and rearing needs of several
species of salmon, white sturgeon, eulachons, and many other species
of fish.
This
section of the Fraser has been altered over the years but due to its
robust nature has retained most of the ecological attributes that
make it excellent habitat. However, there is now a concerted program
by the Provincial Government to straighten (train) the river and
increase river flow velocities – so as to allegedly reduce flood
risks to that section of the Fraser Valley floodplain. Of special
concern to conservation groups is the fact that the provincial and
federal governments have shown no will to openly consult with the
public on these issues nor conduct comprehensive environmental
reviews which are required by the Canadian Environmental Assessment
Act.
Such gravel removal
programs, once initiated, have been hard to contain and once a river
has been subjected to years of major river works, it may
never recover from the dredging, dyking and the loss of its riparian
habitats. The Canadian Department of Fisheries and Oceans has a mandate
to protect these habitats and ensure a no net loss of such habitat
productivity. DFO's efforts to protect this type of habitat have
been less than obvious as they have ignored cumulative impacts and
exempted such gravel mining programs from their policy of "no net
loss."
ZZZ