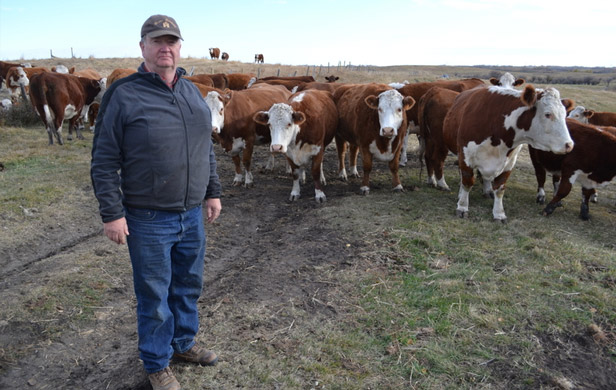 Alberta cattle rancher Howard Hawkwood has a beef with the local fracking industry. He's convinced the controversial technique for gas extraction is responsible for killing off 18 of his cows and large swaths of his property near Airdrie, Alberta.
An online radio program released today contains some shocking allegations of impacts of fracking on the ranch Hawkwood runs with his wife Nielle, a half hour drive northwest of Calgary. Nielle has recently lost some of her hair and the Hawkwoods have seen 10 percent of their cattle herd die from a mysterious illness they believe is connected to fracking and related radiation.
The revelation comes on the heels of evidence south of the border suggesting that the process of drilling deep underground and cracking open shale formations to extract gas is also dredging up  naturally occurring radiation and pulling it to the surface.
Dead spots, dead cows
Howard describes their experience to program host David Kattenberg of the Green Planet Monitor – including 1-2 acres of dead patches on their farm, which tests reveal contain alarming levels of radioactivity. (Listen to the full program here – Howard's interview begins at the 19 min mark)
"Towards calving season, we noticed some cows weren't doing that great…Then all the sudden these cows started to crash – they would go down and they wouldn't get up," Hawkwood explains. "We did blood testing on these cows and we found out the sodium and the chlorides were out of balance, so I asked the veterinarian, 'So, what do we do?'. And the vet did some research and we don't know. We don't know how to handle this."
Hawkwood goes on to describe the series of dead patches that have sprung up after fracking activities began near his ranch.
[quote]These are the dead spots in the field, where my cows have urinated. This all showed up last spring…We've actually taken soil samples of the dead spot and a sample from a foot and a half away and we've got high levels of radon, barium, uranium, strontium, and magnesium is extremely high.[/quote]
"This spot here has never changed," Hawkwood explains. "It's been here since June. It's dead. And I estimate that on my entire ranch I've maybe lost 1-2 acres of land due to this. Really, nothing grows…Nothing will germinate in that soil."
"And you think this has got to do with the fracking?" asks the show's host.
"Oh, I think so. Definitely. Because the cows have been drinking out of my well water, and the chemicals or whatever's in there – we don't know what's in there, they won't tell us – and it's killed this."
Radioactive fracking in Pennsylvania
This is not the first time hydraulic fracturing has been tied to radiation. Just last month, a study published in the journal Environmental Science and Technology found radioactive water connected fracking operations in Pennsylvania. According to a Bloomberg story on the subject:
[quote]Naturally occurring radiation brought to the surface by gas drillers has been detected in a Pennsylvania creek that flows into the Allegheny River, illustrating the risks of wastewater disposal from the boom in hydraulic fracturing.[/quote]
Speak no evil
Mr. Hawkwood believes many other ranchers are experiencing similar issues, but are afraid to speak out – some because of non-disclosure agreements they've signed with the industry.
[quote]The other ranchers are experiencing the same thing but they don't want to come forward, because they don't want to create a problem. Or they have oil and gas on their property and they've had to sign non-disclosure agreements. One fellow told me that if he does a cow problem, he phones them and he's got a cheque in the mail – as long as he doesn't speak up.[/quote]
Hawkwood appears to be the exception to the rule. He's reached his boiling point of late and has some strong words for government regulators he feels are letting down families like his.
Something has got to change
After showing host Kattenberg a 4-year-old cow  who died the previous night, Hawkwood declares, "I am totally – maybe I shouldn't say this – pissed off with our government." Hawkwood continues:
[quote]Governments are supposed to protect us…and when this cow dies, and the number of cows I've lost and  hear about other farmers and ranchers who've had the same experience and the same problem…now, if this keeps up and it's going to create more problems, we're not even going to have a cattle herd. It is a real nightmare in this province and in this country…and something has to change.[/quote]
Hawkwood is calling for a shale gas moratorium – such as was recently passed in Newfoundland – "until we can find a way to do this safely."
Meanwhile, in neighbouring British Columbia, a leaked government memo sparked controversy yesterday for its discussion of gutting of the 40-year-old Agricultural Land Reserve in order to prioritize gas development.