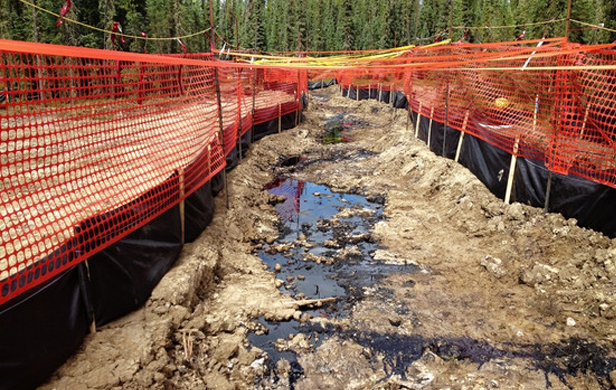 COLD LAKE , Alta. – A First Nation says it is concerned about two other leaks at an oilsands project in northeastern Alberta, bringing the total in recent months to six.
Chief Bernice Martial of Cold Lake First Nation said Monday that she is worried about the safety of drinking water, animals and vegetation in her region.
1.5 million litres recovered already
In July, Canadian Natural Resources Ltd. (TSX:CNQ) said a mechanical failure at an old well was behind ongoing bitumen seepage at its oilsands project on the Cold Lake Air Weapons Range.
About 1.5 million litres of bitumen has since been recovered from bush and muskeg in the area.
The band said in a news release that it recently learned of two additional leaks of bitumen, but the Alberta Energy Regulator says they both involved produced water back in May and June.
Spokeswoman Cara Tobin said the waste water from the two sites, about 8,000 litres in total, has since been cleaned up.
Company spokeswoman Zoe Addington confirmed there have been no further bitumen discoveries.
"Each location has been secured and cleanup of bitumen at the four other sites is ongoing," she said in an email.
Animals dying
The last report posted by the regulator tallies dead wildlife from the leak at two beavers, 46 small mammals, 49 birds and 105 amphibians.
"Our future generations will not be able to enjoy what once was pristine Denesuline territory," Martial said in a news release.
[quote]Animals such as wolves and bears are now migrating through our community, which is a safety risk and precaution. The environment is changing and definitely not for the positive.[/quote]
CNRL has been ordered to limit the amount of steam it pumps into the reservoir while the regulator investigates.
Financial leakage
Gerry Protti, chairman of the regulator, said that the spill has significantly affected the company's finances.
"We're working extremely hard to come up with the cause of the issue and resolution around it. But when you're taking 40,000-plus barrels of production out of their cash flow, that has a direct impact," he said Monday in Calgary.
"But that shows the importance that the province is attaching to development occurring with the minimum environmental impact."
Last month, company president Steve Laut said he didn't expect the ongoing spill would have a long-term impact on production.
He said he's confident the company can either repair problematic wellbores or adjust its steaming strategy to work around them.