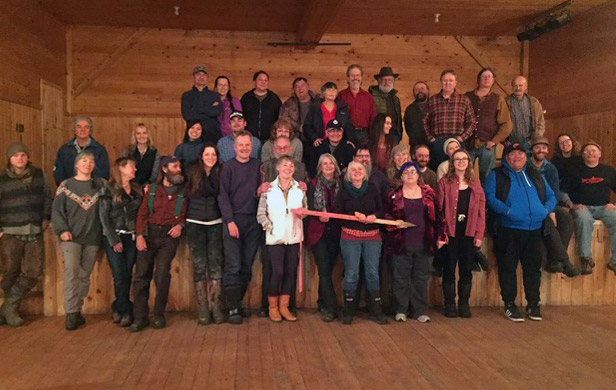 A group of residents from the Kispiox Valley in northwest BC is vowing to stop a pipeline destined for Petronas' contentious, proposed LNG plant on Lelu Island, near Prince Rupert.  "We tried working with the BC Government and the pipeline companies but they have ignored our concerns. Now it's time to act together – as First Nations and non-First Nations, united," says retired community development consultant and valley resident Gail MacDonald.
The group – made up of  doctors, farmers, loggers, farriers, nurses, business owners, and guide outfitters – was cemented at a December 3 gathering at the Kispiox Community Hall to discuss LNG projects, particularly that of Malaysian energy giant Petronas.
Work ramping up
Opposition in the valley to LNG projects has been galvanized by preparatory work for the pipeline that would feed the Petronas project, several hundred kilometres down the Skeena River, amid vital estuary habitat for wild salmon. The residents are dismayed by construction work in their own region, such as recent logging done for a work yard – especially since Petronas still lacks federal permits for its LNG project and no commitment has been made by the company to build it, with global LNG prices having plummeted to well below the profitability level.
"Residents were shocked to learn that while no LNG project has received a final approval or investment decision, the BC government has granted permits for pipeline work at several locations near their community and considerable work has already begun," a press release from the group explains. "This has occurred without communication between the BC government and local residents."
New statement follows unheeded declaration
This recent ramping up of the community's resolve to stop LNG development follows a virtually unanimous declaration, signed by 150 of the valley's residents last year.
"Our rural community is a proven model of economic and social resiliency, comprised of diversely skilled professionals, trades people, farmers, forest and resource workers, guides/outfitters, and creative and versatile entrepreneurs," it noted.
[quote]We support common sense practices of conservative resource management, renewable energy production and use, agriculture as the basis of a strong local food system, and the long-standing wild salmon economy of our region…Therefore, we cannot stand by and allow any industrial presence, including oil and gas development, that would threaten or harm our values and responsibilities as outlined in this declaration.[/quote]
First Nations question unauthorized LNG deals
Chief Gwininitxw, Yvonne Lattie of the Gitxsan Nation questions the legitimacy of some of the deals being held up by industry and government as evidence of First Nations' support for LNG projects:
[quote]Deals are being signed by a few Hereditary Chiefs but most of us don't want this industry in our traditional territories. A Hereditary Chief does not have the sole authority to make decisions, as he or she has many house members who have a say on what happens in their traditional territories.[/quote]
Gilbert Johnson, a member of the local Kispiox Band, adds, "The BC Government is ignoring our concerns and has put oil and gas interests above the public interest. The corruption we've seen in their dealings with both First Nations and non-First Nations is staggering. We will not stand idly by and let this continue."
Project faces multiple legal challenges
In addition to this newly formalized opposition from the Kispiox Valley, Petronas and its partners face challenges from a number of fronts, including court cases led by the Gitga'at First Nation, the Lax Kw'alaams Nation and the Gitxsan group known as Madii Lii. Members of both Madii Lii and Lax Kw'alaams are also maintaining resistance camps physically challenging pipeline and plant construction in their respective territories. Meanwhile, the Haida Nation has banned LNG tankers in their coastal waters.