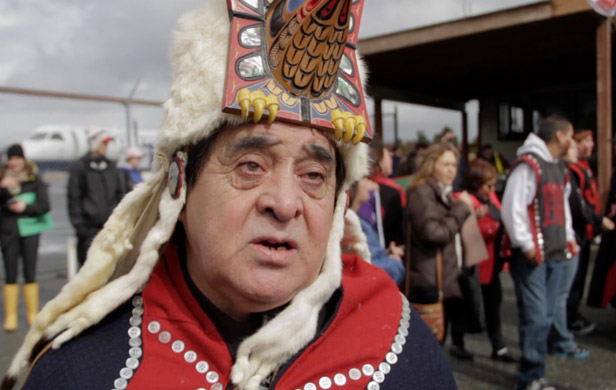 The Department of Fisheries and Oceans angered members of the Heiltsuk First Nation on BC's central coast by opening a commercial herring fishery last night – despite the community's insistence that there should be no fishery this year, based on unhealthy stocks.
"This action shows blatant disrespect of aboriginal rights by DFO and industry," said Chief Councillor Marilyn Slett.
[quote]DFO provided inconsistent and misleading communications throughout the day and did not attempt meaningful consultation.[/quote]
The nation is also suggesting that DFO employed deceptive tactics to launch the fishery, waiting until commercial seine boats had their nets in the water before officially alerting the Heiltsuk by email that this year's fishery – in the highly contested Area 7 – was going ahead.
Stocks not ready for commercial fishery
The Heiltsuk contend that low herring stocks do not justify a commerical fishery. "We must put conservation first. We have voluntarily suspended our community-owned commercial gillnet herring licenses for this season to allow stocks to rebuild, but DFO and industry are unwilling to follow suit," said Kelly Brown, Director of the Heiltsuk Integrated Resource Management Department. Hereditary Chief Harvey Humchitt believes more time is needed for herring to rebound from a recent crash before reopening a commercial fishery. "We experienced the collapse of the herring twice over the past fifty years. These collapses are attributed to Western science," noted Humchitt. "The herring are now beginning to recover."
Their concerns are echoed by retired DFO herring specialist Ron Tanasichuk, who concurs that DFO is using flawed modelling to estimate the health of herring stocks. "With their current methods, DFO is essentially inflating estimates of herring on the Central Coast by double," says Tanasichuk.
Constitutional issue
The nation's right to a unique spawn on kelp (SOK) fishery – which doesn't involve catching herring, but rather collecting roe lain on kelp – was cemented in the Gladstone Supreme Court decision.
"The Heiltsuk Nation views this opening as an unjustifiable infringement upon our right to our SOK fishery, a right which was won in the Supreme Court of Canada case R. v. Gladstone," stated William Gladstone, chief negotiator of the Gladstone Reconciliation.
[quote]We cannot risk another collapse. Our future generations depend upon this resource for food, social and ceremonial purposes, as well as employment and spiritual and cultural wellness.[/quote]
The United Fishermen and Allied Workers' Union is backing the Heiltsuk position, advising gillnet fishers not to fish the Central Coast.
RCMP boats have been stationed in the area since last week, in anticipation of tensions over the DFO opening. "Heiltsuk boats are on the water to protest as the Nation works toward achieving a peaceful resolution to the situation," said a press release from the nation early this morning. "We may have lost this battle, but the war is far from over," said Gladstone.