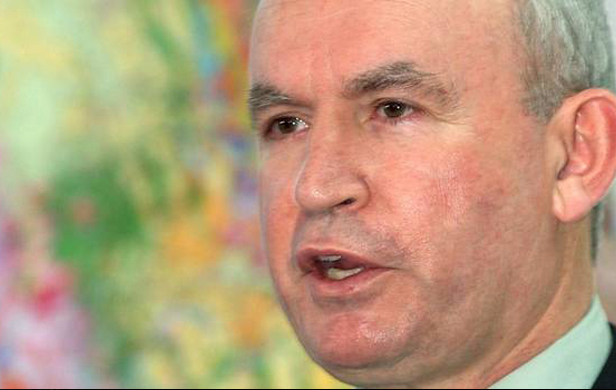 BC Liberal Energy Minister Bill Bennett came on CBC's Early Edition Monday to answer some of the mounting questions regarding BC Hydro's financial troubles and his party's energy policies (listen to the full interview here). Suffice it to say, he fell well short of coming clean – and yet, the exchange yielded a few very interesting moments from the East Kootenay MLA, newly appointed to the Cabinet position.
Host Stephen Quinn put to Bennett that Hydro's grave financial problems stem from policies of the BC Liberal Government over the past decade, asking him if it is now in a position to have to undo some of those policies. "I would certainly challenge vigorously the assertion that BC Hydro is in financial crisis and, some people have said, close to bankruptcy – and that's simply not true."
The real numbers, supplied by independent economist Erik Andersenand verified by the Auditor General, tell a very different story.
Bennett defended Hydro's Liberal-appointed board, suggesting he wasn't intending to make significant changes or fire its members and Hydro's executive staff. Contrary to his recent criticisms of "surprise" cost overruns for capital projects – including the Northwest Transmission Line – he began by expressing confidence in Hydro's project management. Given his comments in recent weeks, this 180 degree about-face from the minister was the only real surprise here.
Much of the conversation focused on Hydro's $5 billion in "deferral accounts" – a controversial accounting practice criticized by the Auditor General, which allows Hydro to bank future revenues from rate increases against current deficit spending on capital projects and operations. Bennett again, largely defended the practice as business-as-usual accounting.
The minsiter blamed the NDP for not investing enough in infrastructure upgrades during its tenure in the 1990s, suggesting that caused the Liberal Government to have to carry out billions of dollars in upgrades. What he leaves out is that a significant portion of this capital spending is directed to hooking up private power projects to the public grid. Moreover, as independent economist Erik Andersen has demonstrated in these pages, the rate of spending is out of line with Hydro's retained earnings and would not be considered acceptable to the shareholders or board of any private sector company.
Finally came the most important discussion – on the government's private power program at the root of Hydro's present difficulties. Quinn played a tape of a recent interview with SFU professor and noted critic of the Liberal Government's energy policy, Dr. Marvin Schaffer:
The government told BC Hydro how it had to plan its system; it told BC Hydro where to get its power from; it told BC Hydro what projects it had to do; it told the [BC Utilities] Commission it couldn't review a whole range of projects – and that's part of the problem that has to be fixed going forward if we want to get some of the cost-drivers under control.
Bennett dismissed Shaffer's comments, firing back:
I don't agree with him…What he just expressed is a very narrow and biased point of view. When he refers to telling BC Hydro where they're going to get their power, he's obviously referring to the green – the clean power that's been generated in the province and we made a decision a number of years ago that we were going to start to develop alternatives to the big hydroelectric dams. I mean, do people want more dams in British Columbia? I'm not sure they do. We're trying to build something at Site C in the northeast and there's lots of opposition to that. I think the public support the development of wind power and solar and run-of-the river projects.

They account for such a small proportion of the total debt at BC Hydro and they account for such a small proportion of the power that's actually generated in the province. For the life of me I can't understand why people make such a big deal out of having clean power.
Mr. Bennett is correct that private power projects account for a small proportion of the electricity produced in BC – approximately 16% – and yet, as of 2011 they made up roughly half of the total amount Hydro spends on power every year, according to SFU's esteemed energy expert and former Hydro board member, Professor Marjorie Griffin-Cohen.
As to Bennett's contention that they account for a "small proportion" of the debt, in fact Hydro is on the hook for $55 Billion worth of dramatically overpriced, long-term private power contracts – projected to cost Hydro a billion dollars a year by 2014, much of that at a loss.
"What Marvin Shaffer was talking about there was the 'self-sufficiency' requirement that means that BC Hydro has to purchase power at what amounts to an inflated rate," Quinn followed up. "Is it time for that requirement to go?"
Bennett's surprising response: "I won't say 'no' or 'yes' at this point in time", suggesting that some adjustments to this policy – the very basis for the private power purchasing program – were being made and may continue to be made in the future. Reducing these artificial requirement for more power than Hydro needs access to would erase the justification for private power projects – which was the crux of comments made by then-CEO Dave Cobb two years ago, resulting in his premature departure from the crown corporation to work for Jimmy Pattison.
Where Bennett and the Liberal Government go from here on the Hydro file remains to be seen – but judging from their continually shifting positions and confused statements, they're running scared. And so they should be. They got us into this mess – now it's catching up with them.