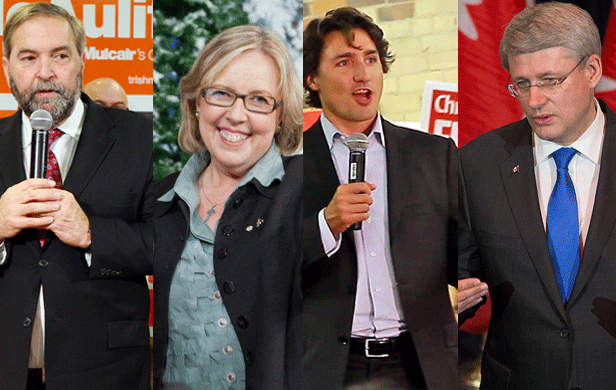 With only a couple of weeks left in the Canadian federal election, voters are starting to ask fundamental questions about where the major parties stand on important issues like climate change. Canadians already rank climate and environment as a top issue both during and between election cycles.
But with both the federal election on the horizon and international climate talks scheduled in Paris for late November, Canadians have a real opportunity for their votes to translate into substantial climate action on the global stage.
Pressure is mounting for Canada to play a leadership role at these negotiations, with major trading partners like China and the United States already jointly announcing their emission reduction goals and commitments in advance of the talks.  
And Canadians are showing a desire for strong climate leadership. Even provinces like Alberta are defying stereotypes by showing a broad public desire for climate action. A recent poll by EKOS found that 53 per cent of Albertans support stronger climate policies and about the same support an economy-wide carbon tax to help solve the problem.
Environmental group Environmental Defence recently issued a new report that outlines where each of the major parties stand on climate. Here DeSmog Canada breaks those climate positions down with further analysis of each party's election platform: 
Liberal Party and Trudeau on Climate Change
When it comes to actual carbon emission reduction targets the Liberal Party has been rather vague so far in this election, making a promise that they will "provide national leadership and join with the provinces and territories to take action on climate change, put a price on carbon, and reduce carbon pollution."
In their election platform, Trudeau and the Liberals have committed to a $2 billion Low Carbon Economy Trust that will fund projects that help reduce carbon emissions.
On the international policy side, the Liberals say they will attend the Paris climate summit and within 90 days "establish a pan-Canadian framework for combatting climate change."
The Liberals also state in their election platform that they support the G20 commitment to phasing out subsidies for fossil fuels in the medium-term and that they will work with the U.S. and Mexico to develop a long-term North American clean energy and environmental agreement.
NDP and Mulcair on Climate Change
The NDP has committed to a nation-wide cap-and-trade system that includes a target for reducing greenhouse gas emissions from major sources like the Alberta oilsands. According to the Environmental Defence report, the NDP's plan puts Canada on track to reducing greenhouse gas emissions by 34 per cent by 2025, with a baseline measure of 1990. By 2050, the NDP plan on climate change would see Canada's emissions drop by 80 per cent. These targets and commitments would be legislated making them much more difficult to reverse by future governments.
The NDP also commits to establishing "Green Bonds" which would allow Canadians to "invest up to $4.5 billion over four years in 'clean energy, climate resilient infrastructure, commercial and industrial energy retrofits, and other sustainable development projects.'"
A further $1.5 billion would be spent over the next four years in "green programs" like retrofitting homes to be more energy efficient and local clean energy projects for northern and remote communities.
Conservative Party and Harper on Climate Change
As the incumbent party, it is fair to judge the Conservative party's performance on their record to date, even more so than their election promises. While Stephen Harper and the Conservatives have been mildly better on climate change in the last couple years (by, for example, agreeing with other G7 nations to phase out fossil fuels by 2100), the bar has been set rather low. This isn't help by the fact that members of the Conservative party still consider climate change a theory consisting of "alarmist claims."
Under the Harper government, greenhouse gas emissions in Canada have ever so slightly dropped, but as the CBC points out in a recent analysis of claims on climate change made by Stephen Harper, those slight reductions had nothing to do with policy actions by the Conservatives and were instead a result of the major economic recession in 2008 and 2009.
As for Harper's commitment in this federal election on climate change, his party highlights the commitment they put forward for the Paris negotiations that would see Canada reduce its emissions by 30 per cent by 2030 measured on a baseline of 2005. However, the Conservatives have made this commitment on a sector-by-sector basis and one of the sectors left out of this commitment is the Alberta oilsands, the fastest growing source of greenhouse gas emissions in the country.
Emissions from the oilsands, Canada's fastest growing source of greenhouse gas emissions have increased 79 per cent since 2005. They currently account for nine per cent of Canada's total emissions and that portion is expected to jump to 14 per cent by 2020.
In a recent analysis the Conservative Party's commitment was found to be the weakest of all the G7 countries.
The Conservatives have announced some funding for green projects, like a Public Transit Fund, but say funding for that program would not start until 2017.
Green Party and May on Climate Change
No surprisingly, the Green Party offers a very ambitious set of commitments on climate change, proposing emission reductions that are more than double those of Conservative Party of Canada. The Green Party plan would see Canada's greenhouse gas emissions reduced by at least 40 per cent below 2005 levels by 2025 and by 80 per cent below 1990 levels by 2050.
The Green Party also commits to a "fee-and-dividend" system, which is similar to a cap-and-trade system and would set an initial price on carbon of $50 per tonne across all sectors, including the Alberta oilsands.
As for investing in green programs, Elizabeth May and the Greens would commit $500 million a year to a "Green Climate Fund" that would assist developing nations in addressing climate change, an additional $180 million a year in clean energy research and development and $1 billion a year for a "Green Technology Commercialization Grants."
The Green Party would also reintroduce tax credits for homeowners to make their homes more energy efficient, create a national plan for public transportation and provide tax incentives for renewable energy storage facilities and for the manufacturing and purchase of electric and plug-in hybrid cars.
If climate change is an important issue to you, there is one big thing you can do. Bigger, I would argue than changing your lightbulbs or buying a hybrid car and the like. The single biggest thing you can do to help fight climate change in Canada is to vote for the party you think is going to make the biggest difference.
Check out each party's platform for more details. While you're at it make sure you're registered to vote and don't forget to put October 19th in your calendar!