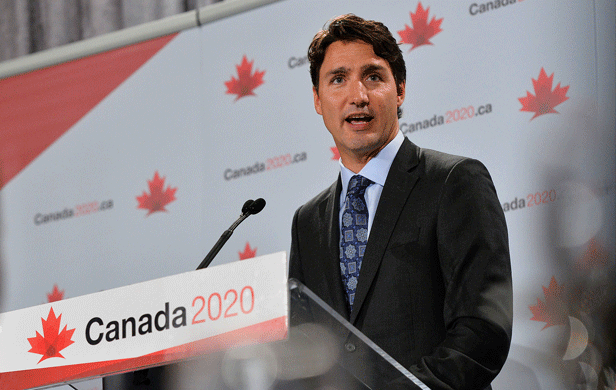 Many a pundit has pointed out that the worst thing that could happen for Stephen Harper in the homestretch of the federal election campaign is for either of his opponents' support to collapse, consolidating progressive votes around a single challenger. Well, if recent polls are any indication, that's precisely what is happening – and Justin Trudeau appears to be the chosen one.
Just look at CBC's Poll Tracker (as of Oct. 6): Out of the eight national polls conducted in October, Trudeau has topped 6 of them while Mulcair has placed a distant third in all but one. Three of the four most recent national polls have Trudeau at 35% or more, with a several point lead over Harper (granted these are all within the margin for error, but still…).
Trudeau has averaged 33.25% over these eight polls to Mulcair's 25% and Harper's 31.9%. Now, national polls are far less germane than local ones and the Conservatives' famous ground game is likely to turn out their base on election day. For these reasons, despite Justin's consistent edge in the national polls, as of today, CBC's Poll Tracker is predicting 8 more seats for Harper in what would be a relatively weak minority government. But if Mulcair's numbers were to tumble any further, that could increase Trudeau's seat count and bolster the case for strategic voting, making a majority government hopeless for Harper, and, quite possibly, even a minority one.
What happened?
Earlier on in the campaign, the safe "progressive" money was on Mulcair (I put that in quotes to acknowledge that a vote for Trudeau and a vote for Mulcair are not one and the same in terms of policy), as he led a tight three-way race for much of the first half and voters seemed reluctant to put their faith in a young Trudeau whose inexperience was a favourite target for Harper's election advertising.
But a few things have changed since then. Trudeau adopted a tougher posture in later debates, in response to critics' concerns that he was too soft in the first one. Meanwhile, the Niqab controversy – the wildcard of the campaign – appears to have hurt Mulcair worse than Trudeau, despite the fact that they've essentially taken the same position. This is because the issue has tracked more with Quebec voters, whom Mulcair was relying on more heavily than Trudeau.
This time around, Strategic Voting may be real
Lastly, it's possible that in this anomaly of federal elections, the notion of strategic voting – which typically fares better on paper than in practice – could finally be manifesting itself. Well-organized groups like Leadnow have run a strong ground game driving the initiative and the unprecedented splitting of the polls may be enough to make it a factor in 2015.
Now, strategic voting means that how candidates are looking in a specific riding is ultimately far more important than what national polls are saying heading into election day. Voters intent on unseating Harper may be more justified in backing the NDP – especially in many BC and Quebec ridings – or the Liberals in places like Ontario and Atlantic Canada. But with the national polls the way they're looking today, there will likely be a growing number of ridings where Trudeau is the answer.
Lesser of two evils?
For some, the idea of throwing their support behind Trudeau will be stretch. This is one of the main challenges with strategic voting – not all anti-Harper parties and candidates are created equal. Many "progressive" Canadians – myself included – have acknowledged their discomfort with some of Mr. Trudeau's policies in the past, most notably in recent times his position on Bill C-51. And environmentally, both Mulcair and Trudeau have tip-toed around pipelines and the oilsands/tar sands and disappointed critics of trade deals with their lack of vocal opposition.
But the question is whether self-identifying progressive voters believe that Trudeau, when compared with another Harper Government – especially a majority one – is indeed the lesser of two evils. If so, and polling trends continue along this trajectory, he has more than a fair chance of following in his famous father's footsteps to 24 Sussex Drive.
But, as they say, in politics, two weeks is an eternity.