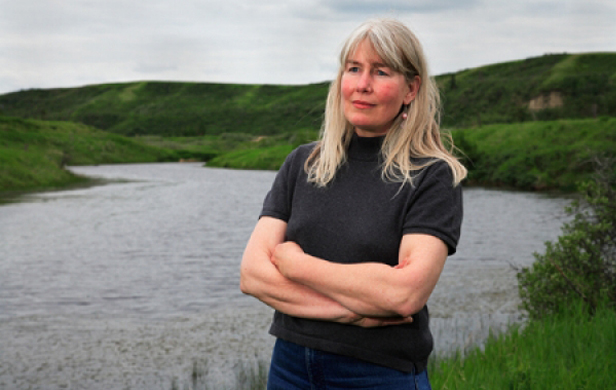 Jessica Ernst, a high-profile, Alberta-based environmental consultant, has released a comprehensive summary of science, facts and documents relating to groundwater contamination from the controversial practice of natural gas hydraulic fracturing (fracking).
The culmination of ten years of research, the 93-page report is sure to cause a stir with the energy sector and its critics. Groundwater contamination has been a key concern surrounding the booming fracking industry.
"Jessica Ernst has made a strong case," says Will Koop, BC Tapwater Alliance Coordinator. "Her collection provides excellent and technically friendly working tools, enabling the public to draw their own conclusions from the critical information. This is not just an invaluable document for North Americans, but for the world."
Having consulted for the oil and gas industry for thirty years, Ernst became concerned about its impacts when they began to hit home – "living with dangerous contamination after EnCana hydraulically fractured my community's drinking water aquifers."
Ernst's battle with Encana prompted her to bring a landmark lawsuit against the company in Alberta last year.
Ernst cites the industry's propensity for secrecy and covering up impacts from its operations as a key motivation for compiling this broad spectrum of evidence. In the preface to her report, she quotes renowned energy journalist Andrew Nikiforuk: "As somebody who has reported for 20 years on this industry in [Alberta], I can tell you I've met hundreds of people in this province who have signed confidentiality agreements once their water was blown, once their livestock was killed, once a member of their family were injured, once they lost most of their grass or their trees as a result of fouling events, contamination events, air pollution, you name it."
With this compendium of scientific data, correspondence with regulators, internal government and industry communications, transcripts from news reports, and links to a wide array of journalistic and academic references on the subject, Ernst aims to bring these issues into the light.
Ernst has gathered – in an unprecedented way – a large body of evidence which should raise serious questions for the public, regulators and policy makers about the environmental and human health impacts of fracking, particularly as we discuss a massive global expansion of the industry.
Download the full report here