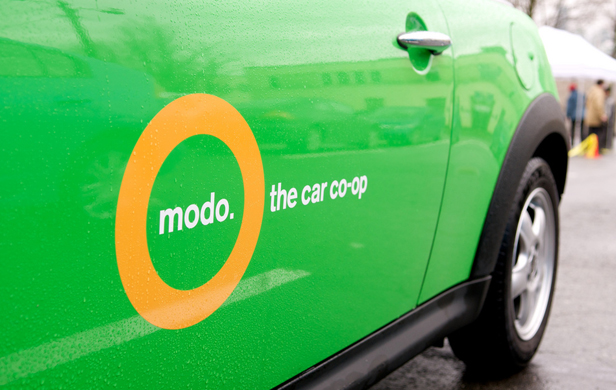 Read this story from The Tyee on Vancouver's three diverse and thriving car share programs and how they are reshaping the city's transportation system and helping to reduce its carbon footprint. (July 31, 2012)
A year back, Alexis Hinde decided to try an experiment: she ditched her private vehicle and switched to a car sharing group. Since then, she said she's sharply cut back the time she drives.

"It used to be if it was raining I would take my son eight blocks to daycare in the car, because it's easy to be lazy about that sort of thing. Whereas now if it means having to reserve a car and the expense of that and everything else, I'll just walk with [my son] to daycare or get on the bike and take him," she said.

It's a lifestyle switch that appears to be growing in popularity, as vehicles stenciled with car share company logos become a common sight on Vancouver's streets. Though each company is different, car shares offer a variety of rental vehicles, often by the hour, and they spare customers the expense of paying directly for maintenance and insurance. After use, share members can drop off vehicles curbside and just walk away. It's the convenience and potential savings that drew Hinde in.

Of the three car share groups in Metro Vancouver, Modo is now at 9,000 members, up from roughly 7,000 in 2010, and over the last five years, Zipcar has expanded "steadily" to more than 11,000 Vancouver members, according to Business In Vancouver. Car2go has experienced significant growth since setting up shop last year, reporting that 15,000 members have now signed up to drive the company's small fleet of Smart cars.

And now there's evidence that growth is starting to achieve what proponents claimed it would. Vancouverites are shedding their private vehicles, reducing their drive times, and lowering their impact on the environment.
Read more: http://thetyee.ca/News/2012/07/31/Car-Shares