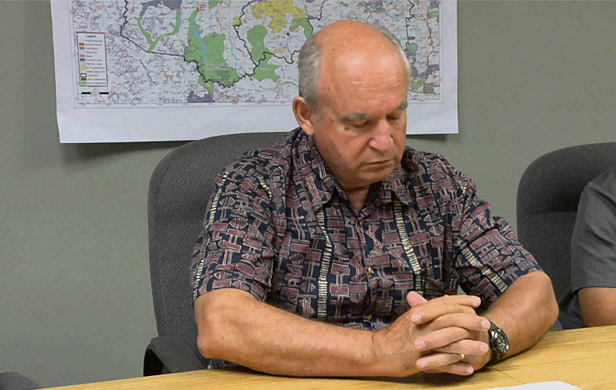 One day, in 1863, Mr. Byrne decided to take a stroll to get a little bit of Liverpool air. As he ambled down the street he went past Mr. Boadle's flour factory. To his considerable surprise and horror, flying out of the window on the second floor, came a barrel of flour which fell upon Mr. Byrne, knocked him to the ground, inflicting on him grievous bodily injury.
Mr. Byrne, a tad upset by all of this, decided to sue Mr. Boadle.
When the case came to court, Mr. Boadle's lawyers argued that there was no evidence of negligence. After all, no one had seen the barrel of flour come out of the window so how can anybody tell what in fact had happened? Mr. Byrne, said Mr. Boadle, had to prove negligence and all he could show is that somehow, God only knows how, a barrel of flour had fallen out of a window and hit him on the head. That, said Mr. Boadle, was scarcely proof of his negligence.
Somehow, the learned judges hearing the case, were not impressed with this argument.
Res ipsa loquitur
Shorn of the Latin and legalese, essentially they said, "How the hell else could this have happened?" Barrels of flour don't usually fall out of second-story windows on people walking down the street. Mr. Byrne was given damages. (If you happen to be interested, the legal doctrine is called "res ipsa loquitur", or in English, "the thing speaks for itself".)
How does this relate to the Mount Polley catastrophe, you might well ask – I'm sure that was on your mind!
Well there is now considerable argument as to whether or not anybody was negligent in the breaching of that dam, if so who it was, and how could you prove it anyway? Mr. Byrne would be able to answer that question easily.
There is no need to concern oneself about who is liable here – those who own and run the dam and those who have a duty to inspect that dam and make sure that it was kept in proper repair. That is the barrel of flour in this case.
Investigation designed to fail
Somehow Premier Christy Clark and Minister Bill Bennett have never read Byrne v. Boadle. They are flopping about talking about investigations – announced at an appalling press conference earlier this week.
By careful but not very clever design, the "independent" engineering inquiry from the outset exonerates Mr. Bennett's and Ms. Polak's ministries. When you look through the 14 recommendations, there is one that faintly suggests that the commissioners might want to look at the regulatory regime surrounding this disaster. There is no mandate to do so and it is not any more than a casual comment. Moreover, none of the commissioners have any expertise to look at this aspect of the matter.
I don't mean this in unfairness to the commissioners – I don't know the gentlemen, but their credentials with respect to mining seem impeccable. But to check into the regulatory obligations of ministries and whether or not they have been fulfilled requires a lawyer or a judge.
Bigger than Mount Polley
There must be, of course, a full and independent investigation. It is not simply the Mount Polley case with which we are concerned here.
There are not only countless other dams in the province but a number of other edifices which are under statutory scrutiny by the government of British Columbia and one or more of its ministries. The fact that no other dam has burst for awhile has nothing to do with it (though there have been no less than 46 "dangerous or unusual occurrences" at tailings ponds around the province from 2000-2012).
Dams don't burst very often, the Saints be praised, but when they do, all hell breaks loose. It's rather like tankers full of bitumen or LNG hitting something, or a pipeline bursting, isn't it, when you think about it?
No one out for an afternoon fishing, a couple of weeks ago, would have predicted that the dam was about to burst. That's why there are government regulations. Dams sit there for a long time without looking like they're going to burst.
[signoff3]
Being part of the Environment or Mines ministries, in the regulations department, is rather boring work. Nothing much happens. It's pretty easy to assume that since nothing much is happening but nothing much will.
Now, it is not the good and skillful people that work within these ministries who assume that nothing will happen. Quite the opposite, their training is to know that something will happen sometime and their job is to prevent it.
No, it's the idiots that run the ministries and politicians whose only concern is that catastrophes happen other than when they are in charge.
That's why Mount Polley disasters happen.
Government's regulatory failure is key issue
What is irrelevant, at this point, is how much damage this has all cost. Now, don't get me wrong, it's appalling to think of the consequences of this. I only say what I say because that is a separate issue which will have to be dealt with separately. As a man who's been a lifelong opponent of capital punishment, I must say I could change my mind if I could catch the people who destroy our precious salmon and our God-given environment. That, however, as I say, it is not the point I'm going on today.
Today we must find out why our government and those who run it failed so utterly in their duty and what we must do about it. Remember, there is evidence that the ministry staff did indeed point out defects and ordered that they be corrected. There is evidence that the company simply failed to do what it was told to do.
A lack of enforcement
If that indeed happened, it means that there was a lack of enforcement. Lack of enforcement, be it fish farms, independent power projects, or dams inevitably points the finger at the politician. You cannot expect the companies to behave anything other than like companies. Their job is to make money and to explain away terrible things that happen by saying they'll never happen again.
However, it is the bounden duty of those we elect to enforce the law.
We will never know all the answers until somebody of considerable talent and learning can stand back from this and investigate the entire matter going back to that day in 2001when industry began to get a free ride from its new friends in government led then by Gordon Campbell, now by Christy Clark.
Frankly, we're looking at a judge. Anybody else will simply not have enough credibility with the public.
Minister should have resigned
Minister Bennett ought to have instantly resigned, not because of any personal negligence but because the time honoured rule is that if a ministry fails in its fundamental duty, it is the minister who must run up on his own sword. Unhappily, we don't seem to pay much attention to these little rules anymore. I say unhappily, because the essence of good government is that the minister for each and every ministry is "responsible" for the actions of that ministry.
This doesn't mean, of course, that if one of his employees did something naughty, that the minister would be responsible. It does not mean that the minister must resign any time his ministry makes a mistake. To err is human.
No, we're talking about the failure of a ministry to do its fundamental and in this case statutory duty.
It is remarkable to me, as one who has been in the BC Cabinet, the casual attitude being betrayed by the government in general. I recognize that Mr. Bennett is losing sleep and that the Premier wants to make the lake just as pretty as it used to be and promises to do so.
There is, however, the huge question of Public Duty involved and that is simply not being addressed. Either we have a government where there is ministerial responsibility or we do not. Evidently the answer is we do not.
If we, the public, don't take this seriously, even if it means a little serious philosophizing about what governments are supposed to do, then we will deserve to have this kind of government forever.