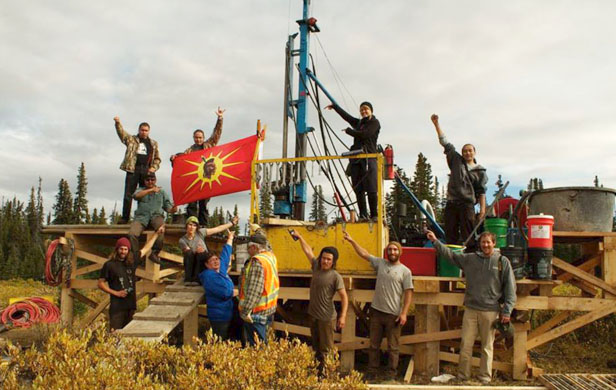 Fortune Minerals announced Monday it will voluntarily stand down from an escalating conflict with the local Tahltan First Nation. The Common Sense Canadian has been reporting on the standoff over a proposed mine in northwest BC's Sacred Headwaters region since it began in August, when First Nations elders issued the company an eviction notice, demanding it cease exploratory drilling.
The Tahltan are upset at Fortune, which is seeking to build a controversial open-pit coal mine amid ecologically-sensitive territory. Perhaps even more so, they've been frustrated with Christy Clark's Liberal Government, which abandoned a campaign promise to protect the Sacred Headwaters by fast-tracking the environmental assessment of Fortune's Arctos anthracite coal mine.
Following several failed, emergency meetings with the company and RCMP, a statement issued by the group leading the protest late last week suggested they were ready to go to jail over the project. Said Klabona Keepers spokesperson Rhoda Quock:
[quote]We dare Fortune to get us arrested! We have cameras here. We will make sure the world knows what's going on…In fact, we think our arrests may come this weekend.[/quote]
The group's anger was pushed to new heights by a government press release last Tuesday, stating the province would step in to "mediate" the conflict "in an effort to allow the Arctos project to proceed." After months of sitting on the sidelines in a conflict very much of its own making, the government's foray into the standoff only served to inflame tensions.
Iskut Band Chief Marie Quock shot back in a Friday media advisory:
[quote]The government's statement has infuriated our people. It suggests the coal mine's approval is a foregone conclusion.[/quote]
In its own press release Monday, Fortune said that while it remains fully committed to the project, it "will voluntarily cease its summer field program activities and withdraw from the project site for several months to allow the Tahltan and BC Governments to continue their talks."
Said CEO Robin Goad:
[quote]It is our sincere hope that this show of good faith by Fortune will help bring resolution to issues at and near our Arctos project site including any protests.[/quote]
Watch for updates on reaction from the Klabona Keepers and government.
[signoff1]