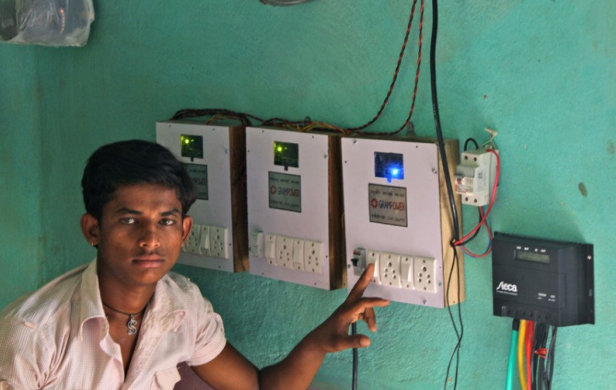 The Common Sense Canadian has made much of the Harper government's promotion, facilitation and subsidization of big oil and the Clark government's current LNG export fetish.  The underlying messaging to Canadians in both cases is: support these projects or face economic and social armageddon.
What seems to get lost in the refrain is the vast business opportunity presented by "alternative energy". Alternative energy in quotes because "alternative" is rapidly becoming a misnomer.  What was alternative a decade ago is now mainstream and a viable  job-creator.  Often it's just a matter of governmental emphasis, the stroke of a bureaucrat's pen and entrepreneurial determination.
[quote]Microgrids promise to be a $3 billion industry in 2013 growing to more than $8 billion in 2020.[/quote]
One such opportunity lies in the application of technology to off-grid power systems which have been around forever and already number in the tens of thousands worldwide. Currently, these are powered primarily by diesel.  What's new is other systems using smart, far cleaner combustion technologies capable of reducing diesel consumption by as much as a third without any renewable generation. Even better, with renewable distributed energy generation (RDEG), relegating diesel to emergency or peak demand backup, for which it is ideally suited.
Developing nations will lead growth in electrical demand
The International Energy Agency (IEA) estimates that demand for electric power will double by 2020 in the developing world.  This projected demand is substantially higher than projections for the industrialized world, representing 80% of total growth in electric production/consumption by the year 2035.
Industry leaders point to the majority of this new power being produced and distributed via remote microgrids which are ideally suited to the demand.  As small-scale versions of the centralized, conventional grid we are more familiar with, they provide the benefits of reliability and flexibility.  With extreme weather now business-as-usual, according to the Center for Research on the Epidemiology of Disasters, this is good news. Plus key technology now allows for increased security and widespread customer participation at the community level.
Microgrids promise to be a $3 billion industry in 2013 growing to more than $8 billion in 2020 – and that's a conservative scenario.  Along with the $8 billion in revenue will come a wide range of long-term jobs.
How can Canada plug into microgrid market?
So…how does Canada fit into this grand opportunity? A recent report by Navigant points to"twenty promising players (both established and newly entering ones) in the microgrid market" and a market where the "competitive landscape…presents a very interesting picture, where large number of small players has become a force to reckon with.
"While the bigger players including the utility and software giants are venturing into the market and have earned big projects. Some of the key players in the microgrid market include ZBB Energy Corporation (U.S.), Chevron Energy (U.S.), Siemens AG (Germany), Echelon Corporation (U.S.), Mera Gao Power (India), Spirae Inc (U.S.), GE Energy (U.S.), ABB Limited (Switzerland), Power Analytics Corporation (U.S.), Virdity Energy (U.S.), Pareto Energy, Ltd. (U.S.), and Microgrid Energy, LLC (U.S.) among others."
We haven't yet cracked this particular top twenty, but Canada does have program appropriately titled Canada's Smart Grid, which: "will be a network of integrated Smart Microgrids: geographically compact units capable of running autonomously from the main grid. Each microgrid will be capable of load side management, peak-shaving, power conservation and integration of local renewable energy generation".  Clearly a joint government and private industry program as one can tell from the mind bobbling list of associate acronyms the NSERC Smart Microgrid Network (NSMG-Net) looks like a good start. There is a nascent industry here and remote towns and villages that can serve as microgrid development test beds.
So where is Canada? A shift in political will on energy, a few strokes of the pen at the provincial and federal level, a bit of entrepreneurial elbow grease, and jobs and economic opportunity will follow.