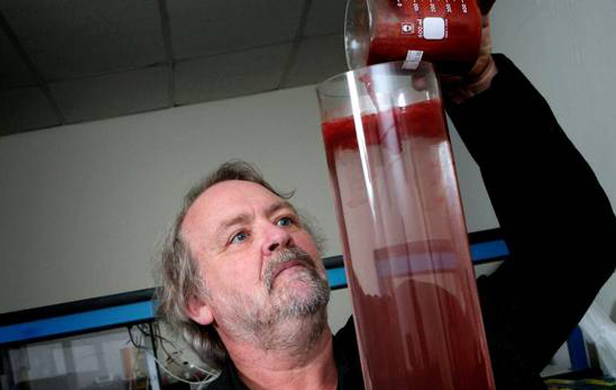 Read this column from Mark Hume in the Globe and Mail on the ocean fertilization project that caught the world by surprise last week, provoking criticism over fears of geoengineering and unintended ecological consequences. (Oct. 19, 2012)
Russ George, who designed a controversial ocean fertilization experiment now under investigation by Environment Canada, says he is being vilified for daring to go where none have gone before.

But he is not backing away from his research project or apologizing for the way the project was conducted, off the coast of British Columbia, saying that he is out to save the world's oceans and demonstrate how to halt global warming.

While the damage from climate change mounts, he said, others are only talking – while he is acting.

"I am the champion of this on the planet," he said in an interview on Thursday.

"If the world does nothing but look into the future about CO2 and says we have to reduce our emissions and we do nothing about the lethal dose we've already administered, then it doesn't matter," he said.

"If somebody doesn't step forward to save the oceans, it's too late."

Mr. George, a California businessman, worked with the Old Massett Village Council, on Haida Gwaii, to dump 100 tonnes of an iron sulphate mix into the Pacific. The goal of the project was to trigger a plankton bloom in the hope of reviving salmon runs – and to demonstrate a theory that global warming can be blunted by using massive amounts of ocean plankton to suck carbon dioxide out of the atmosphere.

The experiment took place this summer, apparently without sanction from any official body. There have been widespread expressions of concern from scientists, who fear the experiment could backfire, and political leaders, who are concerned international agreements banning ocean fertilization have been violated.

"Environment Canada did not approve this non-scientific event. Enforcement officers are now investigating," Environment Minister Peter Kent said in Parliament on Thursday. "This government takes very seriously our commitment to protect the environment and anyone who contravenes environmental law should be prosecuted to the full extent of the law."

Elizabeth May, Leader of the Green Party of Canada, said the project is alarming.

"This kind of experiment is very, very risky business. Scientists have warned us it can destroy oceanic ecosystems, create toxic tides, and aggravate ocean acidification and global warming," she said. "The bottom line is that ocean fertilization has a high potential of catastrophic effects and a low potential of success."

Mr. George said his group advised the government all along of its plans and got legal opinions that they are not violating any international accords.

He said since news of the project broke earlier this week, he has been "under this dark cloud of vilification," with some suggesting his motive is to profit through a carbon-trading scheme.

"I'm not a rich, scheming businessman, right. That's not who I am. … This is my heart's work, not my hip pocket work, right?" he said.
Read more: http://www.theglobeandmail.com/news/british-columbia/businessman-russ-george-defends-experiment-seeding-pacific-with-iron-sulphate/article4622528/