It was an unwelcome surprise on the eve of BC Day for critics of open net pen salmon farms: the Liberal government's quiet doling out of four new tenures to the big three Norwegian aquaculture giants – Marine Harvest, Cermaq and Grieg Seafoods.
While some local First Nations are partners in the deal, others further upstream have openly criticized the move to open new farms in the wake of the largely-ignored Cohen Commission and concerns about the impact of open net pens on wild salmon. A June 1 letter signed by a coalition of 13 Fraser River chiefs implored the BC government to heed Justice Cohen's findings and refrain from issuing new tenures:
[quote]Given the mounting evidence that fish farms on wild salmon migration routes are a threat to our wild salmon, we are writing you to inform you that the Province of BC must not expand existing farms, offer new licenses of occupation or renew fish farm leases without our consent.[/quote]
Meanwhile, a public petition led by independent salmon biologist Alexandra Morton has garnered over 110,000 signatures calling on Premier Christy Clark not to permit any new farms.
First Nations divided on new farms
Despite the strong opposition to the plan, a July 31 media advisory announced that the BC government is following up the recent issuance of federal aquaculture licences with corresponding tenures under the Land Act for two farms near Hope Island, off northern Vancouver Island, one near Tofino, and another in the Broughton Archipelago's Clio Channel. The two Hope Island tenures went to Marine Harvest, to be operated in partnership with the local Tlatlasikwala First Nation, while Grieg Seafood BC – which has an impact-benefit agreement with the Tlowitsis First Nation – picked up the Clio Channel site, east of Port McNeil. Finally, Cermaq got a new Clayoquot Sound site near Flores Island, where the company has an impact-benefit agreement with the Ahousaht First Nation.
The government explained its role in sanctioning new farms as follows:
[quote]The B.C. government, in its role as landlord, issues Crown land tenures in the form of leases or licences of occupation that allow businesses to operate on provincial Crown land, including water lots and any related activities on shore to ensure any potential impacts on other leases can be managed. As part of the tenure application review process, other agencies, First Nations, local governments and the public are consulted.[/quote]
And yet, many First Nations up the Fraser River clearly feel that they too should be consulted, as many fish affected by diseases and sea lice in the waters off Vancouver Island ultimately make their way through other territories upstream.
"Wild salmon that we have title and rights to are currently being exposed to untreated farmed salmon effluent throughout their migration routes along coastal British Columbia, " the chiefs noted in their June letter. "Our fishers have witnessed too many pre-spawn deaths, salmon discolored with open sores, too weak to swim upstream and escaped farmed Atlantic salmon."
BC missing boat on sustainable alternatives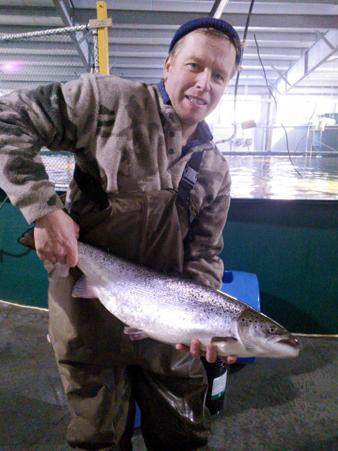 For her part, Morton remains dismayed by the what she sees as the same old pattern or government favouring foreign industry over local voices. "Clearly, there's nothing people can say anymore to stop this industry – not science, not local industry, not chiefs," Morton said on the phone from the Broughton Archipelago.
"It's a shame because BC is well-placed to be a global leader in closed-containment salmon farming," she added, referencing the land-based Kuterra project – a partnership involving the 'Namgis First Nation of Alert Bay. "Even the Norwegian government is starting to invest millions to develop closed-containment, amidst continued challenges to the ocean-based open net pen industry, such as algae blooms, high water temperatures and disease."
The Broughton Archipelago has seen a return of major sea lice issues and mega-retailer Costco recently stopped buying Chilean farmed salmon due to the high antibiotic levels required to combat grave bacterial diseases there.
Tenures now long-term
To make matters worse, says Morton, these new tenures are long-term – up to nine years each – instead of the old method whereby they had to be renewed by the government on an annual basis. That means these communities and those affected upstream will face the consequences of these approvals for years to come.
Shrimp fishermen turned down $260,000 payoff
Another group negatively impacted by one of the new farms –  the Clio Channel tenure –  is local wild shrimp fishermen.  Ten of  them were each recently offered a $20,000 payoff by Grieg to go along with the new net pen installation – plus $60,000 to the their collective organization. All of them said, "No," yet the farm is going ahead regardless.
As Chritopher Pollon explained in his Tyee piece that broke news of the letter:
[quote]The fishermen are opposed to the farms because the two proposed sites occupy some of the best harvesting grounds in the region for wild side-stripe and pink shrimp, which are caught by bottom trawling along a soft-bottomed, underwater prairie unique to the upper reaches of the Channel. It's also an important harvesting area for spot prawns, an increasingly lucrative "foodie" commodity in B.C. and beyond that are sustainably caught in traps.[/quote]
These shrimp fishermen may not reel in the kind of revenues that a million-fish net pen operation does, but at least they are local businesspeople who supply an in-demand product to BC restaurants and tables, notes Morton.
"What a way to celebrate BC Day," she quips. "Give away more farms to Norwegian companies who take the money out of our economy and put it in the pockets of their foreign shareholders."