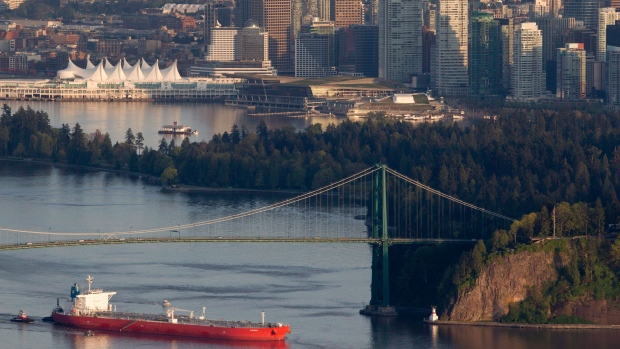 Read this story from CBC.ca on yesterday's announcement by American pipeline giant Kinder Morgan that it will formally seek to twin its Trans Mountain Pipeline to Vancouver – resulting in a dramatic increase to 850,000 barrels of bitumen a day piped to Burnaby's Westridge terminal and larger suezmax supertankers, from just 200,000 barrels up to several years ago. (April 12, 2012)
The Kinder Morgan pipeline company is rolling out plans to spend $5 billion to nearly triple the capacity of its Trans Mountain pipeline that carries crude oil from the Alberta oilsands to tankers in Vancouver.

When completed, the proposed expansion will increase capacity in Trans Mountain from the existing capacity of 300,000 barrels per day to 850,000 barrels per day, said Ian Anderson, president of Kinder Morgan Canada, in a statement on Thursday.

It will also include the expansion of the Westridge Marine Terminal in Vancouver to allow larger tanker ships to transport the oil to Asia.

The company says it is committed spending up to two years consulting with communities along the route, including First Nations and environmental organizations starting this summer.

"We anticipate filing a facilities application initiating a regulatory review with the National Energy Board in 2014. If our application is approved, construction is currently forecast to commence in 2016 with the proposed project operating by 2017," said Anderson.

Houston-based Kinder Morgan owns or operates nearly 60,000 kilometres of pipelines and 180 terminals in North America.

The Trans Mountain line stretches 1,150 kilometres between Edmonton and terminals in the Vancouver area and Washington State. It carries heavy and light crude oil, as well as refined products such as gasoline and diesel.

It has been involved in several recent spills including more 100,000 litres of light crude oil that was spilled at Kinder Morgan's Sumas terminal in January.

The expansion plan comes as Enbridge seeks to build its own Northern Gateway pipeline from Alberta to Kitimat on the North Coast of B.C.
Read original article: http://www.cbc.ca/news/business/story/2012/04/12/bc-kinder-morgan.html?cmp=rss