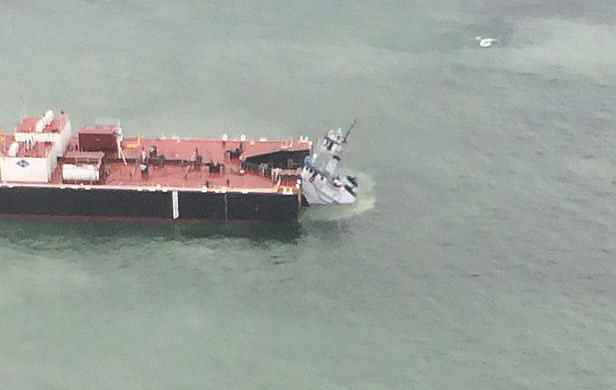 Updated 7 PM PST
A 10,000 tonne US-owned fuel barge, known as DBL 55, ran aground in Seaforth Channel on BC's central coast early this morning and the tug that was towing it, the Nathan E. Stewart, is now leaking fuel into the highly sensitive marine environment of the Great Bear Sea.
According to Heiltsuk Nation authorities, in whose traditional territory the disaster is unfolding, the tug, believed to have had 60,000 gallons of fuel on board, sank at  approximately 9:50 AM today. It is believed that three of its fuel tanks were compromised.
"Though we are thankful that the barge was empty, we are gravely concerned about the potential ramifications of the fuel spill from the tug," stated Heiltsuk Chief Councillor Marilyn Slett.
"Our Gitga'at neighbours to the north are still unable to harvest clams and other seafoods ten years after the sinking of the Queen of the North. This spill area is in one of our primary breadbaskets, and we know that diesel is extremely difficult to recover."
The barge, owned by Texas-based Kirby Corporation, ran aground near Gale Pass on Athlone Island, near the Heiltsuk community of Bella Bella, just after 1am, according to a Heiltsuk media release.
The Heiltsuk Integrated Resource Management Department (HIRMD) is concerned spilled marine diesel fuel from the tug could drift toward herring grounds and other sensitive areas with shifting winds and tides.
"It's really bad out here. A lot of fuel is on the beach already, and fuel is in the water," said HIRMD director Kelly Brown from the spill site.
[quote]The initial spill response has been totally inadequate. The first responding vessels were not equipped to deal with a spill, and had to return to town to gather more gear. The Heiltsuk are providing our own equipment because what responders have been able to provide so far is insufficient.[/quote]
According to Michael Lowry, a spokesperson from Western Canada Marine Response Corporation (WCMRC), the company with the contract to respond to fuel spills on the BC coast, local contractors came on the scene at approximately 11 AM this morning. Additional resources – including a mobile skimming vessel, a pair of boom skiffs, a work boat and a barge with response trailers – were dispatched from Prince Rupert this morning and expected to arrive on site by approximately 6 PM.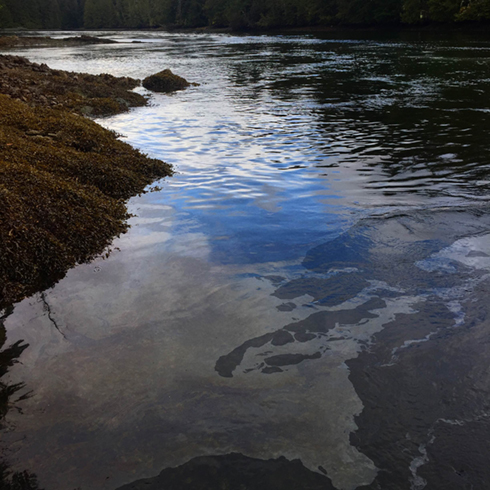 Some booms were deployed this afternoon, yet, according to Heiltsuk eyewitnesses, not across Gale Pass as of late this afternoon – due to a strong outflowing current that impeded efforts. This has meant a slick of diesel fuel made its way up the pass, which contains diverse marine life and is a key Heiltsuk site for clam digging and herring spawn on kelp. Fuel has also been spotted on nearby beaches and extending over the water.
Lowry noted that no recovery or skimming operations have begun at this stage. WCMRC will remain in "contain and protect mode" until a further assessment tomorrow morning, after which "recovery mode" may commence.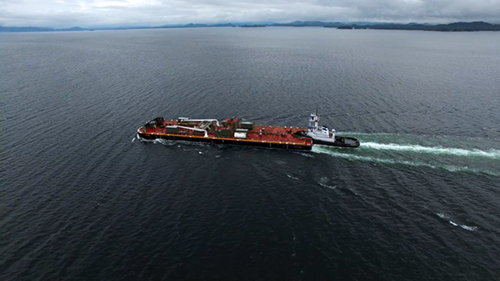 This is all cause for serious concern from the Heiltsuk, re-igniting calls for a proposed North Coast tanker ban to be implemented quickly – and for the scope to include such fuel barges, which have been quietly transiting these waters for years.
"This is a stirring reminder that the north coast oil tanker moratorium cannot be legislated fast enough," said Slett. "We must take note, however, that tanker barges like this might not even be included in the ban. The ban needs to be complete, and spill response must be improved."