"It is no exaggeration to say that the fate of Japan and the whole world depends on No. 4 reactor."
-Former Japanese Ambassador to Switzerland Mitsuhei Murata to UN Secretary-General Ban Ki-moon
It's the most important story nobody's talking about: the continued dire situation at Japan's Fukushima Daiichi nuclear plant, ravaged by a massive earthquake and Tsunami last March.
Judging by the official position of the Japanese Government – which maintains the worst of the catastrophe has passed, declaring the plant now "stable" – and drying up of mainstream media coverage, it's easy to see how most of the world has been lulled into a false sense of security about Fukushima.
But in recent months, increasingly troubling reports from high-ranking Japanese and American politicians, diplomats and nuclear experts have been trickling into the blogosphere and alternate media like the irradiated water still seeping from the plant into the Pacific Ocean. They suggest, in a nutshell, that were another decent-sized earthquake to hit the stricken plant before thousands of highly radioactive spent fuel rods are properly secured, we could see the explosion and diffusion into the North Pacific's winds and ocean currents of 10 times the radioactive material emitted by the Chernobyl disaster – rendering much of Asia, North America and many other corners of the globe uninhabitable for centuries.
No wonder no one wants to talk about this stuff! 
The force of such warnings has been muted by the fact that most of these alarms are being sounded by relatively fringe politicos and individuals associated with the anti-nuclear movement – albeit highly respected in their respective fields – and carried largely by alternate media sites.
But that has begun to change. This past week, one of Canada's largest media outlets, CTV News, carried a story titled, "Fukushima Reactor 4 Poses Massive Global Risk", which echoed many of the concerns being raised through other channels. If you read one depressing thing this week, make it this story.
Here's how CTV describes the situation, citing renowned nuclear expert and activist Arnie Gundersen:
Reactor 4 – and to a lesser extent Reactor 3 – still hold large quantities of cooling waters surrounding spent nuclear fuel, all bound by a fragile concrete pool located 30 metres above the ground, and exposed to the elements. A magnitude 7 or 7.5 earthquake would likely fracture that pool, and disaster would ensue, says Arnie Gundersen, a nuclear engineer with Fairewinds Energy Education who has visited the site.

The 1,535 spent fuel rods would become exposed to the air and would likely catch fire, with the most-recently added fuel rods igniting first.

The incredible heat generated from that blaze, Gundersen said, could then ignite the older fuel in the cooling pool, causing a massive oxygen-eating radiological fire that could not be extinguished with water.

"So the fear is the newest fuel could begin to burn and then we'd have a conflagration of the whole pool because it would become hotter and hotter. The health consequences of that are beyond where science has ever gone before," Gundersen told CTVNews.ca in an interview from his home in Vermont…

…Highly radioactive cesium and strontium isotopes would likely go airborne and "volatilize" — turning into a vapour that could move with the wind, potentially travelling thousands of kilometres from the source.

The size of those particles would determine whether they remained in Japan, or made their way to the rest of Asia and other continents.

"And here's where there's no science because no one's ever dared to attempt the experiment," Gundersen said. "If it flies far enough it goes around the world, if the particles stay a little bigger, they settle in Japan. Either is awful."

Essentially, he said, Japan is sitting on a ticking time bomb.
Gundersen is far from the only nuclear expert or public figure who has been raising these concerns. A veteran US Senator from Oregon, Ron Wyden – who recently visited Fukushima – and a couple of Japanese diplomats have also been raising alarm bells.
Reuters reported last month on Wyden's Fukushima tour:
Japan, with assistance from the U.S. government, needs to do more to move spent fuel rods out of harm's way at the tsunami-stricken Fukushima Daiichi nuclear plant, said U.S. Senator Ron Wyden on Monday.

Wyden, a senior Democratic senator on the Senate Energy committee, toured the ruined Fukushima plant on April 6, and said the damage was far worse than he expected.

"Seeing the extent of the disaster first-hand during my visit conveyed the magnitude of this tragedy and the continuing risks and challenges in a way that news accounts cannot," said Wyden in a letter to Ichiro Fujisaki, Japan's ambassador to the United States…

…Wyden said he was most worried about spent fuel rods stored in damaged pools adjacent to the ocean, and urged the Japanese government to accept international help to prevent further release of the radioactive material if another earthquake should happen.
The senator expressed concern on his website that all that was standing between the spent fuel ponds and another Tsunami was "a small, makeshift sea wall erected out of bags of rock." Wyden called for the spent fuel rods to be moved to safe storage sooner than the 10-year time frame laid out by the Japanese Government under its Fukushima remediation plan.
Dr. Robert Alvarez, a former top advisor at the US Department of Energy, confirmed the fears of Wyden and Gundersen when asked by Japanese diplomat Akio Matsumura to review the situation at Fukushima. Alvarez responded:
The No. 4 pool is about 100 feet above ground, is structurally damaged and is exposed to the open elements. If an earthquake or other event were to cause this pool to drain this could result in a catastrophic radiological fire involving nearly 10 times the amount of Cesium-137 released by the Chernobyl accident. (emphasis added)

Another Japanese diplomat, former Ambassador to Switzerland and Senegal Mitsuhei Murata has also joined the chorus of concern over reactor 4, writing in a letter to UN Secretary-General Ban Ki-moon, "It is no exaggeration to say that the fate of Japan and the whole world depends on No. 4 reactor." (emphasis added)
Experts in communicating environmental themes to the broader public tend to stress the importance of providing people with hope and tangible actions they can take to help resolve the issue at hand. Perhaps that's one reason I've resisted covering this story up until now. I confess, every time I read about the dire situation at Fukushima, I can't help but feel depressed and powerless to affect a situation that threatens to destroy everything I hold dear: my wild salmon and marine ecosystems, my coastal home, the health and welfare of my family and community, my whole country and the very planet as I know it. If we take to heart the warnings of people like Senator Wyden, Dr. Alvarez, Ambassador Mistuhei – or even if at minimum we apply the Precautionary Principle to the situation, which seems well-warranted – then we have to acknowledge the very real possibility that nothing short of the fate of human civilization and the natural world hang on the teetering frame of Reactor 4.
Is that melodramatic? So what if these fears prove overblown in the end? This is one situation where I don't mind being labelled a Chicken Little, for the chance that the danger was real and my actions helped in some way to mitigate it.
By all accounts, solving the problem is an extraordinary undertaking requiring enormous funding, highly specialized equipment and incomprehensible danger for the brave Japanese workers required to carry out the job. Which is why the International Community – and Ron Wyden's own government, who have yet to act on his concerns – must heed these calls to get off their butts and start pitching in. Of course, that requires Japan's acknowledgement of the problem and receptiveness to outside help, yet its leaders remain in full denial mode.
The combination of the scale of this looming disaster – which is beyond anything contemplated by humanity since the Cuban Missile crisis – the relative lack of profile and perceived collective credibility of the small number of messengers bearing these unwelcome tidings to date (though these are some highly credible people), and the lack of coverage by the mainstream media have all contributed to the paralysis currently afflicting the powers that be vis-a-vis Fukushima.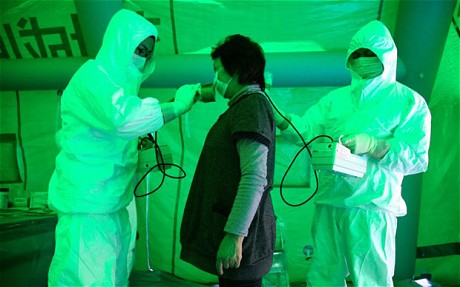 Yet, just today, the Wall Street Journal too chimed in on the emerging story. While the brief article, titled, "Fukushima Daiichi's Unit 4 Spent-Fuel Pool: Safe or Not?", presents the official line parroted by Japanese vice-minister for reconstruction, Ikko Nakatsuka – namely, that recent efforts to fortify reactor 4 have rendered it relatively safe – the paper retained some healthy skepticism, concluding: "But just how big an earthquake could Unit 4 withstand before it collapses? That's one of many questions from reporters that Mr. Nakatsuka and the head of the Nuclear and Industrial Safety Agency's seismic safety unit evaded or wouldn't answer."
Thanks to the efforts of the above politicians and nuclear experts, the story is beginning to break through in the mainstream media, forcing the Japanese at least to appear to step up their efforts. What is required now is for this issue to gain enough prominence in the mainstream media and, consequently, the public consciousness, to compel a unified political effort to move those bloody fuel rods to safety before another earthquake topples them and takes us all with them.
It is my hope, in talking about this thing no one wants to contemplate, that I'm doing my small part in inching the world closer to the action necessary to avert a crisis of unthinkable proportions. And perhaps if you take a moment to share this story and others you come across with your social media network, friends, colleagues and family – and write your political representatives and media – we can help build the movement required to keep our air and water clean, our children's future preserved.
I'm all for prayer in these situations…but action's preferable.