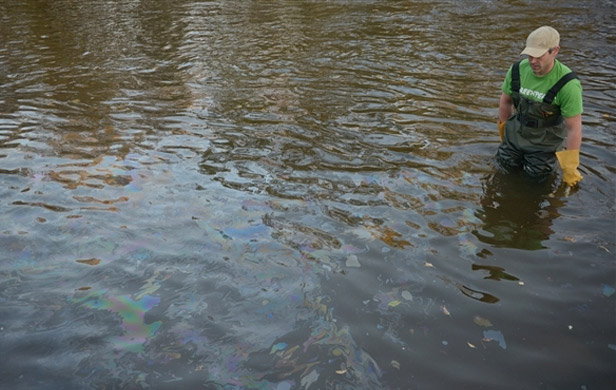 Sediment from the Chaudière River, near the site of the Lac-Mégantic train derailment four months ago, shows high levels of contaminants according to testing done by Greenpeace Quebec and the Société pour vaincre la pollution (SVP). Despite months of cleanup operations sediments collected from the river show higher-than-acceptable levels of several chemicals, including cancer-causing polycyclic aromatic hydrocarbons (PAHs).
Quebec Environment Minister Yves-François Blanchet said the department continues to monitor the safety of the water, reports the Montreal Gazette, and will take into consideration the two groups' test results.
In late September Quebec's environment department lifted a drinking-water ban for several downstream communities who rely on the Chaudière River for water.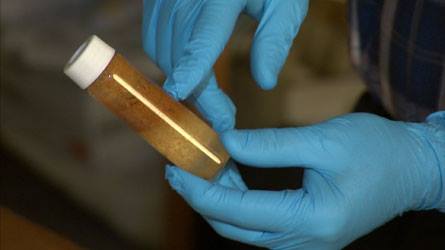 "Sampling has not stopped, analyses have not stopped, the teams are still on the ground," Blanchet said in the National Assembly Wednesday. He added "information is still publicly available on the Environment Ministry's website, such that we know that there is no immediate threat."
27 times acceptable pollution levels
Both Greenpeace Quebec and SVP say pollutant levels in samples taken 4.7km downstream of the lake are 27 times higher than accepted levels.
The Lac-Mégantic derailment resulted in the release of an estimated 5.9 million litres of oil that burned or spilled into the town's lake and the Chaudière river.
Recently Quebec environment updated those oil spill figures from a previously estimated 5.6 million litres.
The precise amount of oil released into the lake and river is still under question. The environment department estimates around 100,000 litres of oil contaminated the river although Greenpeace's Patrick Bonin questioned that amount given the high level of contamination present in their samples. Researchers could both see and smell oil in river at the time of testing.
According to Bonin this is the second round of testing the groups have undertaken. Results in both instances were sent to the environment department.
Government pressured to release its own test results
The groups are calling on Quebec to release the details of its water sampling to the public, including what methods are in use and all results.
In October the Canadian Centre for Policy Alternatives released a report claiming lax federal regulation over the transport of petroleum products by rail led to the deadly Lac-Mégantic accident that killed 47 people.
"In my view, the evidence points to a fundamentally flawed regulatory system, cost-cutting corporate behaviour that jeopardized public safety and the environment, and responsibility extending to the highest levels of corporate management and government policy making," wrote author Bruce Campbell, the centre's executive director.
Shipments of oil by rail have increased by 28,000 percent since 2009.